Agent's Take: What Colin Kaepernick's deal means for 49ers' cap situation
Colin Kaepernick's team-friendly, six-year, $126M deal doesn't mean the Niners can't keep or go after free agents, but it significantly reduces the margin for error.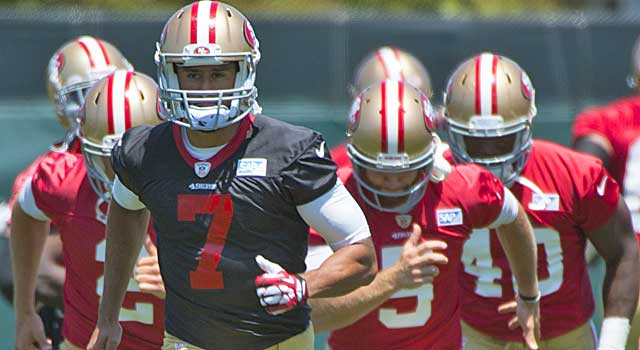 More: What Kaepernick's deal means for young QBs | News & notes
The 49ers are facing new challenges in managing the salary cap after signing Colin Kaepernick to a six-year, $126 million contract extension with $61 million in guarantees. It's been a long time since the 49ers have built or maintained a roster with a high-priced quarterback. Steve Young in the late 1990s was the last San Francisco quarterback that was paid near the top of the market.
Kaepernick's deal has a team-friendly structure, as do all of the lucrative contracts negotiated by the 49ers in recent years. Only $12,973,766 is fully guaranteed at signing, of which $12,328,766 is a signing bonus. By contrast, Tony Romo and Jay Cutler deals have $38 million and $40 million fully guaranteed at signing. Slightly more than $48 million of Kaepernick's base salaries are guaranteed for injury only initially. His 2015 through 2017 base salaries and a portion of his 2018 base salary are fully guaranteed if he's on the roster April 1 in each specific contract year (i.e.; 2015 base salary becomes guaranteed on April 1, 2015).
The 49ers also have protected themselves with annual $2 million per game roster bonuses ($125,000 per game) beginning in 2015 and a $2 million per year base salary de-escalator, a rarity in NFL contracts. The primary benefit of the roster bonuses is they provide the 49ers some financial and cap relief with injuries. The per game amount is only payable if Kaepernick is on the 46-man active roster for that particular game. For example, if Kaepernick suffered a season-ending injury in San Francisco's fourth game during the 2015 season, he would earn only $500,000 of his $2 million 2015 roster bonus.
Kaepernick's 2015 base salary won't decrease by the $2 million if he is named first- or second-team All-Pro by the Associated Press or the 49ers reach the Super Bowl while he has 80 percent playtime in the regular season and playoffs in 2014. Once Kaepernick reaches this threshold in a season, the de-escalator becomes voids for the remainder of the deal. Kaepernick's cap numbers in the extension years are manageable and don't have big fluctuations like Joe Flacco's contract. Flacco's peak cap number is over $30 million. Kaepernick's cap number is $17,265,753 in 2015, the first new year of the deal. The largest cap number is $23.4 million in 2020, the final year.
The relatively modest signing bonus, particularly for such a lucrative contract, and the conditional guarantees allow the 49ers to part ways with Kaepernick at anytime without adverse cap consequences. Although hard to imagine, a little more than $5.4 million of cap room would be gained in 2015 by releasing Kaepernick before his $10.4 million base salary (assumes salary de-escalation) becomes fully guaranteed on April 1. The 49ers would have a $9,863,013 cap charge from signing bonus proration in Kaepernick's 2016 through 2019 contract years accelerating onto the 2015 cap.
The 49ers have the second most 2015 cap obligations in the NFL at $145.35 million after Kaepernick's deal. Assuming a similar cap increase as this year (8.13 percent), the 2015 cap will be right around $144 million. San Francisco's cap obligations will drop by $2 million if the de-escalation occurs. The 49ers have built additional cap flexibility into Kaepernick's contract because they can create cap room at any time during the deal with their discretionary right to convert a portion of his base salary into signing bonus. Kaepernick could create a maximum of $9.324 million in cap space by restructuring his contract next year (assuming he extinguished the de-escalator mechanism because of his 2014 performance).
Whether restructuring Kaepernick's contract becomes a necessity could depend on Aldon Smith. Despite having some reservations because of Smith's off-field problems, the 49ers exercised their 2015 option year with him for $9.754 million, which is the second-highest cap number on the team for next year. The option year currently is only guaranteed for injury. It becomes fully guaranteed if Smith is on the team's roster at the start of the 2015 league year. If Smith can't put his troubles behind him, the 49ers would pick up $9.754 million of cap room from letting him go once next season ends.
Kaepernick's deal provides an excellent blueprint for structuring a multiyear deal for Smith in 2015 (modest signing bonus, conditional guarantees, big per game roster bonuses, salary de-escalators). A long term deal could create approximately $7 million in cap space while allowing the 49ers to exit the deal whenever they wanted without negative cap consequences.
Devoting significant cap resources to Kaepernick may make the 49ers lose some key players to free agency that otherwise could have been retained. That's a consequence of having a deep and talented roster. Most notably, wide receiver Michael Crabtree and left guard Mike Iupati are entering their contract years.
Kaepernick's deal doesn't preclude the 49ers from extending Crabtree's contract this year. Since Kaepernick's deal only increased his 2014 cap number by a little less than $2.15 million, the 49ers still have a little more than $6 million of 2014 cap space. It might not be necessary to use much, if any, of the remaining cap room because Crabtree can create his own cap space by lowering his $3.5 million base salary to his $730,000 league minimum and converting the difference into signing bonus in a multiyear deal. Re-signing Crabtree would likely make either Stevie Johnson, acquired from the Buffalo Bills in a pre-draft trade, or Anquan Boldin a paycut candidate or cap casualty. Both players have $6 million salaries in 2015, which is a lot for whichever player becomes the team's third receiver.
Extending Iupati was a difficult task before Kaepernick's deal, especially if sticking with the traditional offensive line salary hierarchy is important. Typically, left tackle is the highest paid position on a team's offensive line. Joe Staley signed a six-year, $40.2 million contract extension (with an additional $3 million in Pro Bowl base salary escalators) in 2009 before the third year of his five-year rookie contract. He has become a top flight left tackle but his deal hasn't kept pace with the market place despite the escalators. Andy Levitre signed a six-year, $46.8 million contract (includes $16 million guaranteed) with the Tennessee Titans during 2013 free agency to become the NFL's fourth highest paid offensive guard (by average yearly salary). His deal should be the salary floor for Iupati.
Alex Boone's dissatisfaction with the four-year, $6.54 million contract extension (worth a maximum of $9.69 million through salary escalators and incentives) complicates matters. He has two years left on his deal. The 49ers can probably afford to address one of their contract situations, with Boone being the cheaper option. Marcus Martin and Brandon Thomas were selected in this year's draft as potential replacements for one or both of them.
Franchising Crabtree or Iupati would seem unlikely. It should be in the neighborhood of $13 million to franchise either one in 2015.
It may also become more challenging for the 49ers to sign free agents to moderate one and two-year deals with escalators and incentives (Craig Dahl and Glenn Dorsey). More veteran players could be signed to one-year minimum salary benefit contracts. A player receives his league minimum base salary and a maximum of $65,000 as a signing bonus with these deals. The player's base salary counts on the cap at the minimum salary for players with two years of service ($570,000 for the 2014 season). The 49ers have signed three players to minimum salary benefit contracts this year.
The 49ers shouldn't have to fundamentally alter their approach to contracts and the salary cap because of Kaepernick. They should still be able to sign core players to long-term deals mostly at a discounted rate and with favorable contract structure well in advance of the expiration of rookie contracts. There's just less margin for error with roster decisions. The 49ers can't afford lackluster draft classes, like in 2012, if they are going to have an extended window of opportunity as Super Bowl contenders because low-cost players on rookie contracts making contributions has a new importance.
---
Joel Corry is a former sports agent who helped found Premier Sports & Entertainment, a sports management firm that represents professional athletes and coaches. Before his tenure at Premier, Joel worked for Management Plus Enterprises, which represented Shaquille O'Neal, Hakeem Olajuwon and Ronnie Lott.
You can follow him on Twitter: @corryjoel
You can email him at jccorry@gmail.com
Everything you need to know about the Packers-Panthers game on Sunday afternoon

The Lions will be wearing their Color Rush uniforms for the first time on Thursday

The Lions look to maintain playoff positioning while the Bears attempt to play spoiler
The Panthers have hired an outside law firm to conduct the investigation

Here's every official injury designation for each NFL team for Week 15

Bennett was one of the few players who escaped punishment after Sunday's melee in Jacksonv...