Agent's Take: When deals go awry; teams no angels in contract process
The way the Emmanuel Sanders contract went down is drawing ethical questions, but teams go over the line just as often in negotiations.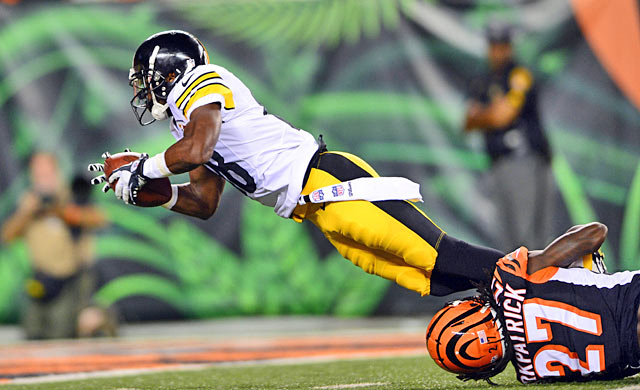 More NFL offseason: Mock Drafts | Prospect Rankings | Pro Days | Top free agents
Emmanuel Sanders signed a three-year, $15 million contract (worth a maximum of $18 million) with the Denver Broncos after his agent, Steve Weinberg, reached an agreement in principle for him to join the Kansas City Chiefs, according to NFL Media's Ian Rapoport. Weinberg also engaged in negotiations with the Tampa Bay Buccaneers without informing them he had accepted Kansas City's offer. Sanders denied the existence of an agreement with the Chiefs at his introductory press conference with the Broncos.
It's hard to have sympathy for NFL teams because they don't occupy high moral ground in these types of situations. Here are two examples, including one from personal experience, where team conduct could be called into question.
Keith McKenzie
The Cleveland Browns approached me about extending McKenzie's contract early in the 2001 season. McKenzie, who was in a contract year, had gotten off to good start after leading the Browns with eight sacks in 2000. Negotiations were tabled when the defensive end broke his ankle seven games into the season. He had three sacks and 30 quarterback pressures (combined sacks, quarterback hits and quarterback hurries) when the injury occurred.
Negotiations resumed shortly before free agency started. In the early stages of free agency, I reached an agreement in principle with the Browns on a four-year, $12.1 million deal with a $3 million signing bonus where there was one outstanding issue. The Browns wanted $1 million of McKenzie's signing bonus to be contingent upon him completing 85 percent of the off-season workout program. I had negotiated contracts for players coming off an injury but a team had never asked for this type of stipulation before.
The Minnesota Vikings didn't want for such a provision when I helped land Ed McDaniel a five-year, $22.5 million contract in 1999 several weeks after he tore the ACL in his right knee during the NFC Championship game versus the Atlanta Falcons.
The Browns were going to send over a draft of the contract for review with their proposed signing bonus language. I wanted to see whether injury rehabilitation would qualify for participation. When I called the Browns because I hadn't received the paperwork in a timely fashion, I was told it would be forthcoming. Before I got a draft of the deal, the Browns signed defensive end Kenard Lang, who played for Butch Davis when he was the head coach at the University of Miami (FL), to a five-year, $17 million contract. Davis had control of football operations.
Dwight Clark, with whom I had a good working relationship from his days in the San Francisco 49ers front office, and another Browns executive called me to apologize for how Davis was conducting business. Davis drew criticism for the manner in which he left Miami for the Browns. Less than 24 hours before being announced as Cleveland's head coach, he was telling Miami recruits that he planned on retiring with the Hurricanes.
Dumervil became a free agent because a paperwork snafu on his renegotiated contract with the Denver Broncos that reduced his 2013 salary led to his release before his $12 million salary became fully guaranteed.
Dumervil and the Broncos had verbally agreed to a three-year, $30 million contract where Dumervil's salary decreased to $8 million. Denver was gaining $4 million in salary cap room with Dumervil's 2013 cap number dropping to $9.623 million. The Broncos had a $4.869 million cap charge (dead money) for Dumervil because bonus proration from his 2014 and 2015 contract years accelerated into Denver's 2013 cap when he was released.
Instead of honoring the spirit of the verbal agreement, the Broncos used the fax fiasco to lower their offer to Dumervil to $18 million over three years with the same $8 million 2013 salary as before. The Broncos could have given Dumervil a three-year offer similar to the previous one where the $8 million consisted of a $7.125 million signing bonus and $875,000 base salary. This revised proposal would have given the Broncos better 2013 salary cap treatment despite the dead money. His 2013 cap number would have been $8.119 million with such an offer. Dumervil signed with the Baltimore Ravens instead of accepting Denver's deal.
Standard negotiating protocol
It is expected for an agent to use an offer from one team against other teams in free agency to leverage a better deal for his or her client. Conversely, a team is expected to use information in negotiations with players, especially at the same position, to get the best possible deal. What isn't expected is for either side to renege on agreed-upon deals and sign another player or with another team.
I felt blindsided by the Browns. They could have told me that objections to linking McKenzie's signing bonus to workouts had the potential to be a deal breaker. I had other teams express to me in negotiations when certain provisions would necessary for an agreement.
An agent needs to recognize that if he or she can't be taken at face value, particularly when an agreement has been made, it could become more difficult for him or her to effectively represent clients. Working as a front office executive is somewhat of a closed shop, so an agent who is in the business long term and consistently signs clients will probably have multiple dealings with the same team. There's also annual job turnover in front offices so an agent needs to remember that a person he mistreats with one team is likely to resurface with another team fairly quickly. All things being relatively equal, a team will likely choose to sign or draft a player represented by someone they have a good rapport with or is trustworthy. However, a team would deal with Adolph Hitler if he represented desirable players.
Ethical dilemmas
The general perception is agents are ethically challenged. Contrary to the stereotype, some agents operate with integrity. A player can put his agent in a difficult position when another team indicates that they are willing to pay him more than his verbal agreement or agreement in principle with another team.
Carlos Boozer's ordeal with the Cleveland Cavaliers in 2004 is an example of the dilemma. Rob Pelinka of SFX Sports, Boozer's agent, suggested to the Cavaliers that they decline their option on him for the 2004-05 season at $695,000 to make him a restricted free agent with the understanding that a long-term deal would be negotiated since he had outperformed his contract. After a meeting with Pelinka and Boozer, Cleveland felt comfortable enough with the concept to let Boozer out of his deal. Cleveland offered Boozer a six-year, $41 million contract, the most the team could offer given their salary-cap constraints. Instead of accepting the deal, Boozer signed a front-loaded offer sheet with the Utah Jazz for $68 million over six years, which was virtually impossible for Cleveland to match.
Longtime NBA agent Arn Tellem, Pelinka's boss at SFX, reportedly forced him to terminate his relationship with Boozer over the Jazz's offer sheet. The situation created tension between Pelinka and Tellem, which was the beginning of the end of their working relationship. Boozer re-hired Pelinka as his agent after a brief time with other representation.
I was faced with a similar dilemma of a lesser magnitude on a couple of occasions as an agent where a client's first instinct was to take a marginally more lucrative opportunity. Since an agent works for his client, I would have been forced to make a choice of resigning or executing my client's wishes if I hadn't been able to convince them that reneging on a deal wasn't the appropriate way to do business.
---
Joel Corry is a former sports agent who helped found Premier Sports & Entertainment, a sports management firm that represents professional athletes and coaches. Before his tenure at Premier, Joel worked for Management Plus Enterprises, which represented Shaquille O'Neal, Hakeem Olajuwon and Ronnie Lott.
You can follow him on Twitter: @corryjoel
You can email him at jccorry@gmail.com
Josh Nagel went 4-1 on Super Bowl prop bets and shares his favorite props for Vikings-Eagl...

At least one reputable online sportsbook took the Pats off the board due to hand injury ne...

Diggs has turned into a top receiver with Shurmur calling the Vikings' plays
Stormy Daniels says that the president had the Steelers QB walk her to her room after an e...

One of the weirdest athlete couples in recent memory have been friends for a while

There is a lot on the line for everyone involved in Conference Championship weekend