Agent's take: Which players could cash in on big Super Bowl 48?
Every Super Bowl, players in contract years have a chance to cash in. Eric Decker and Michael Bennett look are the leading candidates in Super Bowl 2014.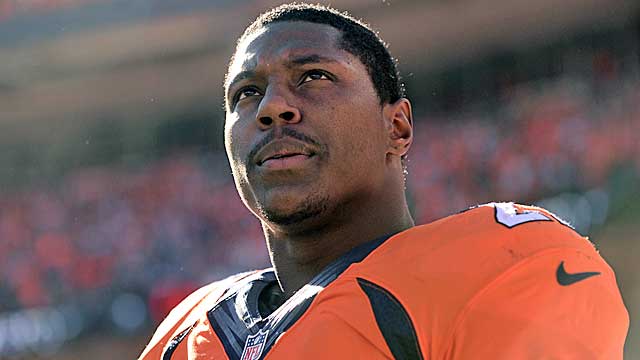 More SB: Corry: How Broncos were built | La Canfora: How Seahawks were built
A good Super Bowl performance can help players land lucrative contracts especially if it follows a solid regular season or outstanding playoff run.
The Ravens had two players use the Super Bowl XLVII to help set the stage for big free-agent paydays. Joe Flacco was named Super Bowl MVP to cap a stellar postseason run in which he threw 11 touchdowns without an interception and had a 117.2 passer rating. Flacco's play forced the Baltimore Ravens to briefly make him the NFL's highest paid player with a six-year, $120.6 million contract, including $51 million in guarantees. Outside linebacker Paul Kruger capitalized on two Super Bowl sacks and a career high nine regular season sacks by signing a five-year, $40.5 million contract (including $20 million guaranteed) with the Cleveland Browns .
Some other Super Bowl performers who landed free-agency riches: Larry Brown, Desmond Howard and Dexter Jackson. The Oakland Raiders signed Super Bowl MVPs Brown and Howard in consecutive years. Brown's two interceptions for the Dallas Cowboys in Super Bowl XXX were the catalyst for the five-year, $12.5 million contract he signed during free agency. To put Brown's deal in better context, the salary cap was $40.753 million in 1996, which makes his contract equivalent to approximately $7.5 million per year under the current $123 million salary cap. Brown was a major disappointment in Oakland. He only started one of the 12 games he played in his two years with the Raiders before his release.
Howard signed a four-year, $6 million contract in 1997 after returning a 99 yard kickoff return for a touchdown and gaining 244 total yards on returns with the Green Bay Packers in Super Bowl XXXI. The deal made Howard the NFL's highest paid return specialist. Howard's tenure was just as short as Brown's. He was released in 1999.
Jackson earned Super Bowl XXXVII MVP honors in the Tampa Bay Buccaneers ' 48-21 victory over the Raiders. He became one of the NFL's highest paid free safeties with the five-year, $14 million deal he received from the Arizona Cardinals in 2003. Jackson didn't last very long in Arizona as the Cardinals parted ways with him early in his second season there.
Here are a few Denver Broncos  and Seahawks headed towards free agency who could benefit from the Super Bowl.
Denver Broncos
WR Eric Decker : Although Decker has been one of the NFL's most productive wide receivers the past two seasons with 172 receptions, 2,352 receiving yards and 24 touchdowns, there's a sentiment that he benefits by playing with Peyton Manning and a talented receiving corps. He should be the top wide receiver in free agency despite the perception.
Decker is interested in remaining with the Broncos but could price himself out of Denver by looking to get paid as a primary receiving threat. The top deals for wide receivers that have switched teams in free agency the past two years belong to Mike Wallace ($60 million, 5 years, $30 million in guarantees), Vincent Jackson ($55,555,555, 5 years, $26 million in guaranteed), Greg Jennings ($45 million, 5 years, $17.8 million in guarantees, $2.5 million in escalators/incentives) and Pierre Garcon ($42.5 million, 5 years, $20.5 million in guarantees). In the Super Bowl, Decker will face physical cornerbacks playing press coverage, which has given him trouble. A good outing against the NFL's best secondary could help push Decker's contract more towards Wallace territory than Garcon's neighborhood.
RB Knowshon Moreno : It was widely assumed that Moreno would be relegated to a backup role when training camp opened. Ronnie Hillman 's inability to hold onto the football in the preseason and rookie Montee Ball 's trouble with pass protection opened the door for Moreno to become the featured running back. He ran for 1,038 yards (his first season 1,000-yard season), was fifth in the NFL in yards from scrimmage (1,586 yards) and had 13 touchdowns.
Moreno is younger and more productive than Reggie Bush and Steven Jackson , who got the best deals at $4 million per year in last year's soft free agent running back market. Moreno has a tough road ahead of him because the Seattle Seahawks are only allowing 3.2 yards per carry to running backs in the playoffs.
CB Dominique Rodgers-Cromartie : Rodgers-Cromartie, who is on a one-year, $5 million deal, wisely did some damage control at media day after telling multiple reporters that he was contemplating retirement after the Super Bowl. The six-year veteran may have unnecessarily raised questions about his desire to play, which may make teams think twice about offering him a long-term deal. It should be a deep cornerback market in free agency with Vontae Davis , Brent Grimes , Aqib Talib , and Alterraun Verner scheduled to become free agents.
Seattle Seahawks
DE Michael Bennett : Bennett didn't generate the interest he anticipated in free agency after posting nine sacks with the Tampa Bay Buccaneers in 2012, so he took a one-year, $4.8 million deal (with an additional $200,000 in incentives) from the Seahawks. He leads the NFL's top-ranked defense with 8.5 sacks and Seattle's defensive linemen in playtime (57.39 percent). Bennett has 1.5 sacks, two fumble recoveries and two forced fumbles in two playoff games.
Getting to Peyton Manning could prove difficult, considering the Broncos gave up the fewest sacks (20) during the regular season and he has barely been pressured in the playoffs.
WR Golden Tate : Tate is Seattle's leading pass catcher, but his 64 receptions and 898 receiving yards didn't crack the NFL's top 30 in either category. But those numbers don't paint the entire picture because the Seahawks rank 31st in pass attempts. Tate still will get an opportunity to impact the Super Bowl, even if he isn't targeted in the passing game because he is one of the league's better punt returners.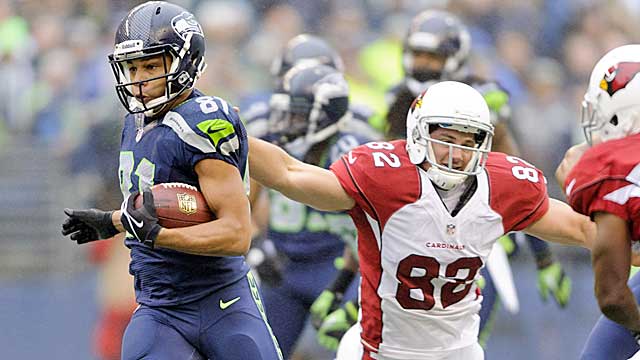 CB Walter Thurmond: Thurmond performed well in relief of Brandon Browner during the first half of the season. He missed an opportunity to showcase himself for free agency when Browner was suspended indefinitely under the NFL's drug policy because of his own four-game drug suspension. Thurmond's absence opened the door for Byron Maxwell to leap-frog him on the depth chart. Thurmond has been in his customary role as nickel back since his return. He'll be asked to neutralize slot wide receiver Wes Welker in the Super Bowl.
Maxwell's emergence and possible contract extensions for Defensive Player of the Year candidates Richard Sherman and Earl Thomas make Thurmond returning to Seattle next season a long shot. The former Oregon Ducks DB could be attractive to Chip Kelly's Philadelphia Eagles . The Jacksonville Jaguars are another potential suitor because coach Gus Bradley was Seattle's defensive coordinator during the first three years of Thurmond's NFL career.
---
Joel Corry is a former sports agent who helped found Premier Sports & Entertainment, a sports management firm that represents professional athletes and coaches. Prior to his tenure at Premier, Joel worked for Management Plus Enterprises, which represented Shaquille O'Neal, Hakeem Olajuwon and Ronnie Lott.
You can follow him on twitter: @corryjoel
You can email him at jccorry@gmail.com
Bills: Keeping Cardale Jones would be disservice to the young quarterback

The Patriots coach jokes that reporters in press room are a 'pretty talented group of eval...

The Browns need a quarterback and Kizer is doing his part to win the job in training camp
A day after John Harbaugh wouldn't rule out signing Kaepernick, the team went with someone...

Gruden, who won a Super Bowl following the 2002 season, last coached in 2008

Forget being the highest paid receiver, Odell Beckham has loftier goals for his next contr...