Ahmad Brooks calls penalty for hit on Drew Brees 'bullshit'
49ers linebacker Ahmad Brooks apparently feels he shouldn't have been called for a penalty for his hit against Drew Brees on Sunday.
• 1 min read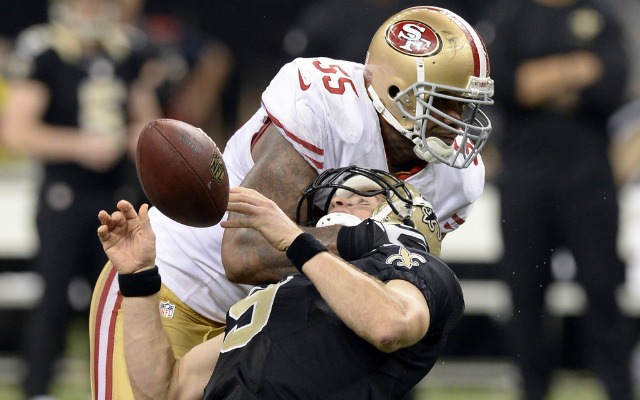 The Saints were driving against the 49ers on Sunday and losing by three, and after an epic sack from San Francisco linebacker Ahmad Brooks on third-and-2, New Orleans quarterback Drew Brees fumbled the ball and the 49ers recovered. Thus, the game was about to be secured for the 49ers.
Except an official's flag was thrown, and it was announced that Brooks had been penalized 15 yards for hitting the quarterback in the head/neck area. The turnover was taken away, and the Saints were given a first down. Five plays later, the Saints kicked the game-tying field goal in their eventual win.
Afterward, Brooks strongly disagreed with the official's take.
"I didn't hit him with my hand or my helmet," Brooks said, via the San Francisco Chronicle. "I basically bear-hugged him. That's just how football is played. I think this shit is bullshit. Football, the way they call stuff these days, it's watered down. It ain't real no more."
Judge for yourself, via Deadspin.
By my eyes, Brooks did not hit Brees in the head or neck. But just as easily, I think, the officials could have called unnecessary roughness -- a more subjective call -- and it would have been the same result.
"Ahmad got to the quarterback and I was excited," said Patrick Willis, who recovered the would-be fumble. "It was almost like Christmas early. He got the sack and you're like 'Hooray.'"
And then came the letdown.
"I talked to Ahmad," 49ers coach Jim Harbaugh said. "Ahmad didn't think that he hit him in the head."
Apparently not.
Follow Josh Katzowitz on Google+
Warren Sapp was one of several players named in a lawsuit against NFL Network

Check out the uniforms that Denver and Indianapolis will be wearing on Thursday

The Cowboys are going to need a few things to go their way to get into the postseason
Rudolph will be put under the microscope in Mobile by clubs looking for a quarterback early...

This fan is taking the Saints to court for using 'football games as a platform for protest...

Can Aaron Rodgers get the Packers to the postseason? Even if they win out, they'll need he...