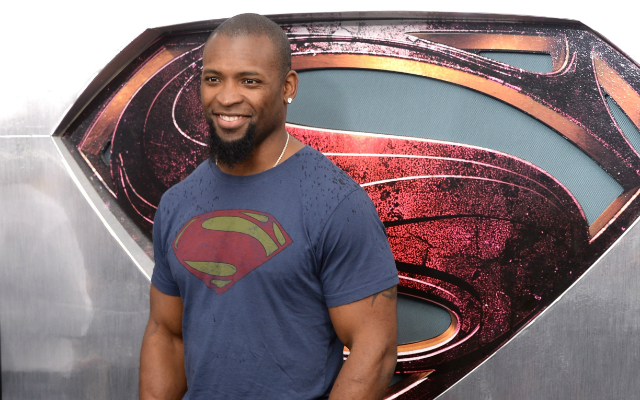 The Zack Snyder-helmed movie Batman v. Superman: Dawn of Justice comes out on March 25, 2016. It stars Ben Affleck as Bruce Wayne/Batman, Henry Cavill as Clark Kent/Superman, Jesse Eisenberg as Lex Luthor, Gal Gadot as Diana Prince/Wonder Woman, Ezra Miller as Barry Allen/The Flash, Jason Momoa as Arthur Curry/Aquaman, Jeffrey Dean Morgan as Thomas Wayne, Lauren Cohan as Martha Wayne, Jeremy Irons as Alfred, Amy Adams as Lois Lane, Michael Shannon as General Zod, and former Green Bay Packers running back Ahman Green as Thug No. 2.
Green said on the "Just Not Sports" podcast that he met Synder in Vancouver while the director was shooting Man of Steel. Snyder apparently grew up a fan of the Packers and was born in Green Bay.
"From the first time I met Zack Snyder ... He's like, 'Ahman, I gotta get you in the movie.' He's a Packer fan. He grew up in Wisconsin," Green said. "I just kept, you know, sending him messages and calling him and just kind of reminding him, because he's a big-time movie director. He's a guy that can, trust me, forget things and it won't be his fault because he has a thousand things going on every day. So I just stayed consistent with contacting him and finally I got a call from Warner Bros. Studios ... It was just like, 'Yes, here we go!'"
What, exactly, does Thug No. 2 do in the movie? Not much. He doesn't speak. He's apparently just there. "I have no lines. I don't care. I saw Ben Affleck in a Batman costume. Life is done. I'm good," Green said.
Green is of course carrying on the great tradition of NFL players appearing in Batman movies. Members of the Pittsburgh Steelers -- including Ryan Clark, Willie Colon, James Farrior, Casey Hampton, Heath Miller, Troy Polamalu, Maurkice Pouncey, Ben Roethlisberger, Mike Wallace, and Hines Ward -- portrayed the Gotham Rogues football team in The Dark Knight Rises back in 2012.
That scene features Ward running down the field while it implodes behind him, thanks to Batman's nemesis, Bane.
Green seems like he might have a bit more screen time than that. "I think I'm more than an extra, because I got a lot of camera time," he said. "My character name is Thug No. 2, and if you go to IMDb.com right now I am on the cast list ... So I think I'm more than an extra. That was just a dream come true, just a great opportunity that Zack Snyder and their casting director gave me to be on set."
Not only that, but Green is also making "Thug #2" T-shirts, so be on the lookout for those (maybe) in a store near you.
Wink of the CBS Eye to the Green Bay Press Gazette