A.J. Green suffers apparent knee injury, leaves practice
The Bengals suffered a scary moment Thursday when A.J. Green left practice with an apparent knee injury.
• 1 min read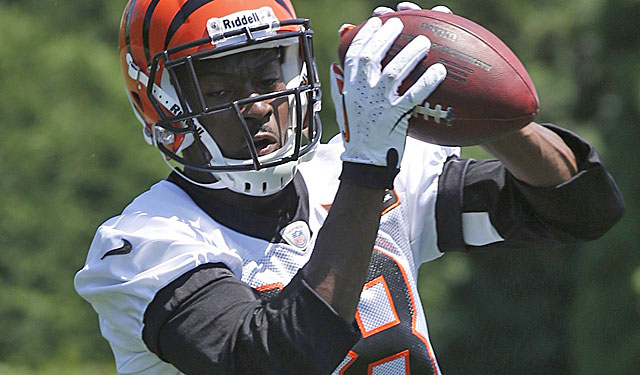 In the middle of practice Thursday, Bengals receiver A.J. Green scared the entire Cincinnati fanbase when he fell to the ground on a deep-ball drill and didn't immediately rise. After spending time on the turf with the medical staff examining him, Green left the field reportedly without limping.
A few minutes later, here's what former Bengals cornerback and current national radio man Artrell Hawkins, tweeted.


Spoke w AJ says he believes he'll be ok. Felt like he hyper-extended his left knee, similar to injury he had his rookie year vs Steeler....

— Artrell Hawkins Jr. (@artrellhawkins) July 25, 2013
...same knee. Took him 2 weeks to return back then.

— Artrell Hawkins Jr. (@artrellhawkins) July 25, 2013


So, that's good and bad news. The good news is that, at this very early point, it might not be a bad injury for Green. The bad news, of course, is that the Bengals wouldn't have much desire to see their most-explosive player in the trainer's room at all.
The incident occurred when Dalton threw a long pass out of bounds for Green, who was covered on the play by Terence Newman.
After practice, coach Marvin Lewis said he thought Green would be fine.
Gruden, who won a Super Bowl following the 2002 season, last coached in 2008

Forget being the highest paid receiver, Odell Beckham has loftier goals for his next contr...

There was a Rolls-Royce at Steelers training camp, but no Le'Veon Bell
'It ain't about 2016 and it ain't about 2018. It's about 2017,' Doug Williams told his qua...

Philip Rivers will not be moving to Los Angeles with the Chargers

Bryant has had off-the-field issues keeping him off the field for the past few years