Albert Haynesworth: Redskins made him lose his 'passion for football'
Albert Haynesworth wrote a revealing open letter to himself where he says the Redskins caused him to lose his "passion for football."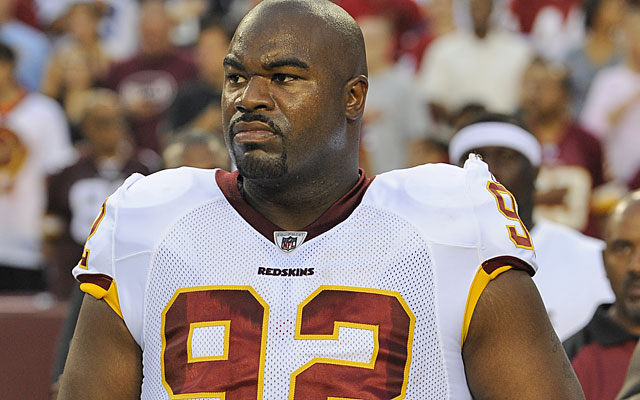 Albert Haynesworth, the mercurial defensive tackle best known for stomping faces and not living up to a massive contract with the Redskins, would have been a good where are they now candidate.
Fortunately The Players Tribune caught up with Haynesworth, who penned an open letter to himself (the 14-year-old version), in which he revealed a lot of things. Namely that playing for the Redskins -- who signed him to a $100 million contract -- caused him to lose his "passion for football."
Haynesworth writes about meeting with Mike Shanahan (who will now get an extra chance at jumping into the media fray!) and learning the then-Skins coach simply wanted him "grab the center," "let the linebackers run free" and "eat space." 
Haynesworth writes that he was stunned to learn about his responsibilities given his contract and eventually fell out of love with the game.
"You will lose your passion for football in Washington, and it will be impossible to get back," Haynesworth writes.
Hindsight is always 20/20 (well, unless it's 50/50) but clearly Washington was a bad fit. Haynesworth's other piece of advice for his 14-year-old self? Stick with Schwartz.
"If nothing else, listen to me on this, Albert: Do not leave the Tennessee Titans. Your defensive coordinator Jim Schwartz is a mastermind," Haynesworth writes. "No matter how much I tell you this, you'll probably never realize it until your career is over, but it's true. You're like a system quarterback. You thrive in a very specific scheme."
Now that's an interesting comparison. Haynesworth was at his best rushing the passer in the Titans' scheme under Schwartz, who has routinely gotten the most out of his defensive tackles. Marcell Dareus, Ndamukong Suh, Nick Fairley and Kyle Williams are all on the list of guys who produced at a high clip under Schwartz.
Haynesworth's story is part of why some people worry about Suh signing with the Dolphins this offseason (although that's unfair to Suh, especially when it comes to talking about his passion for football).
Also of note from Haynesworth in the letter:
He writes about not trusting a psychologist who helped him at Tennessee before eventually becoming his financial advisor and who is "going to take millions from you." 
He writes about the moment when he stomped on Andre Gurode's face and how he reacted before and after. 
He writes about becoming happy after football, which is interesting. 
For the way we view Haynesworth (as a bad guy, more or less) it's an interesting window into his emotions and life outside of the typical on-field view we take. Well worth a read. 
Pick Six Newsletter
Get the day's big stories + fun stuff you love like mock drafts, picks and power rankings.
Please check the opt-in box to acknowledge that you would like to subscribe.
Thanks for signing up!
Keep an eye on your inbox for the latest sports news.
Sorry!
There was an error processing your subscription.
Tom Brady: Patriots quarterback and thrill seeker

Here's the order and list of presenters who will be speaking at the Pro Football Hall of Fame...

The Eagles running back is returning to the NFL for a 15th season
Vic Fangio did not mince words when asked about the rookie quarterback

Football is back, and we're whipping around the league to look at the best camp battles we're...

The Chiefs receiver had a lengthy reaction to the NFL's decision not to suspend him