Alouettes coach wants to see more from Chad Johnson
WR Chad Johnson has just four receptions in the Montreal Alouettes first five games. Coach Tom Higgins hinted that he needs to see more from the former NFL star.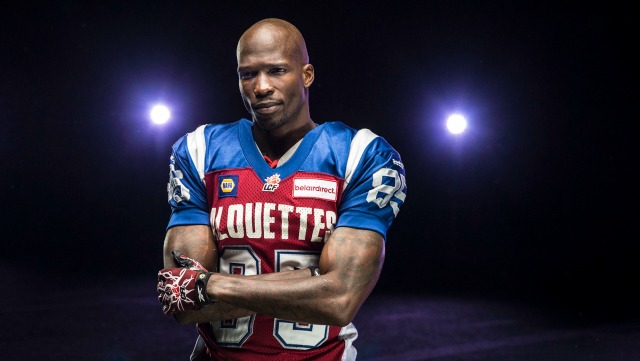 More NFL: Photos |  Videos & GIFs |  Training Camp updates | Manziel watch
Former NFL wide receiver Chad Johnson signed with the Montreal Alouettes in April. He caught his first CFL touchdown last month -- complete with a ref-hugging celebration -- but the bloom appears to be off the rose.
Johnson has just four receptions in the Alouettes first five games and hasn't done much to change the fortunes of a team that currently sits 1-5. Coach Tom Higgins hinted that he needs to see more from Johnson, who had 766 receptions in 12 NFL seasons.
"We're getting closer to the end than we are the beginning if we don't start having better output," Higgins said in a Thursday press conference.
There's more: Earlier this week, an anonymous player told the Montreal Gazette that Johnson didn't work hard and didn't know the playbook.
"We're trying to win here. This isn't some slap-d--- vacation league," the player said. "Put the best players on the field that want to play.
"One position (receiver) has free reign to do whatever they want and aren't accountable to anything. It doesn't matter what they do or how they perform."
Higgins admits that Johnson has received special treatment based mostly on a productive NFL career that ended in 2011.
"The expectation's here, and anywhere he has been, that there's a big-play capable person. He has higher expectations than any receiver that has come in," Higgins said, via the Gazette. "A coach that has history or understands an athlete, gives him the benefit of the doubt because, in the back of his mind, he can catch, make plays and has done this or that. Compare that to a young man who hasn't done anything, although they might have the same skill set.
"We try to treat everyone fairly," Higgins continued. "We're playing the guys, right now, that give us the best chance to win. It's just the way it is and you deal with it."
And dealing with it might include putting Johnson on the bench.
Here's an up-to-date look at the 2018 Pro Bowl roster

Bettors are favoring the Eagles to keep Super Bowl LII close, but the Patriots remain clear...

Here's everything you need to know about Super Bowl LII
Here's a look at the NFL's entire postseason schedule for 2018

Here's all the details you need to know on watching Super Bowl LII between the Patriots and...

All of the information you need to know about the 2018 Super Bowl