Amani Toomer would take Romo over Eli
Former Giants receiver Amani Toomer has a habit of saying ultra-ridiculous, ultra-stupid things. We wonder if his latest comments comparing Eli Manning and Tony Romo just continue that trend.
• 2 min read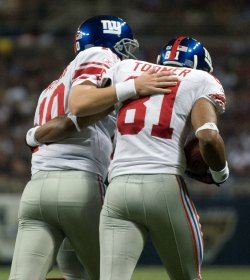 Manning and Toomer in happier times. (US Presswire)
Former Giantsreceiver Amani Toomer has a habit of saying ultra-ridiculous, ultra-stupid things. It's simply part of his desire to say anything to keep himself in the news charm.
You'll recall recently that Toomer said Kurt Warner should keep his opinions to himself after Warner said he wouldn't let his kids play football (it led former defensive end Trevor Pryce to say Toomer's comments were "probably the most idiotic thing I've ever heard"). In the past, Toomer also has compared commissioner Roger Goodell to the Nazis, and he's called tight end Jeremy Shockey a "bad teammate, [a] worse person."
So, knowing that Toomer spits out a lot of nonsense, consider his opinion on whether Giants quarterback Eli Manning is better than Cowboys quarterback Tony Romo. Yes, Manning is an elite quarterback with two Super Bowl wins (and two Super Bowl MVPs), and yes, Romo is certainly solid but only has won one playoff game in his career.
Amani, I know I'll regret asking this, but what do you think?
"Tony Romo is probably -- if you look at him statistically -- he's probably the best quarterback in the NFC East," Toomer told Sirius XM NFL radio (via the NY Post). "I mean, you look at Eli Manning and what he does in the fourth quarter. But you talk about consistency ... [Romo] can play."
Seriously, Amani?
"For me, If I wanted a guy that is gonna throw less interceptions, [be] more productive, higher completion percentage, I'm going to go with Tony Romo," Toomer said. "At crunch time he's not as good as Eli, but every other time he's pretty darn good."
While Romo's stats were better than Manning last year, there's something to be said for winning division titles and triumphing in playoff games (and Manning was so freakin' good in the Super Bowl). Let's turn this over to our friends at Pro Football Focus and see what those film-watchers think.
In 2011, PFF ranked Manning sixth among all quarterbacks, while Romo finished No. 10. In 2010, PFF had Romo No. 9 and Manning No. 10. In 2009, Manning was No. 11 and Romo No. 17, and in 2008, Manning was No. 17 vs. Romo's No. 23.
To be fair, Football Outsiders have Romo No. 4 last year and Manning No. 6, based upon defensive-adjusted yards above replacement, but Manning was better in 2010.
So, is Toomer completely wrong when it comes to quarterback play in the regular season? Probably not. But there's little question Manning has become a top-five quarterback in the past year, while Romo hasn't yet reached that level.
Plus, two Super Bowls -- which Romo hasn't come close to sniffing -- carries just a little bit of cache. Or, as the New York Post's Bart Hubbuch tweeted:


Disturbing that Eli still can't get unanimous national respect. How many Super Bowls does a quarterback have to win?

— Bart Hubbuch (@HubbuchNYP) July 5, 2012

For more NFL news, rumors and analysis, follow @EyeOnNFL on Twitter, and subscribe to our Pick-6 Podcast and NFL newsletter. You can follow Josh Katzowitz on Twitter here: @joshkatzowitz.
There's also the possibility Goodell steps aside early if his potential successor is progressing...

The league could return to its pre-2009 policy after a year in which pregame protests took...

Arians hasn't said he's retiring, but the team has discussed contingencies for a coaching...
O'Brien would be a coveted coaching candidate if he were to hit the open market

Though owner Jimmy Haslam said Jackson is safe for 2018, new GM John Dorsey may decide oth...

The Texans quarterback was at the middle of controversy last week with how his head injury...