Andre Johnson noncommittal about suiting up for Texans in Week 1
Texans wide receiver Andre Johnson isn't sure if he'll be on the field in Week 1 when Houston hosts the Redskins.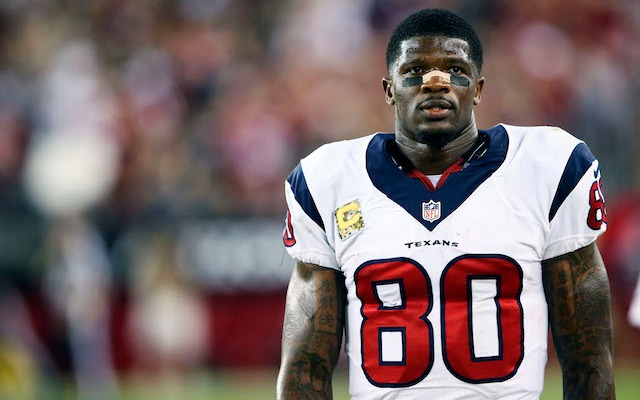 Forget skipping training camp, Andre Johnson might not show up for beginning of the regular season. The Texans wide receiver, who skipped Houston's minicamp in June and has been noncommittal about attending training camp, said on Wednesday that he's not sure he'll be on the field for Houston's Week 1 game against Washington. 
 "I don't know. I can't answer that question," Johnson told NFL.com when asked if he'd be playing in Week 1. 
The 11-year veteran, who turns 33 on July 11, has hinted this offseason that he doesn't want to spend the final years of his career playing for a team in rebuilding mode -- although he did show some slight optimism when asked if he'd be attending training camp. 
"Hopefully. We'll see what happens," Johnson said. "Training camp's three weeks away, so we'll see what happens."
The receiver skipped Houston's voluntary workouts in May and didn't show up for OTAs or the Texans' mandatory minicamp in June. Unfortunately for Johnson though, unless he can force a trade out of Houston, he doesn't have much bargaining power. The receiver is signed with the Texans through 2016 and a trade would cost Houston almost $12 million in dead money for 2014.
Johnson's comments on Wednesday were the first time he's talked about his situation since May. 
"I haven't been public about anything," Johnson said. "I just choose not to talk publicly about it. It's in-house and that's the way I choose to keep it. I'm not a big media guy, so I refuse to talk about it."
At least one Texans player will talk about Johnson's situation and that's Arian Foster. He really wants Johnson to stay in Houston and he 'ain't to proud to beg.'
Warren Sapp was one of several players named in a lawsuit against NFL Network

Check out the uniforms that Denver and Indianapolis will be wearing on Thursday

The Cowboys are going to need a few things to go their way to get into the postseason
Rudolph will be put under the microscope in Mobile by clubs looking for a quarterback early...

This fan is taking the Saints to court for using 'football games as a platform for protest...

Can Aaron Rodgers get the Packers to the postseason? Even if they win out, they'll need he...