Andrew Luck gave rare, fiery halftime speech in win over Titans
Colts quarterback Andrew Luck isn't known for his fiery halftime speeches, but according to his teammates, he gave one during the Titans game on Thursday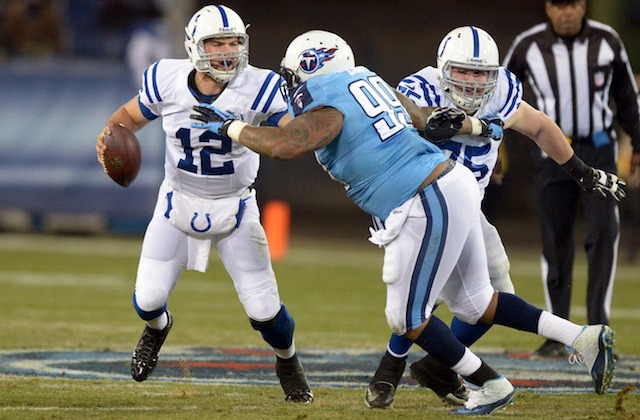 Even Andrew Luck gets mad sometimes. The usually mild-mannered Colts quarterback gave a fiery halftime speech on Thursday, according to teammates. Luck was frustrated because for the third time in three games, the Colts were trailing by more than 10 points at halftime. 
At halftime of Thursday's 30-27 win over Tennessee, Indianapolis was trailing 17-6. 
Luck's speech was something Colts punter Pat McAfee had never seen from his quarterback before. 
"It was to a whole new level," McAfee said, via ESPN.com. "Normally, he has a calming presence, meaning we know what we have to do to win the game. This was a different Andrew."
Colts defensive lineman Cory Redding sensed a different Luck too, "He had that look in his eye," Redding said. "He basically told the team to jump on his back. He really got caught up today when he was talking to us. He challenged everybody to fight and go out there and win this game. You like to hear that from your leader."
Luck usually leads with his actions, but with the Colts having been outscored 66-9 in the first half of their past three games, Luck obviously felt it was time to lead with words. 
"He had fire and passion with his talk," tackle Anthony Castonzo said. "He had some powerful words behind it. It's been three weeks in row that we were down at halftime. There was some frustration. He wanted to make sure we came back and won this thing."
Luck's impassioned speech seems to have worked because Indianapolis went out and outscored Tennessee 24-10 in the second half of Thursday's game. 
The win was big for the Colts because it gave them a three-game cushion in the AFC South with only six games remaining. Indianapolis can clinch the division if it wins its next two games, at Arizona and at home against Tennessee.  
Warren Sapp was one of several players named in a lawsuit against NFL Network

Check out the uniforms that Denver and Indianapolis will be wearing on Thursday

The Cowboys are going to need a few things to go their way to get into the postseason
Rudolph will be put under the microscope in Mobile by clubs looking for a quarterback early...

This fan is taking the Saints to court for using 'football games as a platform for protest...

Can Aaron Rodgers get the Packers to the postseason? Even if they win out, they'll need he...