Andrew Luck gets the best of former college coach Jim Harbaugh
Andrew Luck threw for 164 yards and ran for a touchdown as the Colts knocked off the 49ers in a game where Luck got the best of his former college coach Jim Harbaugh.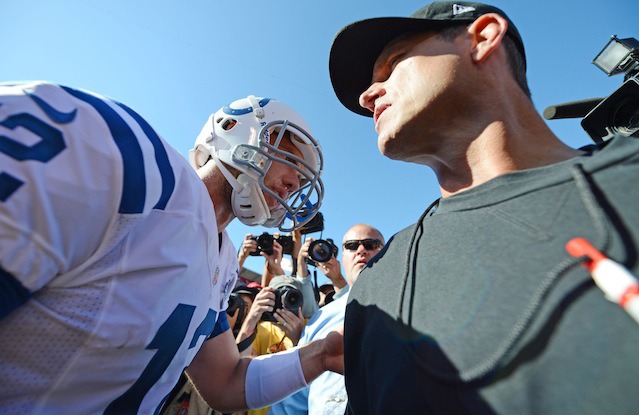 It's been three years since Jim Harbaugh coached Andrew Luck at Stanford and if for some reason, Harbaugh forgot how good Luck is, he got a nice reminder on Sunday. Luck threw for 164 yards and ran for a touchdown as the Colts rolled over the 49ers 27-7 at Candlestick Park. 
It wasn't just a college reunion for Luck and Harbaugh though as former Stanford players and current Colts Griff Whalen, Coby Fleener and Delano Howell also got to bask in the enjoyment of beating their old college coach. 
One person who wasn't basking in anything was 49ers quarterback Colin Kaepernick. Kaepernick completed less than 50 percent of his passes (13 of 27) and threw for only a 150 yards as he lost for the first time as a 49ers starting quarterback at home. 
Things are getting ugly for the 49ers, who have been outscored 56-10 in their past two games. Kaepernick's been a big part of the team's offensive failures. Over the past two weeks, Kaepernick has averaged only 138.5 passing yards per game and thrown a total of four interceptions in losses to the Seahawks and Colts. 
The consecutive losses mark the first time that San Francisco has lost two straight regular season games under Harbaugh, who took over the team in 2011. 
It probably didn't help that Harbaugh and the 49ers had to deal with off-the-field issues leading up to the Colts game. Linebacker Aldon Smith was arrested and charged with DUI on Friday after crashing into a tree. The team announced after the game that Smith will be out indefinitely to seek treatment and won't play in the 49ers' Week 4 game on Thursday against the Rams. 
For the Colts, the win over San Francisco moves them to 2-1 for the first time since Peyton Manning's final year as a starter in Indianapolis in 2010. Luck also improved his record to 6-0 following a loss, meaning the Colts haven't lost consecutive games since Luck took over at quarterback. 
Trent Richardson trade already paying off
Trent Richardson has his first rushing TD as a Colt. That didn't take long

— Jason La Canfora (@JasonLaCanfora) September 22, 2013
It seems like everyone's a winner in the Trent Richardson trade. On his first carry with the Colts, Richardson scored a touchdown on a 1-yard run that put Indianapolis up 7-0 early. Richardson, who only joined the Colts five days before Sunday's game when he was traded from Cleveland, finished with 35 yards on 13 carries in his Indy debut. 
39 stadiums and counting
How long has Colts kicker Adam Vinatieri been around? Long enough to kick a field goal in 39 different NFL stadiums. There are only 32 NFL teams, so that means Vinatieri has outlasted at least seven stadiums. Sunday's game in San Francisco was Vinatieri's first ever at Candlestick Park and he made the most of it by hitting two field goals. The 40-year-old kicker hit from 43 yards in the second quarter and followed that up with a 41-yard kick in the third quarter.
To put Vinatieri's age in perspective, Andrew Luck was 7-years-old during Vinatieri's rookie year in 1996. 
Also on the long TD, Marcus Mariota saved his lineman from what may have been a disastrous...

The Titans looked dead in the water for three quarters, but scored 21 in the final frame to...

Hearing scheduled for Tuesday in U.S. District Court in New York
Trump's tweets, rallies and contact with NFL owners will be a major part of Kaepernick's legal...

Nick Kostos, a.k.a. 'Mr. Monday Night,' has owned Monday Night Football

Mariota missed last week's game with a hamstring injury