Andrew Luck: 'I feel more competent'
One week after his so-so NFL debut, Colts rookie quarterback Andrew Luck figures he'll play better on Sunday when Indianapolis hosts the Vikings.
• 2 min read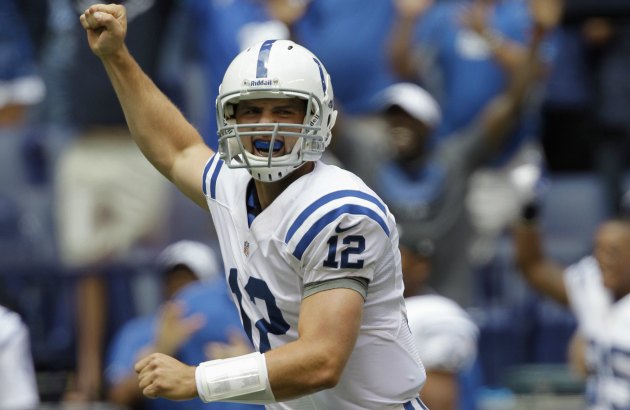 Andrew Luck was decidedly average in his pro debut. (US Presswire)
One week after his so-so NFL debut (I rated him third among the five first-year quarterbacks who played last week), the Colts' Andrew Luck figures he'll play better on Sunday when Indianapolis hosts the Vikings.
"Yeah, I think, I feel much more competent," Luck told USA Today. "I'm a big believer in competence over confidence. I feel like, 'OK, I've been through a game and understand the situations better, I understand how the speed is.' So understanding that, I guess, gives me more competence."
Luck showed plenty of competence in the preseason. But, of course, he was playing against defenses that were mostly in vanilla schemes and didn't want to showcase their tricks for future regular-season opponents. Against the Bears last week, it was just a little bit tougher for the No. 1 overall draft pick because Chicago's front seven brought plenty of pressure that the Colts' offensive line couldn't handle. And there were a few drops from his receivers.
Luck threw for 309 yards but also recorded three interceptions in the opening-season loss.
Meanwhile, No. 2 pick Robert Griffin III had the best debut that he and the Redskins could have hoped for. But the rivalry between Luck and Griffin doesn't appear to pique Luck's interest.
"No, honestly, that hasn't crossed my mind. I've never been into creating rivalries, sort of fabricating rivalries," he said. "I'm an offensive player; I worry about what the defense is doing of the team I'm playing that week. Beyond that, if you start thinking about that, at least in my mind, I'll get in trouble and start thinking about the wrong things.
"So the short answer: No."
Unfortunately for Luck, he won't escape comparisons with Griffin. And if he wants to look better, he'll just have to play better.
"What I'm realizing is you have to be consistent in this league to get wins -- consistently take care of the ball, consistently make the right throws," Luck said. "If you're inconsistent, if you slip up one time, I got away with it in college, but in this league, you'll pay. So I have come to that realization."




For more NFL news, rumors and analysis, follow @EyeOnNFL on Twitter, and subscribe to our Pick-6 Podcast and NFL newsletter. You can follow Josh Katzowitz on Twitter here: @joshkatzowitz.
The Cowboys are going to need a few things to go their way to get into the postseason

Rudolph will be put under the microscope in Mobile by clubs looking for a quarterback early...

This fan is taking the Saints to court for using 'football games as a platform for protest...
Can Aaron Rodgers get the Packers to the postseason? Even if they win out, they'll need he...

The NFL is going to have to look for a new commissioner

The Washington Redhawks are not an actual thing