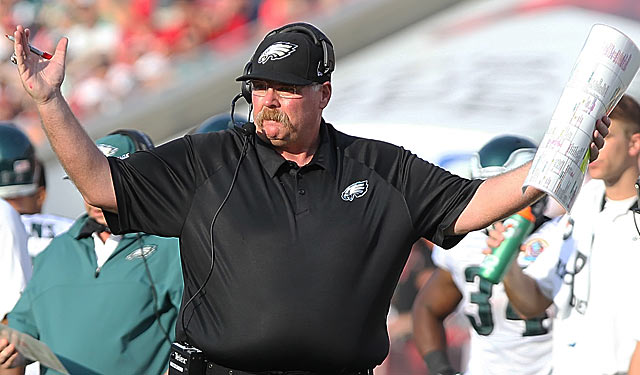 Andy Reid could have a say in Arizona's personnel and could cultivate Kevin Kolb. (US Presswire)
Numerous league sources expect Andy Reid to be next coach of the Arizona Cardinals by the end of the week. A league source says the Cardinals will interview Reid on Wednesday.
Reid is the frontrunner there; there is serious mutual interest. He could end up keeping Ray Horton as his defensive coordinator (though Horton is in line for head coaching interviews -- and he has already interviewed with the Cardinals).
Arizona assistant general manager Steve Keim was expected to get the GM job in Arizona, but he is now in the mix for other jobs and Reid would have a say in who works with him in personnel.
The Cardinals have an interview scheduled with Denver offensive coordinator Mike McCoy for Saturday, though a deal with Reid could be done by then. McCoy will interview with the Eagles this weekend, according to league sources. He will be interviewed by the Cardinals and Bears as well, with the talks taking place in Denver. The Bills have also been granted permission to interview him, but it's not clear if that will actually take place.
Numerous sources have said former Browns GM Tom Heckert is most likely to end up with Reid in Arizona; Heckert worked with Reid in Philadelphia. Also, Reid might able to salvage quarterback Kevin Kolb, whom he drafted and coached with the Eagles.
Reid would look at recently fired Browns coach Pat Shurmur for a coordinator position. Reid is expected to pursue former offensive line coach/defensive coordinator Juan Castillo for his offensive line position and former Vikings head coach Brad Childress, Shurmur's coordinator in Cleveland, could also join the staff as a quarterbacks coach.
Reid has several options available for his next staff and could put together a full coaching roster quickly.