Andy Reid: Jamaal Charles injured his foot moving out of camp dorm
Jamaal Charles missed the Chiefs game against Carolina on Sunday thanks to a moving mishap that led to an injured foot.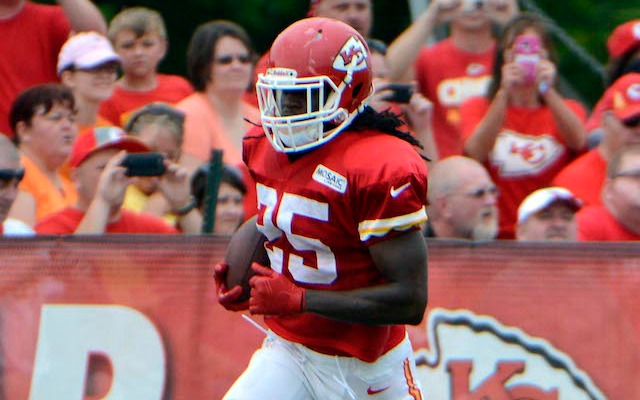 More NFL: Photos |  Videos & GIFs |  Training Camp updates | Manziel watch
Kansas City Chiefs running back Jamaal Charles was an unexpected scratch from the team's preseason game against Carolina on Sunday after suffering what coach Andy Reid called a "freak" foot injury. 
After the Chiefs' 28-16 loss to the Panthers, Reid elaborated on Charles' injury, saying that it happened "after practice."
Apparently not feeling satisfied with his original elaboration, Reid offered even more elaboration during a conference call on Monday. 
"I'll just tell you what happened," Reid said of Charles' injury, via the Kansas City Star. "He was actually carrying a box down the dorms, and he came down the grassy slope there and just tweaked his foot, rolled his foot over on the curb. It was that simple."
The injury to Charles happened Thursday as he was moving his belongings out of the dorms at Missouri Western State. The Chiefs are moving training camp from MWSU to the team's regular practice facilities beginning this week. 
Although the team was initially concerned by Charles' foot injury, it appears that everything is alright now. 
"He was hurting that night," Reid said. "The next day he woke up and he was feeling a little bit better, and he was feeling better today, so we're optimistic about it. Initially, there was a little concern. But they got all the stuff done on it, MRIs and all that stuff, so everything is clear."
Well, not everything's clear. The one thing that's not clear is when Charles will return to practice. After a day off Monday, the Chiefs will practice Tuesday, but Reid didn't say whether Charles will participate.
Plus the catch rule is still terrible, the Panthers quash the Packers' playoff hopes and much...

Week 15 provided a lot of clarity to the NFL postseason

The Cowboys move to 8-6 and are still in the playoff race with two regular-season games to...
The Steelers lost to the Patriots in controversial fashion after the 'Calvin Johnson Rule'...

The Raiders lost on a bizarre final offensive play

Here are the Week 15 grades for every team that played Sunday