Andy Reid, not one to sit still, jumps into challenge of fixing Chiefs
New Chiefs coach Andy Reid could have sat a year and still been in demand after leaving Philly. Jason La Canfora says that wouldn't fit the big man who loves teaching.
• 7 min read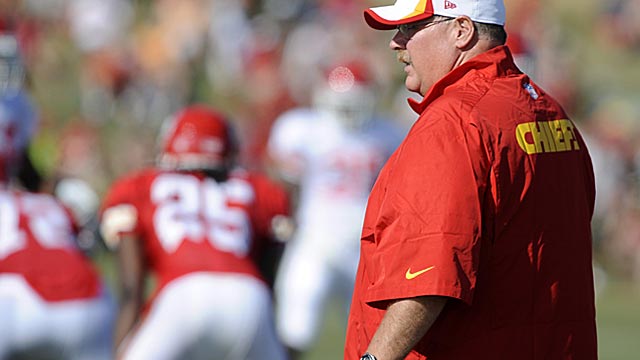 ST. JOSEPH, MO -- Andy Reid, is, by all appearances, a content individual.
After years of unrest in Philadelphia about his inevitable departure -- amid subplots about power struggles and the daily drama of coaching football in that media market, and having been the longest active-serving head coach in one place in the league -- he seems refreshed now. I wouldn't call him tranquil, and there is always an edge about the driven competitor, but he certainly looks at peace as he embarks on his first training camp in Kansas City, as if this should be the spot to continue his NFL odyssey.
There have been no slights - perceived or real - from the media or fans. Reid seems quick to flash a smile or deliver a quip after Chiefs practices at Missouri Western State University, and the newness of his roster, the surroundings, even the bright red of his Chiefs jacket seem to suit him. He looks healthy, a light still very much in his eyes, and while the task of transforming this 2-14 club might not happen as suddenly as some project, at age 55, the task is hardly too big for him.
"My feeling was, I'm getting older and there's a small window where you can become a head coach and stay a head coach," Reid said after a spirited and decidedly hard-hitting live practice, the kind that aren't much the norm anymore. "And the clock is running.
"I feel it's an honor to do that, and I wanted to take advantage of every minute I could do it, because I love it. And my wife is OK with that. I probably just drive her crazy when I'm home. I'm one of those guys that always has to do something."
Some will inevitably wonder if Reid should have taken a year off, especially following the death of his son, Garrett, almost exactly a year ago, of a drug overdose in the dorms at Eagles camp. The grind of 14 seasons with the Eagles, the fact he had built up a resume to where he could easily sit out and come back later and remain as in demand as ever. All of that spoke to taking time away from this crazy business.
But that's not Reid. He chatted with confidants like Jeff Fisher, who himself stepped away from coaching for a year to dabble in the media and climb mountains after his 16-year run in Tennessee came to an end (he took over the Rams a year later). Reid considered the notion, if ever so briefly, but more than anything else he threw himself into determining where the best possible spot to re-launch his career would be.
"Everybody is different," Reid said. "You have to do what you have to do, and Jeff and I are good friends and I talked to him about it. When he sat out that year, he needed to do that. But I felt like I still had energy, I loved working."
Those close to Reid say staying in the NFC was not an option; he was looking for real change, a blank slate, a certain commitment from ownership to winning (friends like Dick Vermeil and Herm Edwards coached in KC and strongly vouched for the franchise). He was looking for a different geography if possible, they say -- the Midwest couldn't be more varied in vibe and pulse and feel from Philly -- and obviously, given his accomplishments, there was going to be a certain power within the organization that would be requisite with his addition there. Kansas City met all the criteria.
"There were certain families that I looked at," Reid said, "and I'm far enough along in my career and I have a feel. So if I had the chance to work for one of those three of four families in the NFL, I was going to do it. And the Hunts were obviously one of them. ... And Clark has been phenomenal, right from the git-go."
Reid, whose son Britt is a quality control coach for him (another son, Spencer, is missing his senior season at Temple to depart shortly for mission work and his daughters are grown as well, leaving the Reids empty nesters), is running another one of his tough training camps, pushing the players hard early and then backing off some as the season approaches. This will be every bit his offense, with him hand-picking Alex Smith from San Francisco as the quarterback, paying a hefty yield for him in terms of draft pick compensation in that trade, and calling the plays, too.
Whatever legacy Reid leaves with the Chiefs -- his five NFC Championship games with the Eagles is an indication of his abilities -- could well end up defined by that first major quarterback move (with luring talented evaluator John Dorsey out of Green Bay to oversee personnel also a critical first-step in re-envisioning the Chiefs). Smith's critics believe he is somewhat limited, a "game manager" who was perhaps trained to be too careful at avoiding mistakes; accurate but never transcendent -- too prone to check it down or throw it away.
But Reid loves that accuracy in his ball-control passing game, Smith's intellect on and off the field is unique. Plus, Smith already had a background in the west coast offense, albeit not Reid's personal variation. The goal for this offense surely is to mimic some of the most productive units from Reid's past -- with a very active running back in the passing game; the ball spread around in an up-tempo manner. But Reid's not comfortable simply rehashing that Eagles offense with the game always changing and spread concepts so in vogue.
"Our base offense is our base offense," Reid said. "But this offense is a huge thing. You've got a bunch of different category of plays. Every drop, every movement, every play pass, every screen, every run -- you've got that in a package, and then you evaluate your players and say how can I take their strengths and exploit them.
"That normally gets players pretty excited. You're going to work on your weaknesses, and while you're doing that I'm going to take your strengths and give you that opportunity to go show."
Smith has watched a ton of film with Reid's Eagles squads and clearly there were differences from when Donovan McNabb was at the helm, or Kevin Kolb, or Michael Vick. Clearly things will be tailored. The terminology is largely familiar to Smith, but the pace, spacing of players, the way personnel are fanned out horizontally is a change for the quarterback.
"Spacing is a high priority for us," Smith said. "We place a lot of emphasis on splits and spacing and trying to use every foot of the field to stretch."
This feels a little different for Smith, too. His security in San Francisco, even though he was a No. 1 overall pick in 2005, always seemed tenuous. He turned the ball over too much early on, lost his job a few times and even when re-anointed by newly arrived coach Jim Harbaugh in 2011, it was underscored by the selection of Colin Kaepernick in the second round that spring. And, as we all know, Kaepernick took over after Smith was concussed midway through last season, the 49ers nearly won the Super Bowl and Reid had wrapped up a deal for Smith by the combine in February.
When a quarterback guru like Reid tabs you as the guy he's hitching his wagon to -- as he did with the selection of McNabb in 1999 despite boos from Eagles fans -- there is empowerment. Smith has been around long enough to know that he can't change who he is or how he leads -- "I'm not going to try to be something I'm not," he says "I tried that when I was young." -- but there is also so much he can absorb from Reid.
"It's great to get the keys to the car," Smith said, chuckling a bit as he continued the analogy, "and with things that have happened to me the in the past -- especially the last couple of years -- you're not going to give the keys up. I'm driving this thing! You're going to do everything you can not to give them up, and to do that you have to win games."
Smith tried to come in with a blank slate in terms of expectations of his coach, though that's difficult to do given how long Reid has been in the league, that ubiquitous likeness on the sideline in the oversized black Eagles parka, gripping his play sheet tightly. What's struck Smith most are the same characteristics that stood out to me today, watching Reid preside over practice, singularly focused on this relatively-mundane session, consumed by football.
"I've been around coaches that have been in the league a long time, and sometimes it's easy for coaches to get worn down," Smith said. "And I had no preconceived idea. But when coach Reid came in, the thing that jumped out right away was his passion for football, his passion for teaching football, how much he loves to teach not only on the classroom but on the field.
"He definitely still has that fire, and it's contagious and it really sets the tempo for the entire organization. He enjoys coming to work. He enjoys football."
It sure looks like the former top pick will be benched heading into the regular season for...

Someone asked him to start the press conference of course

Derrick Johnson wants to discuss players' First Amendment rights amidst the protests
High praise from one of the most athletically gifted quarterbacks ever to step on a football...

Nobody will mistake Joe Looney for his star teammates

Osweiler is being benched in favor of DeShone Kizer