Anquan Boldin: No rift between 49ers players and Jim Harbaugh
Anquan Boldin, who just signed a two-year extension with the 49ers on Monday, says there's no locker room 'rift' between 49ers players and coach Jim Harbaugh.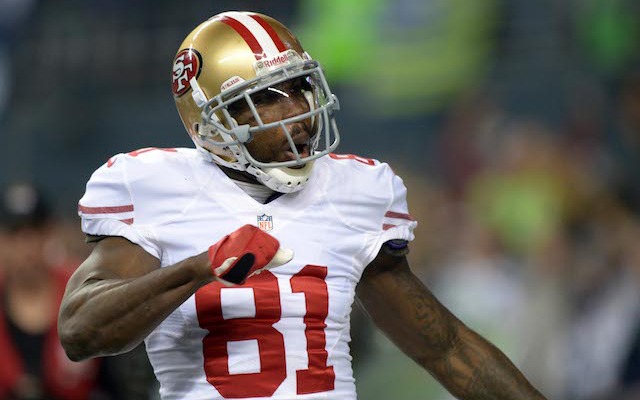 More NFL offseason: NFL Mock Drafts | Prospect Rankings | Top free agents
If Jim Harbaugh's act has 'worn thin' in the San Francisco 49ers locker room, Anquan Boldin hasn't noticed. Hours after signing his two-year contract extension on Monday, Boldin took part in a conference call and said there's no 'rift' between Harbaugh and his players. 
"I don't think there's any rift between players and coaches, particularly Coach Harbaugh," Boldin said, via the San Jose Mercury News. "He has good rapport with all the guys I know of. There's no gripes in the locker room when it comes to Coach Harbaugh. He wants to win and everybody in the locker room wants to do the same. We're usually on same page and if not, we have it where we can talk to him and he can talk to us."
A report by the San Francisco Chronicle on Sunday suggested that there was a rift in the 49ers locker room.  
"One source with inside knowledge of the team says that Harbaugh's act has worn thin in the locker room, particularly among some key 'face of the 49ers' type players. While the team is winning, that's not a problem. But a few losses could expose a widening rift."
The irony here is that Boldin blames the rift on the media and the fact the media has nothing to write about in the offseason.
"At this time of the year, people grab at whatever," Boldin said. "Football season is not here so they'll do whatever they can to write, and a lot of it is far-fetched, has nothing to do with football and the team."
Boldin might partially blame the media, but the fact is, if there was a rift between Harbaugh and the team, it's not likely Boldin would admit it. Boldin did point out however, that a rift isn't really possible because the 49ers have a locker room where players are free to air their complaints. 
"When I heard about it, I  kind of laughed," Boldin said. "I don't think anybody in the locker room has an issue with Coach Harbaugh. The way our locker room is built, if anyone has a concern or wants to voice an opinion, they're more than welcome to."
Boldin also added that he has a 'pretty good relationship' with Harbaugh. As the long as the 49ers keep winning, everyone in the organization will likely keep a united front. However, if the team starts off cold in 2014, things could get really interesting, really fast.
Here's a look at what will be the biggest surprises in the first two rounds of the NFL Dra...

The ceiling/floor for the 10 best non-quarterback prospects in the 2018 NFL Draft

Here's everything you need to know to follow the 2018 NFL Draft
Everything you need to know to follow all three days of this week's draft

It's time to take what we know, and what we think we know, and game out the top of the dra...

The 2004 quarterback class featured Eli Manning, Philip Rivers and Ben Roethlisberger; is 2018...