Antonio Smith on Richie Incognito: 'I forgave him; I forgave myself'
A few weeks after Antonio Smith was suspended for Week 1 for swinging a helmet at Richie Incognito, Smith has calmed down.
• 2 min read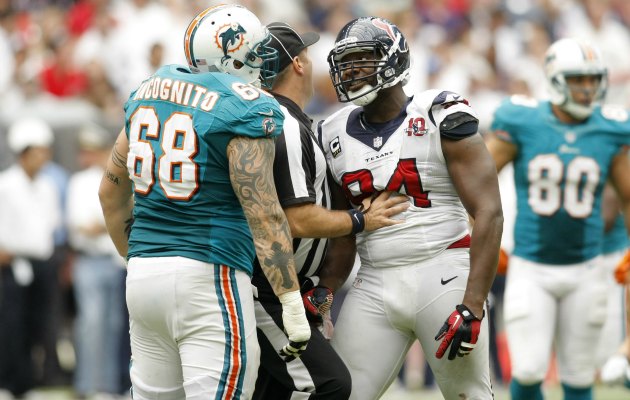 Texans defensive end Antonio Smith and Dolphins guard Richie Incognito clearly aren't fans of each other. They bickered last year -- which led Smith to kicking Incognito (and drawing a fine for it) -- and then, a couple weeks ago, Smith yanked off Incognito's helmet and swung it at him after a tussle at the line of scrimmage.
That action got Smith a suspension for Week 1, along with the final two preseason games. But since then, Smith apparently has taken some time to reflect, and he now feels calm about the situation.
"Days after that situation, I just let it go," Smith told the Houston Chronicle. "I forgave him. I forgave myself. The thing that hurts me the worst is letting down my brothers."
Aside from missing the Week 1 contest vs. the Chargers, he'll miss having access to his $356,000 game check. That probably stings a bit.
But he also hasn't backed off the claim that Incognito was the instigator for both incidents, including last year's kicking display when Smith said Incognito was twisting his ankle and that he was simply a dirty player being allowed to play dirty.
"After all my hurt and pain -- my ranting and raving -- I felt like they should have done something to him," Smith said. "Why me? At the end of the day, I'm in the meeting room and my brothers are looking at me, like, 'I can't believe you're going to be gone. We're going to miss you.'
"I heard that every day, and it became like torture. They showed me their support, but it reminded me of what I'm going to be missing. That humbled me more than anything, knowing I'm letting down my team."
One bit of good news for Smith, though. He says he feels a drive he hasn't experienced in years, thanks to the recent dust-up and the punishment that came with it.
"I'll probably thank [the NFL and Incognito] at the end of the season," Smith said. "I have a drive I probably haven't felt in years, a reawakening. It's given me that motivation, that pop, that football -- after years and years -- can kind of take away from you because you go through that same routine over and over until you find a purpose to fight for."




Follow Josh Katzowitz on Google+
Jeremy Kerley wins the award for most creative excuse for failing a PED test

Here's every official injury designation for each NFL team for Week 15

Chicago's young QB has steadily improved his game and was superb against the Bengals a week...
This why more people should get married at football games

Larry Hartstein has his finger on the pulse of the Bears and has a strong pick for Bears-Lions...

Peyton Manning has taken his talents to Hollywood