Archie Manning: Peyton 'knows' he won't be with the Broncos in 2016
If Peyton Manning decides to play one more season, don't look for him to return to Denver
SAN FRANCISCO -- If Peyton Manning decides to play one more season, don't look for him to return to Denver. According to Archie Manning, Peyton "knows" that Super Bowl 50 will likely be his last game with the Broncos.
During an interview with ESPN's Mike and Mike on Thursday, Archie revealed that Peyton has come to terms with the fact that he won't be in Denver if he decides to play in 2016.
"He probably envisions himself getting good and healthy," Archie said, via ESPN.com. "If he is good and healthy, can he play? I think he pretty much knows that it wouldn't be with the Broncos and that would be another thing, to change teams."
According to Archie, Peyton might be leaning toward retirement just because he doesn't want to change teams for the second time in four years.
"He had some offers last year from teams, some teams talked to him," Archie said. "But I think that was going to be a lot of drama, again, to change teams, that he didn't want to go through. He did do that once, so I don't know that he would want to do that."
Peyton has been mum all week when it comes to retirement talk. The Broncos quarterback gave a short answer on Monday when he was asked if Super Bowl 50 would be his final game.
"I don't know the answer to that," Manning said.
Archie doesn't seem to know either. During his interview, he was asked if he thought Peyton had made up his mind about retirement yet.
"Maybe not totally," Archie said.
That doesn't really clear things up.
If Peyton does decide to return in 2016 and the Broncos don't want him, someone will pick him up. The Rams are reportedly interested in Peyton and will most likely try to lure him to Los Angeles if he decides to play another year.
Whatever happens, will happen fast. Peyton's $19 million salary for 2016 becomes guaranteed on March 9, so the Broncos and Manning will definitely have to make a decision before that date.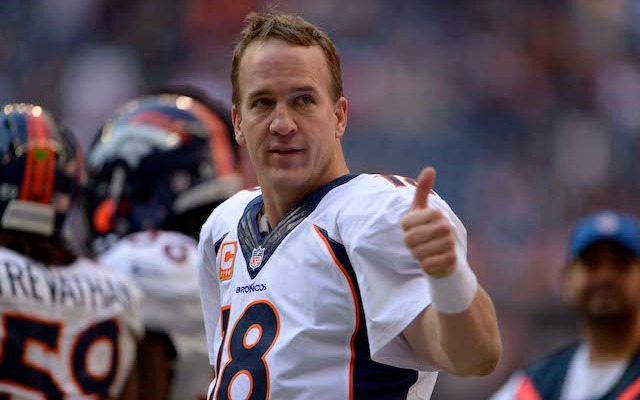 This might go down as the most expensive snowstorm of Adam Vinatieri's life

The Cowboys unveiled a new look on Sunday and their fans seemed to love it

Conquerors of adversity in 2017, the Eagles are still on the fast track to claiming the NFC's...
Cord-cutters are probably going to like this new deal between the NFL and Verizon

Stephen Oh has his finger on the pulse of Bill Belichick's team and just locked in a strong...

Savage left the game before returning after just one series