Are the Colts really thinking about signing behemoth strongman?
A few days ago, Colts owner Jim Irsay sent out a tweet suggesting the team would sign strongman Hafthor Bjornsson. Is that really true?
• 1 min read
A few days ago, Colts owner Jim Irsay sent out this delightful tweet.


Off/Def Lineman,so many 6-3 to 6-7..320-365 lbs/Big,Physical and Nasty! Speaking of size/strength..GM Grig's just might sign "The Icelander"

— Jim Irsay (@JimIrsay) May 13, 2013


And if you were like, "Um, what?" here's the guy to whom Irsay was referring.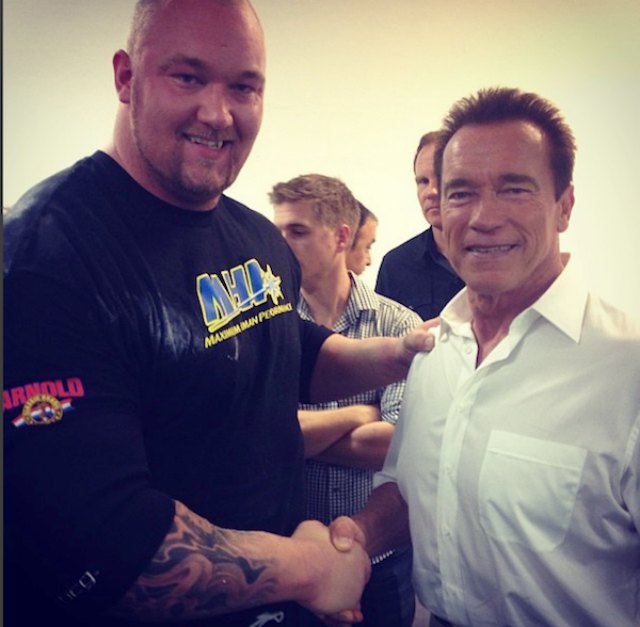 Not the guy on the right, naturally. But the guy on the left, whose name is Hafthor Bjornsson and who absolutely towers over one of the (formerly) baddest men on the planet.
Bjornsson (can I call you Thor instead, please?) is coming off a second-place finish in the Arnold Strongman Classic 2013 -- I don't know what that is exactly, but I'd guess it sounds like an important bodybuilding event. Reportedly, Thor stands at 6-foot-9 and weighs in at close to 420 pounds, and he apparently was a basketball player before a knee injury nudged him into strongman competitions.
Not surprisingly, the dude looks powerful in this video.



So, is any part of Irsay's tweet true? Maybe, maybe not (but probably not). Most likely, it's Irsay just screwing around on Twitter. But it's yet another reason why you'd want Irsay running your favorite team.
In the past week, Marshawn Lynch and Michael Bennett have both sat during the national ant...

As expected, the internet had jokes about the Chick-fil-A at Mercedes-Benz being closed on...

Harrison is the franchise's all-time leading sacker, but J.J. Watt's brother will get the starting...
More than 17 percent of fans say they would never consider dating a Pats fan

Brady said that his lack of speed is why he fell so far in the draft in the first place

If Thomas is right, that means it's bad news for DeShone Kizer's chances of starting early