Arizona Cardinals 2014 offseason preview
With the 2013 season officially in the books the Eye on Football staff is looking ahead to the 2014 offseason for all 32 NFL teams. Next up: The Arizona Cardinals.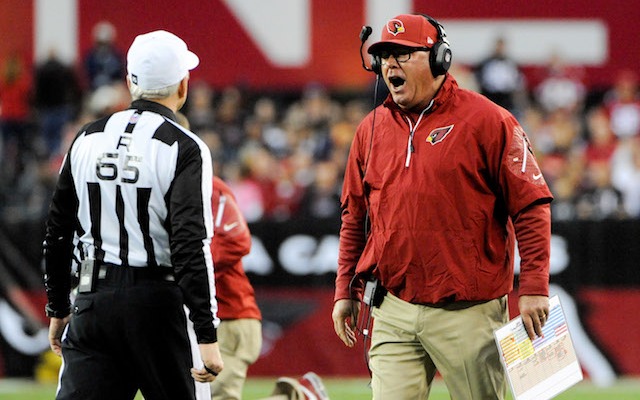 With the 2013 season officially in the books the Eye on Football staff is looking ahead to the offseason for all 32 NFL teams. Next up: The Arizona Cardinals.
Being an Arizona Cardinals fan in 2013 wasn't easy. On one hand, the team won 10 games and that doesn't happen very often in Arizona. Actually, it happens almost never. Since the Cardinals moved to Arizona before the 1988 season, the team has only won 10 or more games twice and one of those was 2013. The other double-digit win season came in 2009. Thanks to Bruce Arians, Cardinals fans have something to cheer for. 
The bad news for Arizona is that, despite 10 wins, they were left out of the playoffs. That's not something that happens often either. Since the NFL expanded the playoff field to 12-teams before the 1990 season, only nine 10-win teams -- including Arizona -- have been left out of the postseason. 
If the Cardinals can fix the gaping hole that is their offensive line, playoff talk could become an annual thing in Arizona. 
What went right
Once Carson Palmer got the hang of Bruce Arians' offense almost everything went right for the Cardinals. That happened around Week 8, and from Week 8 to Week 16, Arizona won seven out of eight games. During that eight-week span, the Cardinals played like great teams play: When the defense struggled -- as it did in Week 15 against Tennessee -- the offense came through. Arizona beat the Titans 37-34 in overtime in Week 15. It worked the other way too: When Palmer struggled in Week 16 and threw four interceptions against the Seahawks, the defense bailed him out in a 17-10 win. The great teams find a way to win when they're not playing great, and that's what Arizona did late in the season. If the Cardinals can carry that momentum over to 2014, they should be able to compete in the NFC West. 
As for Palmer, in the first seven weeks of the season, he threw eight touchdown passes and 13 interceptions. From Week 8 to Week 16, those numbers were 13 touchdown passes and four interceptions. If that Palmer shows up for the entire season in 2014, the Cardinals are going to be tough to beat. 
What went wrong
The scary thing about the Cardinals is that even though they went 10-6 in 2013, they could have been better. Arizona lost three games by three points, and the Cardinals probably should of one two of those. To make matters worse, the two games Arizona should have won came in first week of the season and the final week of the season against division opponents. In Week 1, the Cardinals blew a 24-13 fourth quarter lead and lost to the Rams 27-24. In Week 17, kicker Jay Feely missed two very makeable field goals (37, 43) in a 23-20 loss to the 49ers. In a season where a lot went right for Arizona, those two games went wrong. 
MVP 
Karlos Dansby. He led the team in tackles (122), interceptions (4), defensive touchdowns (2), passes defended (19) and was hands down the best player on a Cardinals defense that ranked sixth overall in the NFL. Dansby signed a one-year, $2.25 million deal with Arizona before 2013 and he'll be making substantially more than that in 2014. The Cardinals better get out their checkbook or debit card or Starbucks gift cards if that's how Dansby decides he wants to be paid.  
LVP
Cardinals offensive line. You probably don't need Pro Football Focus to tell you that the Cardinals had a bad offensive line in 2013, but lets let Pro Football Focus tell us anyway. Arizona ranked dead last in PFF's season-ending offensive line rankings. Bradley Sowell was PFF's lowest graded offensive tackle in the entire NFL. Carson Palmer was one of only 10 quarterbacks in the NFL who was sacked 40 or more times in 2013. 
What's happened since the season ended
One big thing has happened since the 2013 season ended: the team and Larry Fitzgerald agreed that Fitzgerald's scheduled $18 million salary cap hit for the 2014 season needed to be lowered to give the Cardinals some cap breathing room. Fitzgerald's contract was restructured in early February, and now the wide receiver will only count $8.6 million against the cap in 2014. That solves the problem for this season, but it doesn't help things for 2015 when Fitzgerald's cap hit is scheduled to be $23.6 million.
The Cardinals also lost vice president of player personnel Jason Licht, who was hired as the Buccaneers general manager in January. 
Impending free agents
If Cardinals general manager Steve Keim owns a phone -- and he probably should since he's an NFL general manager -- then he should be on it right now with Karlos Dansby. Dansby is the one impending free agent that Arizona absolutely can't afford to lose this offseason. Dansby made $2.25 million in 2013 and he can probably expect a hefty raise after leading the team in interceptions (4). And tackles (122). And defensive touchdowns (2). And passes defended (19). Dansby was also third on the team in sacks with 6.5. Negotiations could get tricky with Dansby, especially because he's already been hit with the franchise tag twice in his career. A third tag would mean a raise to almost $11 million for 2014. 
Here's the complete list of the Cardinals unrestricted free agents: CB Javier Arenas, S Yeremiah Bell, CB Antoine Cason, LB Karlos Dansby, TE Jim Dray, K Jay Feely, C Mike Gibson, TE Jeff King, CB Bryan McCann, RB Rashard Mendenhall, WR Andre Roberts, DT Frostee Rucker, LB Matt Shaugnessy, TE Kory Sperry, OT Eric Winston.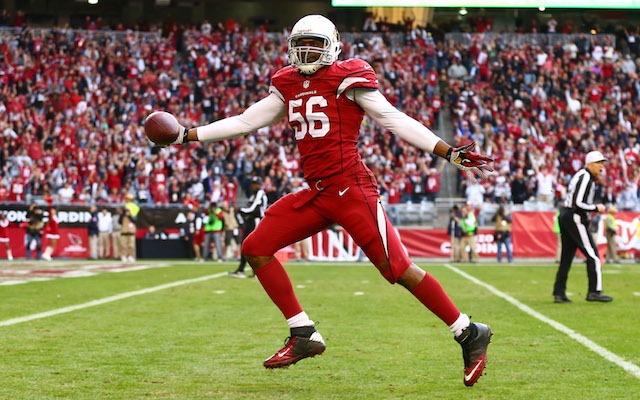 Free-agency game plan
As mentioned above, the Cardinals free-agency game plan has to start with re-signing Dansby, but that's not everything on the to-do list. Whatever money's left after signing Dansby should probably be spent on signing a left tackle, something the Cardinals desperately need. If they don't get re-signed before March 11, the Cardinals should probably take a look at Kansas City's Brandon Albert, Cincinnati's Anthony Collins and Baltimore's Eugene Monroe. 
Draft game plan
Signing a left tackle in free agency can get expensive, so the Cardinals may be better off taking one in the draft. Arizona's first priority in the draft should be upgrading its offensive line. The Cardinals could also use a pass-rusher, a tight end and a safety. The point here is that with so many needs, Arizona will probably have the luxury of taking the best player availabile when it picks at No. 20. Don't be surprised if the Cardinals grab a quarterback in a later round either. Carson Palmer will be 35 before the 2014 season ends. 
So who will the Cards take in the first round? CBSSports.com senior NFL columnist Pete Prisco has Arizona going with Michigan tackle Taylor Lewan. CBS Sports NFL Insider Pat Kirwan thinks the Cardinals will grab Florida State defensive tackle Timmy Jernigan in the first round. NFLDraftScout.com's Rob Rang and Dane Brugler have the Cardinals taking Texas Tech tight end Jace Amaro and Minnesota defensive tackle RaShede Hageman in their mock drafts.  
Ridiculously premature prediction for 2014
If the Cardinals were in any other division in football, they'd probably be competing for the division title in 2014, but they're not in any other division. They're in the division where good team only gets you third place. It's going to be tough to knock off the 49ers or Seahawks, but if anyone can do it, it's the Cardinals. Arizona proved that Seattle's not invincible at home, remember this:
Now all they have to is figure out how to beat San Francisco, something the Cardinals have only done once since 2009 (1-9). 
Predicted record: 9-7
This matchup isn't quite as glamorous as it looked when the schedule was released in the s...

Patriots-Steelers highlights a week filled with playoff-caliber games

Cleveland's quarterback has recently improved, but his turnovers have been a big part of the...
Warren Sapp was one of several players named in a lawsuit against NFL Network

Check out the uniforms that Denver and Indianapolis will be wearing on Thursday

The Cowboys are going to need a few things to go their way to get into the postseason