Art Briles to Redskins could happen more easily than most expect
While Art Briles marches on the Baylor recruiting beat, Jason La Canfora reports that the coach could in fact, rather seamlessly, find himself as head coach of the Redskins.
• 1 min read
For more news and notes from Jason La Canfora, tune into The NFL Today Sunday at noon ET on CBS.
While many reports suggest that Baylor coach Art Briles would not leave the program under any circumstances, and Briles himself has denied any potential interest in the possible Washington Redskins opening, league sources continue to suggest that Briles would be open to an approach from owner Daniel Snyder and the allure of reuniting with his Heisman Trophy winning quarterback, Robert Griffin III, in the NFL, is not lost on him.
Briles, who is currently focused on recruiting at the school, would have interest in the Redskins' job under certain circumstances, sources said, and some believe he could put together an NFL-caliber staff as well, without having to overly rely on his contemporaries at Baylor. Snyder is widely expected to fire coach Mike Shanahan at the end of the season, with his team again at the bottom of the NFL East standings and Shanahan's relations with RG3 in tatters and issues with his staff, and offensive coordinator Kyle Shanahan in particular, no secret at Redskins Park.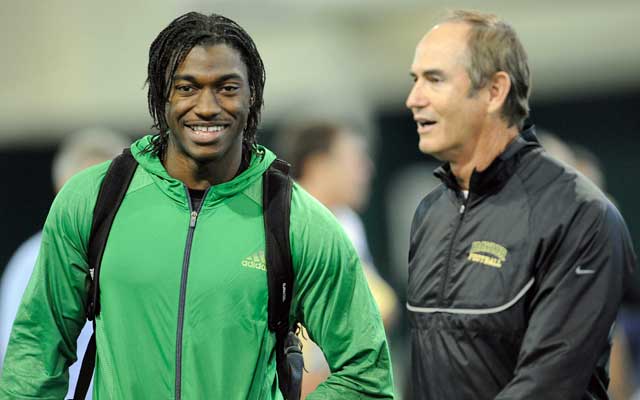 Griffin and his parents are big supporters of Briles and clearly a big part of the Redskins' job will be getting the franchise quarterback back to the level at which he played in 2012, when he spearheaded an improbable run of seven-straight victories to get Washington a division title. It was the lone bright spot since Shanahan took over the team.
While Briles lacks an NFL pedigree, sources said he could link himself with a defensive coordinator with head-coaching experience, maybe even experience already coaching for Snyder (which can be highly complicated), with some speculating about Gregg Williams or Mike Nolan in such a role (both former Redskins defensive coordinators). Snyder has had difficulty getting overly experienced coaches to take his head coaching job in the past, and his options could again be limited in 2014 if he makes a chance.
Many are outwardly writing off Briles having any interest in the position, but the more I research the possibility the more I am led to believe that is anything but the case.
Plus the Eagles' formula for winning late, the AFC playoff mish mash and a budding young Vikings...

Here are the Week 11 grades for every team that played Sunday

The Eagles move to 9-1 after beating the Cowboys by four touchdowns
Peterman threw five interceptions in the first half before getting yanked

The Vikings' coach addresses the team's cloudy quarterback situation after their eighth win...

Green Bay could have brought in a veteran quarterback but decided to stick with Hundley