Art Modell loved Cleveland even after leaving; Cleveland fans can't say same about him
For all the positive attributes of former Browns and Ravens owner Art Modell, who died Thursday at the age of 87, there is a segment of NFL fans who never will forgive him for moving the Browns out of Cleveland and transferring the franchise to Baltimore.
• 3 min read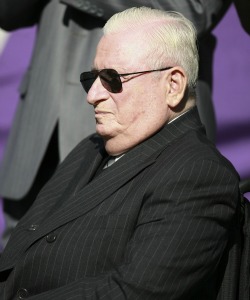 Modell was not well-liked in Cleveland after moving the franchise away. (US Presswire)
For all the positive attributes of former Ravens owner Art Modell, who died Thursday at the age of 87, there is a segment of NFL fans who never will forgive him for moving the Browns out of Cleveland and transferring the franchise to Baltimore.
Already there is some nasty stuff out there if you check out Twitter and Facebook, but let's take the more analytical approach. Modell moved from Cleveland because he believed he had to financially, and according to ESPN Cleveland, Modell felt betrayed by the city because it didn't renovate the team's stadium.
"I'll tell you one thing which I've never said before, at any time," Modell told reporters at one point, per ESPN Cleveland. "If I didn't move my team to Baltimore, my family would have gone to bankruptcy.
"I had to (move). I couldn't afford it. You declare bankruptcy in the NFL, and it's an automatic revocation of your license. They strip you of the ballclub."
Still, that doesn't make the citizens of Cleveland feel any better. And quite honestly, the reason he had to move didn't make Modell feel any better either.
"This has been a very, very tough road for my family and me," Modell said in 1996, via the Cleveland Plain Dealer. "I leave my heart and part of my soul in Cleveland. But frankly, it came down to a simple proposition: I had no choice."
After moving to Baltimore, Modell didn't return to Cleveland. He received death threats, and for a time, he traveled with bodyguards. But he was pleased the Browns eventually returned.
"I have no vindication,'' he said in 2001, again via the Plain Dealer. "Let me say one statement about Cleveland. I am simply delighted, on behalf of my family, ecstatic that there is a football team in Cleveland called the Cleveland Browns, and they wear uniforms with seal brown and burnt orange colors, and they have the legacy of Jim Brown and Otto Graham and dozens of others, and above all playing in a new stadium."
You think LeBron James is hated in Cleveland today? Hatred for Modell likely topped that.
Modell also has been criticized for how he handled the firing of Paul Brown -- one of the greatest coaches in league history who made the Browns an immediate success. Brown never forgave Modell for firing him – in essence, Brown believed Modell stole the team from him so Brown's success wouldn't overshadow Modell. Here's what Bengals owner Mike Brown, Paul's son, had to say in a statement released Thursday.
"Art was a significant owner in the NFL. My father had deep differences with him when they were together in Cleveland, yet on the other hand, the fact of their relationship contributed to a great rivalry between the Bengals and the old Browns. There was some real excitement to those early games. Art won praise for his work at the league level, particularly with the development of the NFL's relationship with network television, and we extend our sympathy to all who were close to him."
But Modell isn't only remembered with hatred in Cleveland today. The Cleveland Plain Dealer's Bill Livingston has a fond memory. Writes Livingston:
A reporter who had been there at "The Fumble" flashed back to the tomb-like Browns locker room in old Mile High Stadium in 1988. [Earnest] Byner had personally accounted for 187 yards from scrimmage in that game. After a long time, Byner emerged from the showers to face the few media members who, despite an Eastern Time deadline, were still waiting for him. Modell had already shaken hands with each player, thanking them for their effort in nearly overcoming a huge early deficit.

As Byner neared his locker, Modell walked toward him and said, sadly, fondly, "Earnest!" wrapping him in a bear-hug. It was Modell's finest hour.

Along with the many unpleasant things, it deserves to be remembered today.
And in case you were wondering about the current Browns reaction to the death of Modell, here's the organization's 15-word statement: "The Cleveland Browns would like to extend their deepest condolences to the entire Modell family."

For more NFL news, rumors and analysis, follow @EyeOnNFL on Twitter, and subscribe to our Pick-6 Podcast and NFL newsletter. You can follow Josh Katzowitz on Twitter here: @joshkatzowitz.
It might be time to begin worrying about the Patriots quarterback

The Patriots are still odds-on favorites, but the other teams are closing in

SportsLine tapped into its Vegas sources to see who professional bettors like Sunday
Philadelphia readies itself for a massive celebration if the Eagles advance to the Super B...

Guess who's back, back again, Texans' Watt took important step in returning to field

Ryan seems likely to become one of the highest-paid players in the NFL