Art Rooney II: Steelers want Troy Polamalu to retire in Pittsburgh
Pittsburgh team president Art Rooney II said this week that he'd like to see Troy Polamalu retire as a Steeler. Polamalu has spent his entire 11-year career in the steel city.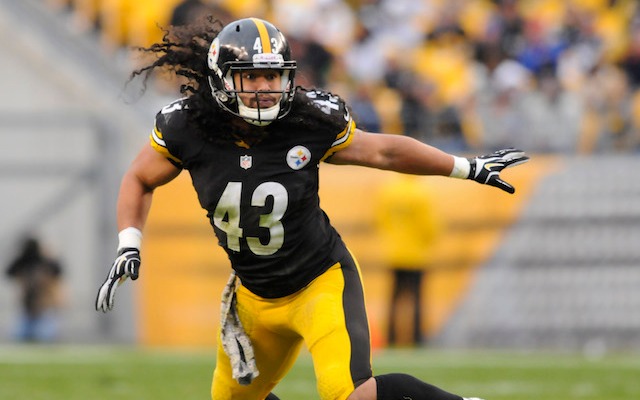 Steelers safety Troy Polamalu has been in Pittsburgh since 2003 when the Steelers selected him 16th overall in the NFL Draft. Polamalu began his career in the steel city and if recent comments made by team president Art Rooney II are any indication, Polamalu should plan on finishing his career in Pittsburgh.
During a conference call with season-ticket holders this week, Rooney said the team would like to keep Polamalu in Pittsburgh, "We would very much love to have Troy retire as a Steeler and expect that he will," Rooney said, via ESPN.com. "He's obviously been one of the great Steelers of all time."
If the Steelers are going to keep Polamalu, they're probably going to have to get his cap number down, something Rooney acknowledged. The 32-year-old is scheduled to make $8.25 million in 2014, the final year of his contract. Polamalu's cap number though is $10.9 million, according to the Pittsburgh Tribune-Review. 
"As we try to piece together next year and our salary cap, there are a lot of pieces to the puzzle," Rooney said, "but I certainly expect Troy will be one of the pieces of that puzzle."
Another question the Steelers will have to answer is whether or not the 11-year veteran can stay healthy. Polamalu missed nine games in 2012, but played in all 16 regular season games in 2013. 
"The great thing about this past season as far as Troy was concerned was that he played all 16 games," Rooney said. "That's very helpful for us when we have a player like Troy who's able to stay healthy and play start to finish."
Rooney sounds like someone who wants Polamalu to stick around, which should be good news for Polamalu if he had plans of finishing his career in Pittsburgh.  
The Chargers are hoping that Philip Rivers can play on Sunday

This is the biggest showdown of the week in the NFL

The battle between the Rams' offense and Vikings' defense will be waged in the middle of the...
An 'inappropriate' comment by the Cowboys' owner was caught on video in 2013

Here's every official injury designation for each NFL team for Week 11

The Chargers can't seem to avoid controversy this year