As franchise tag deadline nears, don't expect a lot of deals
The franchise tag deadline looms for players like Broncos LT Ryan Clady and Bills safety Jairus Byrd. Jason La Canfora checks on negotiations to project which deals gets done.
• 6 min read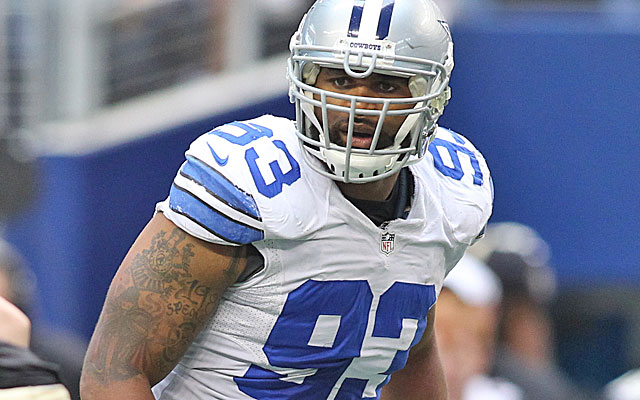 The franchise tag wasn't nearly as fashionable for NFL teams this offseason as it usually is, but nevertheless, for a quarter of the league, a notable deadline is nearing. We are now a month away from the cutoff for the eight teams with franchise players to sign them to a long-term extension or risk losing them as a free agent after the 2013 season.
And, while there is still ample time to complete such deals, it's not looking all that promising for most of these negotiations as things stand now, with minicamps and OTAs wrapping up around the league and coaches and execs shutting it down for vacation.
As with anything else deadline-related, most deals, if completed, will go right down to the July 15 date. While there have been proposals exchanged in most of these instances, what is being offered hasn't been nearly enough by and large to keep the franchise players from being willing to play things out this season and see what the market will reap next March.
So here's a brief primer on where things stand with the seven non-specialists on the franchise tag with the few truly slow weeks of the NFL calendar now upon us. (Full disclosure: I haven't gone in depth taking the temperature between franchise punter Pat McAfee and the Colts).
I'll go in order of how likely a deal looks at this point, from most to least:
Anthony Spencer, OLB, Dallas Cowboys: Jerry Jones is as about as generous as it gets when it comes to taking care of his own players, generally, to a fault. Some thought it was ambitious to franchise Spencer initially, in 2012, but he responded with a true breakthrough season befitting his original draft status. So that left Jones with little recourse but to retain Spencer's rights for 2013, at a 20 percent raise. So Spencer stands to make $10.7 million this season, on top of the $8.9 million guaranteed he pocketed last season. Generally if you give a guy a  $20M guaranteed deal you expect to retain his rights beyond a year-to-year basis, which explains why these sides have been exchanging proposals for quite some time, according to sources. It would be silly to let him walk should Spencer maintain his 2012 form, and talks have been cordial and productive, according to sources. While it would be a stretch to say they're close to a deal, there has been enough momentum to conclude this could get resolved by the deadline next month.
Jairus Byrd, S, Buffalo Bills: There hasn't been any real movement in these talks, according to sources, so based on that alone one might not be optimistic. But, man, the Bills cannot afford to risk losing any good young talent. This ball hawk is a difference maker, and if Buffalo can ever get that pass rush thing figured out, then the opportunities for Byrd to get his hands on the ball only increase. The Bills are sitting on about $20 million of cap space, fourth-most in the NFL, and getting Byrd off the tag will actually create more space for them over time. You don't overspend like mad on Mario Williams only to let your homegrown talent depart, and franchising again Byrd in 2013 would just be more expensive.  It also isn't exactly the way for a new coaching and front office regime to engender positive vibes in the locker room.
Ryan Clady, LT, Denver Broncos: These sides haven't been able to get on the same page as to Clady's value, and sources said the kind of money the Broncos had on the table for a long-term deal, prior to placing the tag on Clady, simply were not in line with what a top-five tackle will earn these days. Much less one entrusted with protecting the significant blind side of one Peyton Manning, who has his neck/spine issues and isn't exactly Mr. Mobility. Denver's edging closer to reality on what the cost will be to sign Clady for the next five years or so, and while there remains a gulf to bridge, there is at least some sense that it could get done in the next month. Again, look for this to go right to the deadline, but Clady proved last season his 2011 injury was behind him, and he would be a highly coveted free agent if allowed to get to the open market.
Henry Melton, DT, Chicago Bears: Usually, if a deal is going to get done in these circumstances, there has been a fairly steady dialogue between the sides, even if no one is really budging. There hasn't been that sense of urgency here, and with the Bears defense rapidly aging one would have expected more movement on this player. Melton didn't delay signing his $8.9 million contract tender and took part in offseason work, which might have spurred a deal as well ... only it hasn't to this point. Melton responded well to the pressure of playing out his deal a year ago, rising to Pro Bowl form. If he reaches that level again in 2013, absent a long-term deal, then I suspect the Bears would have to franchise him again or they'll lose him on the open market.
Branden Albert, T, Kansas City Chiefs: We're well into the point on this list where I become much less confident a deal will be struck. The Chiefs tried to ink Albert long-term before franchising him. They tried like heck to trade him before doing the inevitable and drafting a left tackle with the first-overall pick (Eric Fisher), then continued attempts to move Albert through draft weekend. Fisher could play right tackle for the short-term, but was drafted to play left, and Albert, a left tackle who could dabble on the right, wants to be paid like a left tackle, which is way more lucrative. Eventually, if Fisher is the player he's expected to be, the Chiefs will have to tear up that rookie deal and give him a new contract. So it looks like the time to secure Albert's services into the future may have passed.
Michael Johnson, DE, Cincinnati Bengals: There doesn't seem to be much optimism at all regarding this situation. They haven't been able to agree on a market value and the Bengals are going to have to prepare to franchise all-world defensive tackle Geno Atkins come 2014 given the chasm that exists in their early negotiations with him. There is some skepticism about how deep the Bengals will dig to keep talent, and with three defensive linemen needing to get paid in the next nine to 10 months, Johnson looks like a goner unless the Bengals step up significantly between now and mid-July.
Randy Starks, DL, Miami Dolphins: Nothing at all to note here, and it certainly appears that Starks will play out this year and hit free agency. They never got close on a long-term deal before franchising him, and haven't seemed all that concerned about doing one now after making a huge splash in free agency. Starks' relative youth, combined with his versatility and effectiveness will make him attractive on the open market and the Dolphins ended up not extending the previous franchise player they tagged -- Paul Soliai. Soliai ended up back there because the market for him was fairly tepid, but that won't be the case for Starks with another strong season, especially if say Melton gets a new deal and Atkins is tagged. (Atkins getting tagged, by the way, is a certainty barring them doing an extension or some unfortunate catastrophic injury.) At this point, those close to Starks would be pretty surprised if he just plays out the tag.
Pick Six Newsletter
Get the day's big stories + fun stuff you love like mock drafts, picks and power rankings.
Please check the opt-in box to acknowledge that you would like to subscribe.
Thanks for signing up!
Keep an eye on your inbox for the latest sports news.
Sorry!
There was an error processing your subscription.
HBO and NFL Films revealed even more drama than we thought with the wide receiver position...

The former Cowboys standout might be a nice supplement to the current Browns wide receiver...

It's officially personality season in Denver
The Steelers quarterback might be in the concussion protocol after being hit in training c...

The former Raiders corner served five months of a year-long sentence after pleading guilty...

Pryor revealed to reporters that he broke his ankle earlier this offseason