Backstreet Boy wants Buccaneers coach Greg Schiano fired
Backstreet Boy Nick Carter, who also happens to be a Tampa Bay Buccaneers fan, wants to see Greg Schiano fired.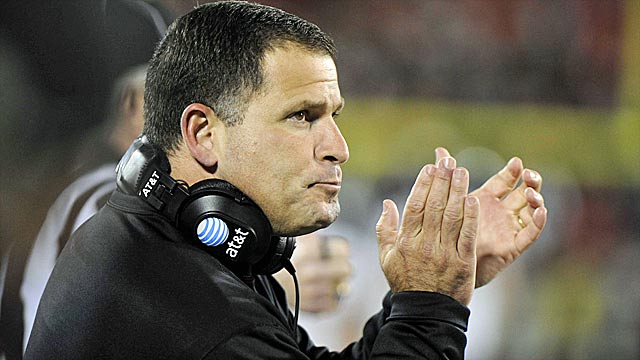 In his brief NFL coaching career, Tampa Bay's Greg Schiano has had several lowlights. 
Just to rehash: Schiano's been accused of leaking Josh Freeman's personal medical information, a Bengals defensive end called him a joke and at a season-ticket holder meeting, Schiano referred to the pre-Schiano Bucs as the 'laughingstock of the league,' which makes no sense because if your team's 0-4, you should never use the word laughingstock. 
Speaking of laughingstocks, apparently Schiano is the laughingstock of the Backstreet Boys. Backstreet Boy member Nick Carter tweeted this out on Sunday night: 
October 14, 2013
Carter is a self-proclaimed 'die-hard Buccaneers fan' and it appears he's had enough of Schiano's antics.
I'm not saying Bucs owner Malcolm Glazer should listen to a Backstreet Boy, but I am saying that when a Backstreet Boy is taking to Twitter to weigh-in on your coaching situation, maybe it's time to evaluate your coaching situation.  
If Schiano does get fired, lets hope it's before next week so he can go on this three-day Backstreet Boys cruise that runs from Oct. 25-28. 
Find out how Da'Ron Payne, Vita Vea and the rest of the defensive tackles stack up

The former first-round pick is throwing at the San Diego pro day, which benefits him and the...

Here are some players with similar skills as the top prospects but who will still be available...
San Francisco was not always guaranteed to go get Jimmy Garoppolo

Keep up with the latest moves in free agency as teams try to build a Super Bowl contender

The owners are voting on the pass-interference proposal and others next weekend