Backup QB Charlie Whitehurst to Titans; Kellen Clemens to Chargers
The Chargers lost backup quarterback Charlie Whitehurst on Thursday, but replaced him quickly. Whitehurst is headed for Tennesee, while former Rams backup Kellen Clemens is headed for San Diego.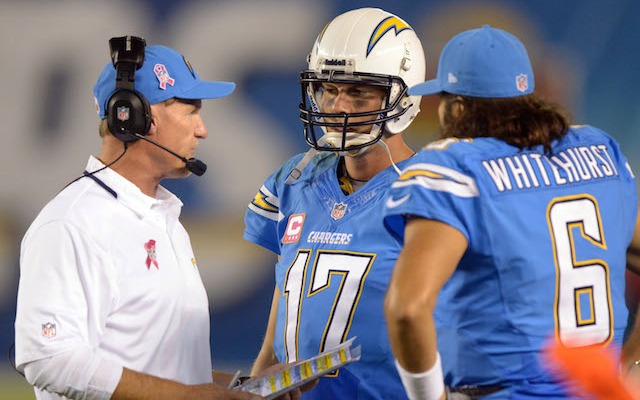 More NFL offseason: Mock Drafts | Prospect Rankings | Pro Days | Top free agents
New Tennessee Titans coach Ken Whisenhunt must have really liked Charlie Whitehurst during his one season as San Diego's offensive coordinator. Whisenhunt and the Titans added the former Chargers backup quarterback on Thursday. According to the Tennessean, Whitehurst has agreed to a two-year deal that's worth up to $8 million. 
The Chargers didn't wait long to replace Whitehurst. Just minutes after news broke that Whitehurst was headed to Tennessee, San Diego announced a two-year deal with former Rams backup quarterback Kellen Clemens. 
San Diego will pick up some experience at the backup quarterback spot by replacing Whitehurst with Clemens. Clemens started more games in 2013 (9), than Whitehurst has started since entering the NFL in 2006 (4). 
Clemens started nine games for the Rams last season after starter Sam Bradford went down with a torn ACL in Week 7. Clemens went 4-5 in those starts with wins over Indianapolis, Chicago, New Orleans and Tampa Bay. The 30-year-old also almost engineered an upset of Seattle in his first start of 2013. In Week 8, the Rams lost to the Seahawks 14-9. 
Over eight seasons with the Jets and Rams, Clemens has started a total of 21 games and gone 8-13 in those starts. 
Both Clemens and Whitehurst entered the league in 2006. Clemens was a second-round pick of the Jets. Whitehurst was a third-round pick of the Chargers. Whitehurst has only started four games since 2006, meaning if the Titans cut Ryan Fitzpatrick, they'll have two quarterbacks leftover in Whitehurst and Jake Locker who have a combined total of 22 career starts. 
This isn't the first-time Whisenhunt has gone after Whitehurst. According to ESPN.com, while Whisenhunt was coach in Arizona, he tried to land the backup quarterback, but Whitehurst ended up signing with Seattle. 
Peterman threw five interceptions in the first half before getting yanked

The Vikings' coach addresses the team's cloudy quarterback situation after their eighth win...

Here are the Week 11 grades for every team that played Sunday
Green Bay could have brought in a veteran quarterback but decided to stick with Hundley

All of the best highlights from Week 11 are right here

The Saints have now won eight straight games after an incredible comeback