Bar owner: Titans QB Zach Mettenberger sucker-punched
Although there were rumors that Titans quarterback Zach Mettenberger had broken his hand, he actually just got punched in the face.
• 1 min read
More NFL: Photos |   Videos & GIFs |  Stories | Training Camps | Johnny Manziel watch 
Zach Mettenberger, the standout quarterback from LSU who was selected by the Titans in the sixth round of the NFL draft, was sucker-punched at a Nashville bar this past weekend, the establishment's owner told the Tennessean.
According to Steve Ford, the owner of Loser's Most Wanted Bar & Grill, Mettenberger was doing nothing to provoke the man who hit him in the face. Unless you count a dis of a "Roll Tide" proclamation.
"Here's the truth: The guy said something about 'Roll Tide!' to Zach, and Zach turned around and said 'Good luck with that,'" Ford told the newspaper Monday. "And the guy's buddy then sucker-punched Zach.
"I promise you that Mettenberger did not throw a punch. He didn't do anything. The guy sucker-punched him in the eye, that's the bottom line, and the guy that punched him started running out the door. My door guys had to chase him down."
Mettenberger did not need medical attention, and neither he nor the bar decided to press charges.
There had been rumors that Mettenberger had broken his hand in a bar fight, but he told the Tennessean on Sunday that it was a "bogus rumor."
"I know in 15 years being in the bar business, I know that everyone is trying to provoke someone who is a moving billboard," Ford said. "I don't care if they are country music, a rapper, football players or whatever. Everybody is trying to push somebody's buttons. It is a lawsuit jungle out there."
The Titans open training camp on Friday.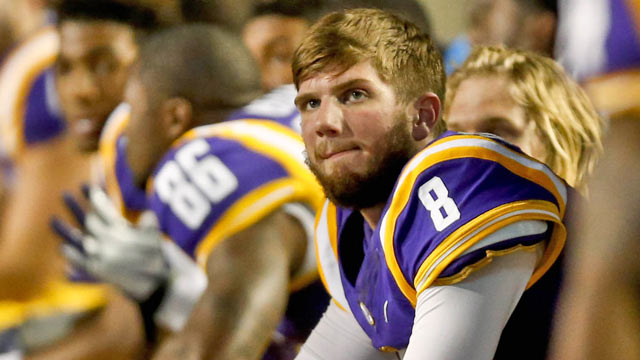 After an injury to Trevor Siemian, Brock Osweiler entered the game and helped the Broncos to...

The 32-year-old running back is done for the year

Brandon Williams was involved in a scary situation in the first half against Denver
The Broncos are turning back to Osweiler after an injury to Siemian

The Cowboys legend admits he's not on 'great' terms with the Cowboys suspended running bac...

Here's the latest information on injured Steelers linebacker Ryan Shazier