Battle for Los Angeles: Rams, Raiders jockey for return to SoCal
Los Angeles is the last remaining domestic jewel of the NFL. Two teams that used to call it home -- Rams and Raiders -- are maneuvering to maybe call SoCal home once again.
• 9 min read
More NFL offseason: Mock Drafts | Prospect Rankings | Pro Days | Top free agents
There are three NFL teams most closely eyeing Los Angeles. At least one of them will be left without a landing spot in this multi-billion dollar game of musical chairs.
That's the cruel reality of big-boy NFL economics, and this entire process -- as rambling and meandering as the league's eventual return to Los Angeles has been -- has suddenly taken on more of a sense of urgency than we've seen in quite some time. The Raiders and Rams are de facto franchise free agents following the 2014 season, as they'll be able to pick up and move more or less as they see fit. The Chargers are operating on a lease that has become decreasingly cumbersome to get out of. The financial requirement to leave the stadium formerly known as Jack Murphy are dropping by the year and their ability to exit the stadium will become less and less of a financial drain.
And the stakes are higher than ever. This arms race is on.
A return of the Rams?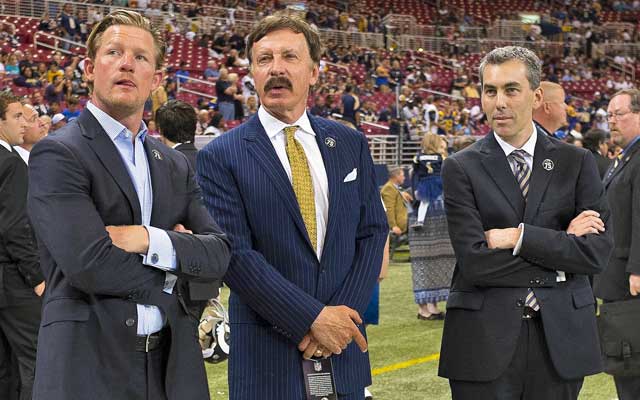 If there is someone remotely associated with the NFL and the upper regions of team economics who believes Rams owner Stan Kroenke just happened to buy a parcel of land in a NFL-approved region of downtown L.A. that could most definitely accommodate a stadium, well I've yet to encounter them.
This was no quirky coincidence.
Kroenke has the ability to pick up his ball and move where he wants in 2015, and he already has tremendous business and real estate ties to the Southern California area. You might read some stuff about the 60-acre parcel of land Kroenke purchased as being not large enough to accommodate a stadium, but that's baloney. I've talked to people who have the lay of the land out there, and have expertise in this realm, and they are adamant that the size of this parcel, when combined with the available parking spaces nearby, is plenty enough to sustain the infrastructure necessary for a state-of-the-art NFL facility there.
The biggest drawback to Kroenke's locale is that it overlaps with established flight plans at LAX Airport, and thus would create some significant issues with blimps flying overhead games there, etc. But in this era of tiny cameras and drones and rapidly evolving technology, I have a hard time seeing an issue like this being an impediment to something all those billionaire NFL owners would very much want to happen for the overall fiscal benefit of the entire league.
When Kroenke made this move a few months back, trust me, it sent ripples around the league and any other club who was quietly eyeing or vying to be the first team to Los Angeles most certainly took notice. The first two teams into L.A., assuming they come in together, are primed to reap massive financial benefits. The market will be theirs, the revenue streams -- through sales and marketing and suites and sponsorships and Hollywood tie-ins and that initial influx of money coming through -- would be astronomical. The team that fails to land there, well, they are probably screwed, particularly if it's one of the California-based teams left on the outside looking in.
Kroenke, if he had to go back to the Missouri municipalities, would have a much better chance at working out a public/private funding arrangement than any entity would in California, given some of the unique environmental and political hurdles that would have to be overcome there.
"The league has shown it is very comfortable being patient and finding the right owner for L.A.," said one person highly connected to the jostling going on for this potential market. "They are looking for one monster of an owner with the wealth and means and expertise to make this work. Could it be Kroenke, could it be Spanos, could it be (Oracle CEO Larry) Ellison (the third-richest person in America)? Certainly it could be someone like that. With the purchase of that land, Kroenke is certainly well positioned. He could be that guy, but will Stan do the work himself and how badly does he want it to happen? He is someone who tends to delegate, but if he is personally invested enough in doing the work, then it could end up being his.
"And (Raiders owner) Mark Davis is a fine fellow, but he does not have the level of experience and acumen and resources that those other men possess."
Black and Silver back in L.A.?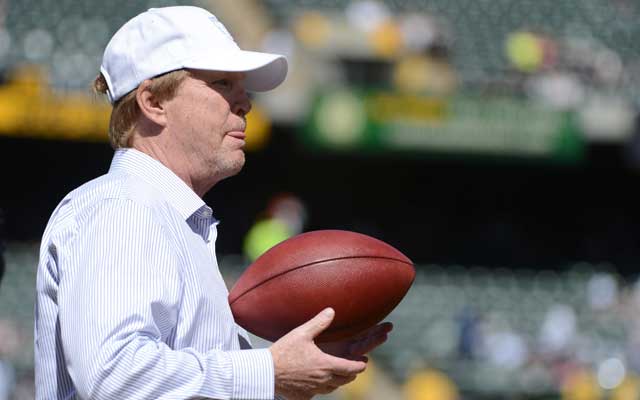 Many people in the upper echelons of NFL business would agree with the sentiment that Davis, as long as he clings to day-to-day management of the Raiders, will have a helluva time getting the green light to move his team there. And I've heard quite a bit of buzz out of Southern California that Davis has been spending a considerable amount of time in the L.A. area, and that given the dire circumstances of landing a stadium in Oakland -- especially with the 49ers already about to move to Levi's Stadium -- a return to L.A. looks more and more like the most desired long-term path for Raiders management. Davis has spent some time with entertainment mogul Michael Ovitz, I'm told, who has a strong relationship with Commissioner Roger Goodell and few are better positioned to pull off ultimately getting an NFL team back in L.A. than he is.
Ovitz's ability to bankroll a move of this magnitude, however, comes with some scrutiny, though it is clear Davis is at least exploring possible options and partnerships that might help him head back to Southern California. In the meantime, the Raiders, on a very team-friendly one-year lease extension with Oakland Alameda County, have options. Staying at decrepit O.Co Coliseum beyond 2014 is anything but a foregone conclusion and the current lease would allow the team to continue hosting spring workouts and OTAs at their current facility into 2015, even if the franchise is relocated from its current game-day home.
  So where could they go?
Well, sparkling AT&T Park in downtown San Francisco, for one. It's a still-new, thriving facility in a great area with exceptional public transportation that trumps anything the Raiders have called home, well, maybe ever. It isn't ideal for football, but it hosts a bowl game every year, has outstanding suites and sponsorship possibility and sits vacant whenever the San Francisco Giants are not playing baseball games. Coaxing 10 dates out of it would be no problem at all.
The Giants, in light of a tricky political climate in Northern California and not wanting to do anything that might ruffle feathers at the MLB league office or make life even more difficult for the Oakland A's, must be careful what they say and do publicly. Privately, having the Raiders as temporary tenants there seems like a no-brainer. And, well, you can imagine the 49ers wouldn't be thrilled with having a team in downtown San Francisco, though, having just been awarded Super Bowl 50 and with their glistening new stadium opening in Santa Clara, perhaps the climate would be right for Davis to take this tact.
In the past, during bowl games played at AT&T Park, both football teams playing games there had to share one sideline, but that has changed over time, and while the capacity is lower at AT&T Park, it is still plenty large enough to accommodate the Raiders' season-ticket base, and, in fact, could create more game-day walk-up demand minus the current climate at O.Co Coliseum, with the upper deck covered by signage and cut-off from fan sales to try to help manage the league's blackout regulations.
In fact, the more people I talk to who are acclimated with the stadium climate in Northern California, the more I become convinced that the Raiders playing in San Francisco for some period of time is anything but ludicrous. And as much as Davis has decried ever sharing a stadium with the Yorks, the 49ers owners, playing a few years in Santa Clara on a temporary basis to buy more time for a move to L.A., or whatever, would still seem more beneficial to some in Oakland's organization than would playing beyond 2014 in a stadium that is utterly dilapidated with sewage issues at times and that prevents the team from tapping into anything close to the revenue possibilities of most other clubs.
The reality for the Raiders is they got a great one-year deal with the local government, in what was becoming an election year for the powers that be in Oakland. And no politician wants to have the blood of the franchise slipping away -- again -- on his or her hands. So that has created a scenario that Davis just might be able to capitalize on in the current climate, but he also must understand that his ultimate goal in NoCal -- sweetheart funding for a new stadium on the location occupied by the current coliseum -- might end up being pure folly, as many expect, especially with the 49ers just setting up shop a mere 35 miles down the road. And should Davis ever actually pull that off, AT&T Park would be his best possible spot to play for a few years while that new stadium is being built.  
As for the Chargers, well, should they end up pushed out of the biggest metropolis in Southern California by two other teams ending up in L.A., that would create substantial economic hardships.
The Spanos family clearly wants to stay in the area, and if Kroenke's land purchase wasn't seen as a potential shot across the bow, well, it probably should be. The timeframe for all of these machinations has suddenly sped up. Things are playing out much more in real time than as hypotheticals years down the road, and a year from now I would be shocked if there was not some very substantial wheeling and dealing going on by these franchises in regards to L.A.
The level of chatter in L.A. about the NFL's return, within the real estate and business world movers and shakers, has reached a more fevered pitch than in years before, particularly when it comes to the Raiders. And, as noted, there are plenty within league circles who believe the NFL -- which will very much control entry into this lucrative market -- will be loathe to let Davis be the first man there no matter what, especially in light of all of their legal struggles in the past in that regard with Davis's father, Al.
Regardless, the closer we get to 2015, the more you will hear about all of the behind-the-scenes maneuvering, and the uglier things just might get in Oakland, in particular. With the A's uncertain long-term tenants at O.Co Coliseum as well, and with the 49ers moving closer to hosting a Super Bowl in their soon-to-be-christened new digs, pressure is mounting, leverage games are quietly taking place, and the team that is least savvy in regards to the Los Angeles market could be the one that is left stuck in stadium purgatory in their current homes and grappling with (relatively speaking, in NFL terms) revenue hell.
It looks like we're going to have a quarterback competition in Jacksonville

Smith is facing up to seven years in prison if convicted

Plus everything else you need to know about Week 2 of the 2017 NFL preseason
This is why being a rookie in the NFL isn't fun

The Raiders running back went Beast Mode on reporters

Elway tried his best to emphasize how complicated the situation is