Bears CB Kyle Fuller 1st 1st-rounder to agree to contract terms
The Bears and cornerback Kyle Fuller have agreed to terms on a deal that should pay him $9.687 million guaranteed.
• 1 min read
More Draft coverage: 2015 Mock Drafts | 2015 Top 100 | 2014 Draft Grades | News
The first first-rounder of the draft class of 2014 has agreed to terms on his rookie contract.
That would be cornerback Kyle Fuller, drafted by the Bears with the No. 14 overall pick. He's slotted to receive a four-year deal (with a fifth-year option for the team) that, according to CBSSports.com's Joel Corry, will be worth $9.687 million with a $1.761 million salary cap number for 2014.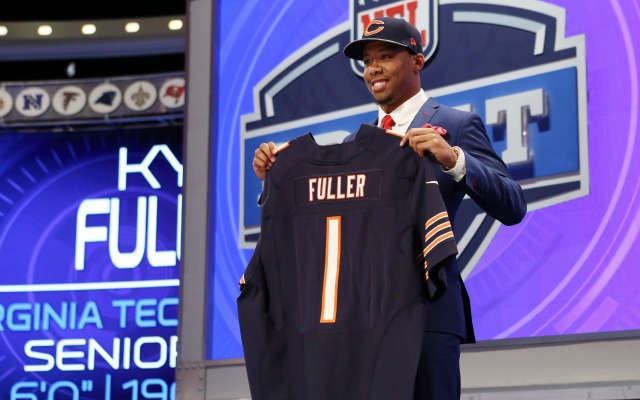 The Bears' selection of Fuller was praised by CBSSports.com's Pete Prisco, who wrote, "I love the Fuller pick. The top corner in my mind and [the Bears] need corners in a division with two good passers."
Said Fuller after his selection (via CBS Chicago): "We didn't talk about it specifically, but coming in, I feel like they know I can play corner or nickel, possibly safety. Whatever it is, I'm a versatile player. I know they'll put me in the best situation for myself and for the team.
"I haven't actually played safety. Some of the things we did at Virginia Tech was some safety stuff. but being able to line up… My skill set, as far as being able to play safety, I'm tough, physical, can come up and tackle. I haven't played it, but I played corner and nickel, and I feel like I can do that."
This matchup isn't quite as glamorous as it looked when the schedule was released in the s...

Patriots-Steelers highlights a week filled with playoff-caliber games

Cleveland's quarterback has recently improved, but his turnovers have been a big part of the...
Warren Sapp was one of several players named in a lawsuit against NFL Network

Check out the uniforms that Denver and Indianapolis will be wearing on Thursday

The Cowboys are going to need a few things to go their way to get into the postseason