Bears GM Phil Emery not inclined to give Jay Cutler 2014 franchise tag
So far, Jay Cutler doesn't seem to be negotiating for a long-term deal with the Bears, and it sounds like the team won't franchise tag him either.
• 3 min read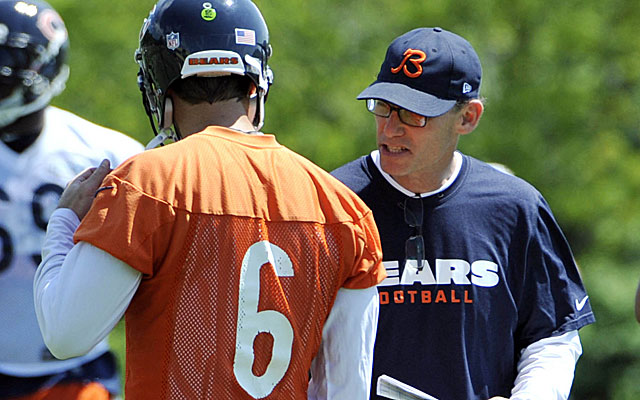 Josh McCown has played well -- better than expected, at the very least -- as he's relieved Jay Cutler as Bears quarterback while Cutler recovers from a hamstring injury. He's played well enough, in fact, that there are whispers that perhaps the team shouldn't be so quick to give Cutler back his starting job when he's ready to return.
While that premise is slightly strange, McCown's performances in his past six games -- where he's thrown nine touchdowns against just one interception while putting up a quarterback rating of 103.6 -- has left people wondering the state of the impending free agency of Cutler, whose contract expires after this season and who seemingly is not in any kind of serious negotiations with Chicago.
And to make matters more interesting, Bears general manager Phil Emery said in an online Q&A, via the Chicago Tribune, that he's not inclined to franchise tag Cutler for 2014.
"The franchise tag for the quarterback position has unique challenges because the average comes out to be such a big portion of your cap and your total money available to spend on other players to acquire to help your team," Emery said.
"With the franchise tag being so high for the quarterback position, to use it and not sign the individual to a long-term deal hurts the team because you lose the ability to prorate the amount of guaranteed salary over the length of the contract. Proration lowers the salary cap number in relation to that player's contract. Obviously the lower the number in relation to the salary cap, the more players you can sign to help your team reach its goals."
The Bears have said since the beginning of the season that they're not going to negotiate until after the year is complete.
As CBS Sports' Jason La Canfora wrote in September, "Based on a $127 million cap projection, the quarterback non-exclusive tag amount would be $16.2M, according to sources. No talks are scheduled and, if/when the sides do sit down, look for Dallas quarterback Tony Romo ($18 million a year on his recent extension) and Matt Stafford ($15.3M per year on his new deal) to be names who would come up in negotiations. Should the Bears have a playoff run similar to what Joe Flacco pulled off in the final year of his deal with Baltimore last year, then the number would obviously go higher."
Unfortunately for Cutler, his team probably won't make the postseason and he's been injured for a major portion of the calendar for the second time in three years. Cutler played well in coach Marc Trestman's system, but at this point, you have to wonder if the Bears even want Cutler back for 2014 and beyond. Especially since a number of important Bears players are in the last year of their contracts and since the current deals for Brandon Marshall and Lance Briggs end after 2014.
One possible option, from the mind of La Canfora:
"McCown is a football journeyman. But in an era of escalating quarterback salaries, with a guru like Trestman to coach them up, take the opportunity to save $10 million or more a year at the position and invest those assets into other positions of need (like an aged defense with a bunch of impending free agents). I know this much, Trestman has told some people he sees a lot of Rich Gannon in McCown, and Gannon too was a late bloomer who ended up with Trestman in Oakland and had some record-breaking seasons and reached a Super Bowl. For a franchise as traditionally frugal as the Bears, I don't think you can minimize the financial factors in this at all."
Follow Josh Katzowitz on Google+
The NFC is going to be a blast to watch down the stretch, but don't sleep on the Patriots'...

The Dolphins just created a serious shock in the AFC and MVP races by beating the Patriots

With their 2017 season basically over, it's time for Texans fans to turn their attention to...
Now 10 different players have intercepted Tom Brady multiple times in one game

Brady lofted it between two defenders and Lewis snatched it with one hand