Bears hire Josh McDaniels' brother despite the Cutler-McDaniels feud
Jay Cutler will finally work with a McDaniels brother.
• 3 min read
Seven years after the feud that dramatically altered the landscape of the NFL, Jay Cutler will be reuniting with a McDaniels. This time, he won't be forced to work alongside Josh, the Patriots' offensive coordinator who lasted less than two years as the Broncos' head coach and even less time paired together with Cutler. This time, Cutler will be working with Ben, Josh's brother.
On Monday, the Bears officially announced that they've hired Ben McDaniels as their offensive assistant. Ben previously served as an offensive assistant with the Buccaneers from 2012-2013 and as the Broncos' quarterbacks coach in 2010 and offensive assistant in 2009. Both years in Denver overlapped with his brother, Josh. This past season, McDaniels coordinated Rutgers' offense and worked with the quarterbacks after spending 2014 coaching the school's wide receivers.
Now, he'll return to the NFL to work under head coach John Fox. And yes, that means he'll be working in some capacity with quarterback Jay Cutler.
Hopefully he has better results than his brother. When Josh was hired as the Broncos' head coach before the 2009 season, he and Cutler did not exactly hit it off. Instead, Josh reportedly tried to trade Cutler for Matt Cassel. The trade didn't work out, but Cutler still wanted out. At least that's how the story was originally told.
This past October, former Broncos general manager Ted Sundquist, who drafted Cutler but wasn't around for the short-lived McDaniels era, told his version of the story. Rather, he told the version of the story that he'd been given. This is what he wrote for Bleacher Report about the Cutler-McDaniels' feud:
Shortly after Josh McDaniels moved into his office at Dove Valley, he called in Cutler and his agent, Bus Cook, for a closed-door meeting. The story goes that McDaniels began with a 20-minute dissertation of his resume, how he'd worked his way up the ranks in New England to become Bill Belichick's right-hand man with the offense and how the team would have been nowhere the year before without his tutelage of backup Matt Cassel. He continued on with justification of his hiring by Bowlen.

After the perplexing recitation of accomplishments, McDaniels suddenly shifted gears.

He began to bash and berate Cutler and his game to the tune of a verbal flogging neither had ever witnessed. The expletive-laden diatribe went on for a few minutes, after which Cook stood up and told Cutler they were leaving. As they walked down the long hallway past Bowlen's office, Cutler turned to Bus and said, "Get me out of here. I don't care how you do it."
Regardless of what actually transpired between the two men, it resulted in a blockbuster trade with the Bears, as Denver shipped their former franchise quarterback and a fifth-round pick to Chicago in exchange for Kyle Orton, two first-rounders and a third-round selection as well.
And the rest is well-documented. Cutler is still looking to live up to his billing, McDaniels failed in his stint as a head coach, but continues to thrive as the Patriots' offensive coordinator, and the Broncos eventually recovered from the catastrophe by latching onto Peyton Manning and building one of the top defenses in the league. Had none that not happened, then Ben and Cutler would've already worked together as members of the Broncos. Instead, they'll finally work together in Chicago in 2016.
And for what it's worth, Cutler appears to be totally over the feud with Josh. Here's what he told David Haugh of The Chicago Tribune during a Q&A at the end of this past season.
Q: What role do you think your age, your family, being a husband and father played in handling that uncertainty?

A: "No doubt. That's valid. We all become a little wiser. Now I take a little more time to process things. In Denver, when it went down and I (asked for a trade), it was more of a reaction instead of thinking about it and saying, 'Do I really want to go through with this and pit myself versus (former Broncos coach) Josh (McDaniels) and Denver?' If I was in that situation now, it might play out differently. But as you get older and having Kristin and the boys (Camden and Jaxon) and now a daughter (Saylor), there's a lot more to think about. It's not just you. Having kids helps you realize how selfish you can be as a person, rather quickly. These have all been things I haven't mastered, but I'm definitely more aware of."
By the sound of it, this Cutler-McDaniels pairing should go a bit different, perhaps involving fewer "expletive-laden diatribes."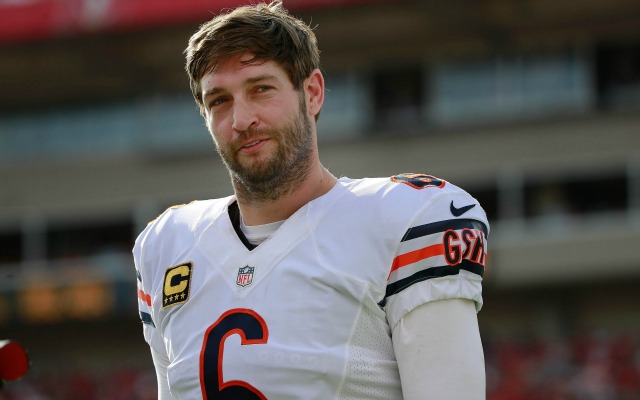 The longtime Bengals coach and the team are planning to part ways after the season ends

Everything you need to know heading into Week 15 is right here

Haden has been out since Week 10 with a fractured fibula
There's also the possibility Goodell steps aside early if his potential successor is progressing...

The league could return to its pre-2009 policy after a year in which pregame protests took...

Arians hasn't said he's retiring, but the team has discussed contingencies for a coaching...