Bears' QB decision: Expensive Cutler vs. McCown and roster help
With Josh McCown ably filling in for Jay Cutler, the Bears face a QB dilemma -- pay up for Cutler or keep McCown and spend the savings elsewhere.
• 6 min read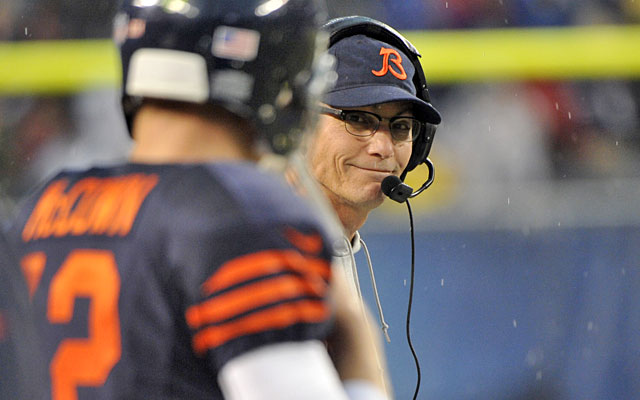 At some point in a few weeks, Marc Trestman could face the most pivotal call of his young NFL head coaching career. The Bears' rookie coach could be forced to juggle a true quarterback controversy with his team in the midst of a playoff push, with Josh McCown seemingly a perfect fit in his quarterback-friendly system and incumbent Jay Cutler on his way back from another injury.
Then again, by the time Cutler returns from his high-ankle sprain, perhaps there won't be much of a decision to make at all. Not if McCown can continue his mastery. As far as I'm concerned, McCown has already displayed more than enough to earn a longer look-see as the Bears' starter -- even if Cutler makes a dramatically swift recovery from his ankle injury as his recent hip ailment.
To some this may seem like a potentially awkward and uncomfortable confluence of events. In reality, the Bears have an opportunity to sort out some massive, overarching decisions about the future of the franchise and how to best position themselves to win a Super Bowl. I wouldn't be quick to write off what McCown has done when repeatedly rushed in and out of the lineup in less-than-ideal conditions. His heady, passionate, turnover-free play seems to have ignited the entire team and given general manager Phil Emery and Trestman plenty to mull over with the offseason not all that far away.
Cutler, as we know, is in the final year of his deal with the Bears. Emery has seen him for the better part of two seasons up close, and has made no real attempt to secure his services into the future. That, in and of itself, is telling. When you have a true franchise quarterback -- or someone viewed as on the verge of becoming one -- he's generally locked up by now. And unlike, say, how things played out between Baltimore and Joe Flacco a year ago -- when he played out his rookie deal as Super Bowl MVP and virtually assured himself a contract at $20 million a year -- things are much more murky and abstract with Cutler.
For one, Cutler has continued to fall to crushing interceptions, letting out too much of his inner gunslinger at the worst possible time. He has high highs and low lows and he has been forced to miss games this season, which created the opportunity for McCown.
Determining Cutler's worth is a true conundrum. In the meantime, mega-deals for quarterbacks with a similar lack of a postseason pedigree -- Matt Ryan and Tony Romo -- have only served to send the price of quarterbacks soaring.
The odds of signing Cutler to a long-term deal, given the way this season has gone with others functioning so well with Trestman, seem bleak. To do so is likely going to cost at least $17 million a year, if not more (or $5 million more than Ben Roethlisberger will earn in 2014, for instance). Franchising Cutler had been the way I saw this playing out for much of the season -- a one-year, guaranteed deal worth about $16.5 million -- but that was before McCown began thriving under adverse conditions and making the offense operate at least as well as Cutler did, if not better.
Remember, McCown was thrust into action in Week 7 at Washington, with Cutler hurt late in the first half, and proceeded -- in a week he didn't get many practice reps -- to go 14 of 20 in the second half, for 204 yards and a touchdown. McCown put the team in position for a comeback win, only for the defense to wilt in a 45-41 defeat. He beat the Packers, in Green Bay, on a Monday night the following week, spraying the ball around for big plays to Brandon Marshall, Alshon Jeffrey and Martellus Bennett and throwing two more touchdowns.
Cutler, perhaps feeling some pressure from his looming contract situation and McCown's success, was back from his hip injury in Week 10 against the Detroit but could not complete the game. McCown went 6 of 9 for 62 yards and a touchdown, rallying Chicago against the Lions in the dying minutes and coming within a two-point conversion of sending the game to overtime.
Then Sunday, in tornado-like conditions, against the desperate defending Super Bowl champs, McCown helped his team back from an early 10-0 deficit to an overtime victory. McCown executed the winning drive with aplomb, starting by converting a third-and-9. He finished the game 19 of 31 for 216 yards and a touchdown, and has still not thrown an interception (or even really come all that close to doing so; it's not like linebackers and defensive backs have been dropping balls left and right).
On the season, in two full games and his relief appearances, McCown is 61 for 101 for 754 yards and five touchdowns -- a rating of 100. It hasn't been gaudy, but it has been patently efficient and smart. This isn't a case of anything being padded in garbage time or faux fantasy stats. These have been very tight, meaningful games and McCown has had to come in cold more than once.
Cutler is completing 63 percent of his passes this season with 13 touchdowns and eight picks in eight games. He has the huge arm and can thread the ball in ways few can -- though that often comes back to haunt his team as well as help it. Cutler has been in Chicago for five years after the Bears gave up a bevy of picks to get him from Denver. He has been in the league for eight years and if Bears ownership was certain he was the guy, or close to being the guy, this situation would have never reached this point in the first place.
We can't pretend it's out of the question that Cutler might not be in Chicago come 2014 if that franchise option looks less appealing than signing McCown to a three-year deal for about $5 million a season (with the chance to earn more in incentives). The Bears could let Cutler leave for a compensatory pick, then draft a quarterback Trestman can mold in the first few rounds. Or, like the Patriots did with Matt Cassel once upon a time, franchise him, extend McCown and see what Cutler will fetch via trade.
McCown is a football journeyman. But in an era of escalating quarterback salaries, with a guru like Trestman to coach them up, take the opportunity to save $10 million or more a year at the position and invest those assets into other positions of need (like an aged defense with a bunch of impending free agents). I know this much, Trestman has told some people he sees a lot of Rich Gannon in McCown, and Gannon too was a late bloomer who ended up with Trestman in Oakland and had some record-breaking seasons and reached a Super Bowl. For a franchise as traditionally frugal as the Bears, I don't think you can minimize the financial factors in this at all.
All of the scrutiny and baggage that has come with Cutler -- the mannerisms and body language and reactions that have caused a stir -- might not be worth it in the end. And he has played in just two postseason games and been to one Pro Bowl. Maybe it's not dissimilar to the decision to part with former coach Lovie Smith. He was let go after a 10-6 season but was never able to get over the hump late in seasons or in the postseason and was the victim of his own inconsistent results.
If McCown keeps this up for a few more weeks and the Bears stay in the postseason chase, then I don't see why you bench him. And if you are willing to play games that important with McCown now, then do you need to pay over $1 million per game for Cutler, for less crucial games, in the future? The answer might be different than you would think.
The Chargers, after starting 0-4, can take first in the AFC West with a win Sunday

The Lions cruised to a victory but will need to win out to have any chance of reaching the...

Here's every official injury designation for each NFL team for Week 15
This might go down as the best catch of Week 15

Our computer model simulated every Week 15 NFL game 10,000 times with very surprising resu...

Ryan Shazier and the Steelers were the big winners in Pro Bowl voting that was unveiled on...