Bears QB Jay Cutler worried about ligament damage in ankle
Jay Cutler isn't just dealing with a high ankle sprain, the Bears quarterback said there's also a 'couple of ligaments' that he's worried about in his left ankle.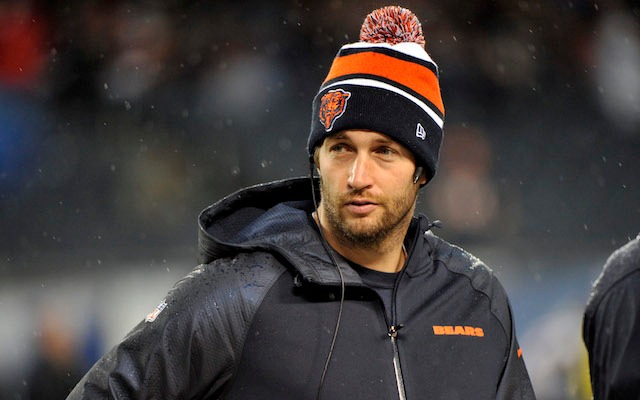 Bears quarterback Jay Cutler hasn't played since suffering a high ankle sprain during Chicago's 21-19 loss to Detroit in Week 10. However, it turns out that Cutler might be dealing with more than just a high ankle sprain. 
During his weekly radio show on ESPN 1000 in Chicago, Cutler said that the sprain isn't even a concern anymore, he's more worried about the ligaments in his ankle. 
"There are a couple of ligaments that we're a little worried about that's different than the normal high ankle sprain," Cutler said, via ESPN.com. "There are a few other things involved. If I just had a normal high ankle sprain, I wouldn't be in a cast. [A cast] helps it scar up and stuff, but the normal high ankle sprain isn't really a concern at this point."
QB Jay Cutler was in some sort of walking cast today at #Bears practice: pic.twitter.com/Ad946AVgmQ

— Adam Jahns (@adamjahns) November 14, 2013
Cutler has been wearing a cast since Nov. 14, however, he did have the cast removed on Monday so that his ankle could be evaluated. Cutler had originally set a target return date of Dec. 1, but now he's not sure if that's going to happen. 
"I don't know," Cutler said of playing against the Vikings on Dec. 1. "We're taking the cast off periodically, just kind of checking to see where I'm at. We'll see again later this week, then early next week where it's at." 
Bears coach Marc Trestman has already ruled Cutler out of Sunday's game in St. Louis, meaning Josh McCown will get his third start of the season. McCown has gone 2-0 while Cutler's been injured. 
"I'm pretty frustrated. It's hard being out like this," Cutler said. "I'm glad the guys are winning. I'm glad Josh is playing at a high level. That makes it easier. But I get paid to play football. Whenever I can't play and help the guys, it's difficult."
If Cutler isn't healthy enough to play against Minnesota, his next chance to start will come on Dec. 9 when the Bears host the Cowboys on Monday Night Football. 
Everything you need to know about the Packers-Panthers game on Sunday afternoon

The Lions will be wearing their Color Rush uniforms for the first time on Thursday

The Lions look to maintain playoff positioning while the Bears attempt to play spoiler
The Panthers have hired an outside law firm to conduct the investigation

Here's every official injury designation for each NFL team for Week 15

Bennett was one of the few players who escaped punishment after Sunday's melee in Jacksonv...