Bears sign QB Jay Cutler to seven-year contract
In a move that seems surprising, the Bears have gone all-in with quarterback Jay Cutler.
• 2 min read
With Jay Cutler's contract expiring and with the strong play of backup Josh McCown this season, it seemed likely the Bears would either franchise tag Cutler or let him go into the free agent market rather than pay him tens of millions of dollars on a long-term deal.
Surprise! Chicago has done exactly that.
General manager Phil Emery announced Thursday that the team has signed Cutler to a seven-year deal.
LM: Emery: "Very excited to have Jay for the long term."

— Chicago Bears (@ChicagoBears) January 2, 2014
Foxsports.com's Alex Marvez reports the first three years of Cutler's deal average $18 million per season.
Cutler played well this season under new coach Marc Trestman, but he also missed six games due to injury. In his place, McCown had the best season of his career, leading the Bears to a 3-2 record in his five starts while completing 66.5 percent of his passes for 13 touchdowns and just one interception.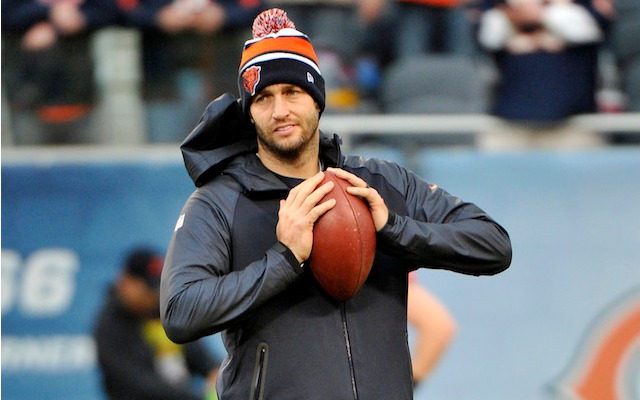 The thought was that instead of paying Cutler, say, the $20 million per year we assumed he'd want, the Bears would do well to pay McCown, say, $5 million per season and draft a quarterback this year in order to get him into the Trestman system.
But clearly, Emery and Trestman were impressed with Cutler.  In fact, Emery said Cutler had his best season in 2013 because of his "leadership, his improvement, his display of toughness." Emery also called Cutler "a demonstrated winner," though it should be noted the team has been to the playoffs just once in Cutler's five years with the team. Cutler also is 1-9 all-time vs. the Packers.
The Bears also have room in their salary cap. According to Spotrac, the team, at this moment, has about $46 million in cap room for 2014 (CBSSport.com's Joel Corry also wrote the Bears had one of the best salary-cap situations going into next year).
Paying Cutler about $16.2 million for a franchise tag next year would have hurt that figure, but with a long-term deal, the team has the ability to lessen that impact for the first few years of the deal.
Cutler in November said he wouldn't be insulted to receive the franchise tag.
"I'm not gonna take anything personally," Cutler said. "If they want to franchise me, I'm gonna feel good about the situation we're in.
"We're gonna be in our second year of the offense with these guys. We're gonna be better. I'm gonna be better. So it's not personal. It's business."
That is a good point as well. Now that he'll be entering his second season with Trestman, he should be even better in Chicago's West Coast-type offensive system. And with receivers Brandon Marshall and Alshon Jeffery, running back Matt Forte and tight end Martellus Bennett, the Bears offense should improve upon a unit that was ranked second in the league in scoring this season.
That could make for a scary Bears squad for opposing defenses.
Along with the Cutler signing, the team also announced a four-year deal for cornerback Tim Jennings and guard Matt Slauson.


Follow Josh Katzowitz on Google+
Brian Price is a former second round pick of the Buccaneers who last played in the NFL in...

Hillman joins Elliott and former feature backs Darren McFadden and Alfred Morris in Big D

Simms and the 'NFL Today' crew were in Times Square when a breakdancing battle broke out
Ryan, who went 15-16 in two seasons in Buffalo, believes the Bills can make the playoffs

EA Sports called Tom Brady the G.O.A.T. in their ratings rationale

The Steelers wide receiver knows how to travel in style