More NFL: Photos |  Videos & GIFs |  Training Camp updates | Manziel
Bears tight end Martellus Bennett picked a fight with first-round draft pick Kyle Fuller on Monday, slamming him to the ground after Fuller tried to strip the ball from him.
The Bears have responded harshly, announcing Tuesday that they've suspended Bennett indefinitely for conduct detrimental to the team and have fined him an undisclosed amount.
The punishment left much of Twitter shaking its collective head in confusion, including former Bears scout Mike McCartney.
Not sure I remember a player being suspended for a practice fight. Has to be more to this story...

— Mike McCartney (@MikeMcCartney7) August 5, 2014
More than the brief fight, though, the team might not have been pleased with Bennett's reaction afterward.
"I come to training camp for one reason and that's to prepare to win a championship," Bennett told reporters Monday. "I play hard and go hard every single day. I'm probably one of the most violent people on the field. That's just my style of play. I'm going to continue to play the same way I always play. That's what I'm here for."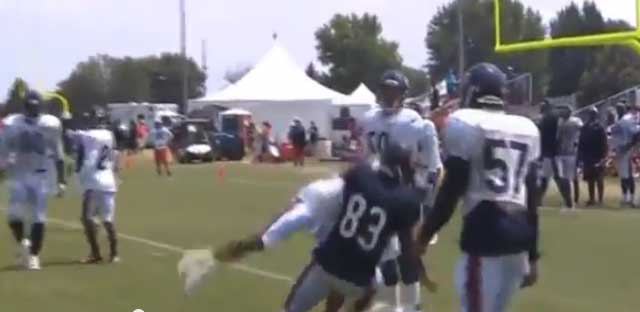 Bears general manager Phil Emery said the suspension would be determined by how well talks between Bennett -- who's coming off a career-best performance last year with 65 catches, 759 yards and five touchdowns -- and team officials proceed in the coming days. "We look forward to getting him back as soon as possible," Emery said.
But the Chicago Tribune had this to write: "The read-between-the-lines version speaks loud and clear that the Bears are not going to tolerate volatile and divisive behavior during a season in which they have such high expectations."