Bears WR Brandon Marshall says the Lions play 'borderline illegal'
The Lions don't just play dirty, Bears wide receiver Brandon Marshall calls their playing style 'borderline illegal.'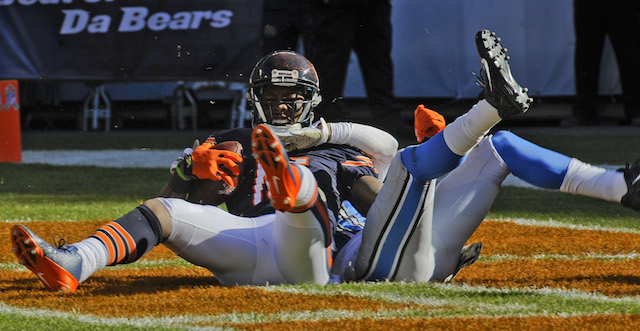 Detroit Lions defensive tackle Ndamukong Suh has a reputation for playing dirty, but he's not the only dirty Lions player, at least according to Bears wide receiver Brandon Marshall. During a radio interview on Monday, Marshall was asked if the Lions were a dirty team and he didn't hold anything back. 
"They're borderline illegal," Marshall told WMVP-AM in Chicago, via ESPN.com. "I'll attach my name to it. I'm looking at film today, and it was kind of disgusting to see the D-line go out of their way to knock our quarterbacks down after every single play. The ball was gone. They're pushing them down. They're hitting them below their knees. It was kind of disgusting."
The Lions were flagged for five penalties in their 21-19 win over Chicago on Sunday and three of those five penalties came on plays where a Lions defender hit a Bears quarterback.
Lions defensive end Willie Young was called for a facemasking penalty after a hit on Jay Cutler and a roughing the passer penalty after a hit on Josh McCown. The penalty for the McCown hit came on the Bears failed two-point conversion attempt with under a minute left in the game. 
Cutler suffered an ankle injury in the game and was replaced by McCown in the fourth quarter. 
Young wasn't the only Lions defender flagged for a hit on a Bears quarterback, defensive tackle Nick Fairley was called for an unnecessary roughness after a hit on McCown. 
"It seemed like it was game planned, but it was borderline," Marshall said. "You can't say it was illegal. But it was definitely one of those things where you say, 'Hey, we've got to pay attention to this.'"
The Lions win over Chicago on Sunday gave Detroit its first sweep of the Bears since 2007. The sweep had Marshall joking that the Lions are Chicago's little brother, "It's the little brother that kind of grew up a little bit," Marshall said. "He may be a little taller than the big brother. He's not stronger. He's not better than the big brother at anything. But that one day, he just says, 'I'm fed up. I'm done. I'm gonna punch my brother in the face.'"
After calling the Lions the 'little brother,' Marshall took a swipe at the city of Detroit and said it should 'fix it's financial problems.'
"It's the little brother that, big brother wants to go out and play with his friends and the little brother is annoying, [saying], 'Hey, can I go?'" Marshall said. "No, you can't go, Detroit Lions. Sit back. Sit in your little city. Fix your financial problems and all of that, you know. You can't come with us right now. But right now, they've got the best of us. They beat us twice. They swept us. But what matters is when we see them in the playoffs. It'll be a great show. It's gonna be tough. But I guarantee it's not gonna go down like it did the first two games."
If the Lions and Bears do meet in the playoffs and that game is played in Detroit, there's probably a 100 percent chance that Marshall will be booed for the entire 60 minutes he's on the sideline or the field.  
In the past week, Marshawn Lynch and Michael Bennett have both sat during the national ant...

As expected, the internet had jokes about the Chick-fil-A at Mercedes-Benz being closed on...

Harrison is the franchise's all-time leading sacker, but J.J. Watt's brother will get the starting...
More than 17 percent of fans say they would never consider dating a Pats fan

Brady said that his lack of speed is why he fell so far in the draft in the first place

If Thomas is right, that means it's bad news for DeShone Kizer's chances of starting early