Ben Roethlisberger has 'no idea' if RB Le'Veon Bell will help Steelers
Steelers quarterback Ben Roethlisberger has 'no idea' if Le'Veon Bell can help Pittsburgh's struggling offense.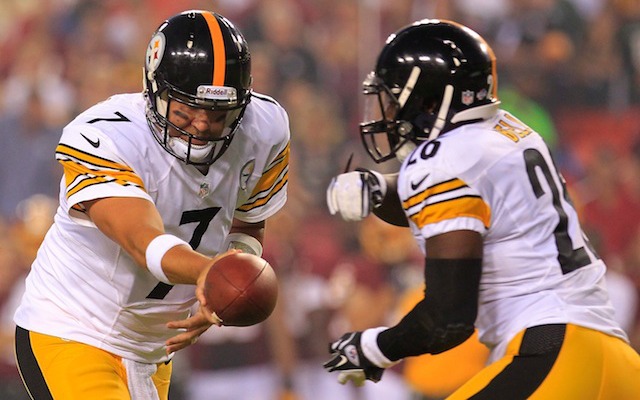 The 0-3 Pittsburgh Steelers have only scored 42 points on the season and seem to be in need of an offensive boost. That boost could come on Sunday in the form of rookie running back Le'Veon Bell.
Steelers coach Mike Tomlin confirmed this week that Bell is on track to play in Week 4, "We are excited about watching him be a full participant this week during the course of practice," Tomlin said, via the Pittsburgh Post-Gazette. "We will let that dictate his play, but we are optimistic about his availability."
However, at least person isn't as excited about Bell as Tomlin is and that person is Steelers quarterback Ben Roethlisberger. 
"Honestly, I have no idea with him," Roethlisberger said of Bell on KDKA-FM in Pittsburgh. "You can't get a read on him. One day, he's practicing. One day, he's not; one day, he's going hard, the next day, he's not. I wish I could."
Based on his comments, Roethlisberger seems unsure if Bell is doing everything he can to recover from a foot injury he suffered in the Steelers second preseason game. 
"If he was a guy like Heath Miller that you knew was busting his butt every day..." Roethlisberger said. "Le'Veon is a rookie, I don't know him quite well enough yet. But if he can come back and help us, we'll take him."
Bell was a second-round pick by the Steelers in April's NFL Draft and was expected to start this season, but he hasn't been able to stay healthy. Bell missed the Steelers first preseason game with a bruised knee and only played one series in Pittsburgh's second preseason game before leaving with an injured foot. 
The bottom line though is Pittsburgh's rushing attack can use any help it can get. The Steelers are only averaging 51.7 rush yards per game, a number that ranks 31st in the NFL, ahead of only the New York Giants. 
Check here for the latest news, rumors and updates for NFL coaching changes and searches

The Titans have tapped Texans defensive coordinator Mike Vrabel to take over as head coach

The government shutdown has come at a horrible time for NFL fans in the U.S. military
Bengals owner Mike Brown seems to be a huge fan of continuity

Our computer model simulated the AFC and NFC title games 10,000 times with surprising resu...

The people of Philadelphia now have two reasons to root for the Eagles this week