Ben Tate is not scared by any other Browns running back
Ben Tate is the No. 1 running back on the Browns depth chart for now. He plans on keeping it that way.
• 2 min read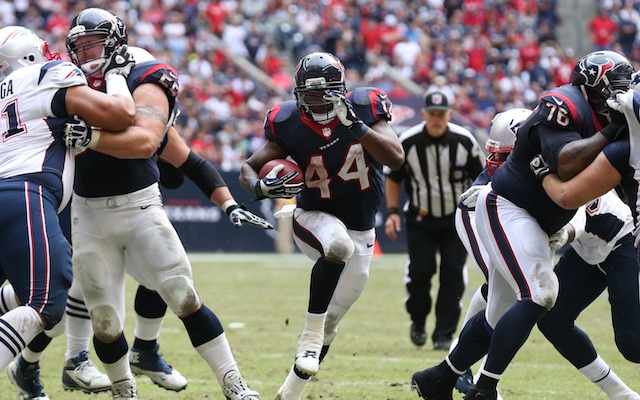 More NFL offseason: League minicamp dates | Latest news, notes
Since signing with the Browns in March, former Texans backup running back Ben Tate hasn't minded speaking his mind. First, he said all the Johnny Manziel coverage was annoying, and on Thursday, he proclaimed that he wasn't worried about any of the other Browns running backs.
So, maybe Terrance West will give Tate some competition for the No. 1 running back  spot, and maybe the team's 2014 third-round draft pick won't. But either way, Tate doesn't sound so concerned.
"Truthfully, I don't look at it like that,'' Tate said, via the Cleveland Plain Dealer. "You guys may see it like that, but there's nobody in that room that scares me. I'm just honest."
You can forgive Tate for not seeming concerned about West, especially considering West wasn't nationally well known while dominating his final season at Towson. But still, he recorded a remarkable 2,509 rushing yards and 41 touchdowns last season during his junior year before declaring for the draft early. So, it seems likely that he's adept at playing the game.
Still, Tate is fine with his own standing on the team, which also could use Dion Lewis or undrafted free agent Isaiah Crowell at the running back spot.
"Honestly I'm not worried about that, because I know when I'm on my game -- no disrespect to any other running back here -- but there's no one that can touch me or that's close to what I do," Tate said. "I battled in and out every day with what some people consider the best running back in the league in Arian Foster. I've seen the best. I went against him every day. I battled it, so this around here to me is really not anything."   
BUT ... Tate also is cognizant of the fact that he actually has to show up and win the job.
"If I come in here and say, 'Oh, I've got this locked down,' and don't compete, that's how you lose your job," Tate said. "That's how you find your way out of the league fast. I'm a natural competitor.
"That's just in me. I went out there in Houston every day and tried to compete with Arian knowing I wasn't going to be the starter no matter what I did because he had already done things. So I'm going to naturally compete, and I hope all the other running backs want to compete as well."
I imagine West will be happy to oblige him. 
From London to Sunday Night Football, teams around the league demonstrated in response to...

The Raiders reportedly wanted to stay in the locker room, but came out to avoid a 15-yard...

Here are the Week 3 grades for every team that played on Sunday
Plus questionable coaching decisions, refs cost Lions a win and more on Week 3 from Jason La...

The Saints coach is the latest to weigh in on Trump's comments

From Brady's perfect pass to controversy in Detroit, we have it all covered from a crazy Week...