Ben Tate on if he wants to stay in Houston: 'That's a tough question'
Texans running back Ben Tate answers the question why he's playing so hard with four broken ribs.
• 2 min read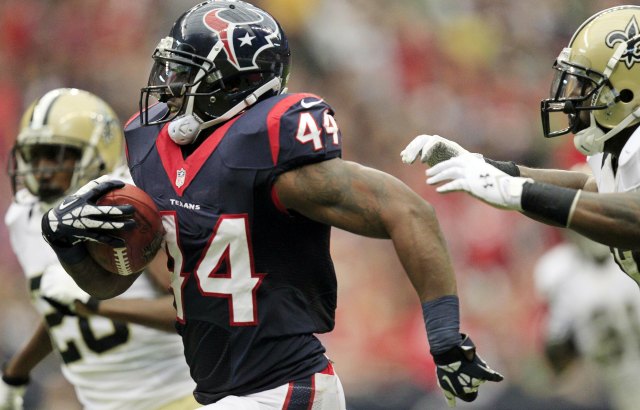 As the Texans disappointing season draws to a close and as Ben Tate's contract is close to expiring, it'll be interesting to see what kind of interest the running back can draw on the free agent market in the offseason. The fact he's playing with four broken ribs showcases his toughness; the fact he's actually playing pretty well with them showcases his talent and dedication.
But after reading theMMQB.com feature on him, you'll probably appreciate the amalgamation of thoughts running through his head when he thinks about his future and why he's making his sacrifices in the present.
"I would be lying if I said the contract year wasn't on my mind," he told Robert Klemko. "It was an opportunity I felt like I couldn't let fall by the wayside. It definitely played a part in me dealing with the pain and playing through it. But also, I love the game of football. When you get to this level, you feel like it doesn't last long, so you need to soak the moments up, and I felt like this was my moment to show what I could do."
It's unclear at this moment whether Houston will be a candidate to re-sign its running back. And it's unclear whether Tate wants to return. He felt burned by some remarks that fired coach Gary Kubiak made to the media earlier this season, and he and Arian Foster, who has missed the entire second half of the season with a back injury, have maintained a rivalry since both were on the same team.
So, Tate just isn't sure what he wants to do.
"That's a tough question to answer. I can't say, 'No, I don't want to be here.' But I can't say I do want to be here, because they invested in Arian," Tate said. "I feel as though I'm just as talented, I can do the same things he does, so where do I fit in?
"My time in this game is limited. I'm 25. I'm in my prime for the next three years. So I want to be somewhere where I can utilize that. I've said it before, I don't work this hard to be anyone's backup. That's just not why I play this game."
Make sure to check out the rest of the story here. It describes the weekly maintenance Tate does on his body (the acupuncture bit sounds hideously uncomfortable), why Tate feels he's tougher than his dad ever was, and why player-agents are "full of shit."
It's a good read.
Follow Josh Katzowitz on Google+
Breaking down why the underdogs are very dangerous against the Patriots

All of the information you need to know about the 2018 Super Bowl

Here's all the details you need to know on watching Super Bowl LII between the Patriots and...
No one wants to give the Eagles any respect

Here's a look at the NFL's entire postseason schedule for 2018

Here's everything you need to know about Super Bowl LII