Bengals at Chargers will be first blackout of NFL season
San Diego's game against the Bengals on Sunday will be the first NFL game of the 2013 season to be blacked out on local television.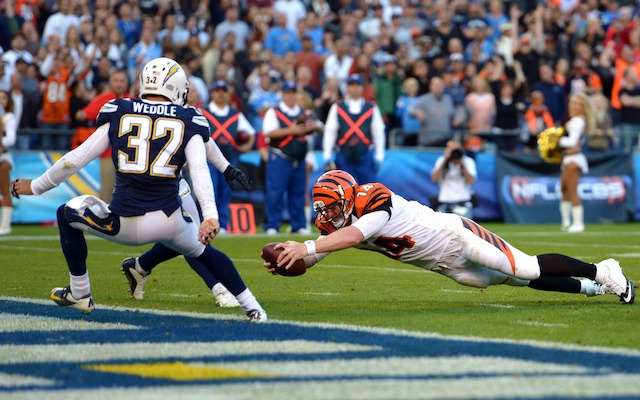 It took 13 weeks, but it finally happened: an NFL game is going to be blacked out on local television. The Chargers announced on Thursday that their Week 13 game against the Bengals will not be televised live in Southern California. 
Under the NFL's blackout policy, a team must sell out a game within 72 hours of kickoff or the game can't be shown on local television. If a team is close to selling a game out, it can request a 24-hour extension to sell the remaining tickets. However, the Chargers didn't request an extension because there were over 5,300 tickets left for Sunday's game against the 7-4 Bengals. 
Team owners have the option of buying unsold tickets at 34 cents on the dollar, an option the Chargers owners apparently declined to exercise. 
Apparently the Bengals aren't a big road draw. The first NFL blackout of the season almost came in October in Buffalo when the Bills were hosting Cincinnati in Week 6. The Bills offered fans a $15 discount on tickets and eventually sold out the game. 
Through Week 12, all 176 NFL games played this season had been shown on local television, marking the first time since the blackout rule started in 1973 that all games were shown on local TV through the first 12 weeks of the season.
The last NFL blackout happened in Week 17 of 2012 when the Bills' regular-season finale against the Jets at Ralph Wilson Stadium was blacked out. This is the second successive season the Bengals have been blacked out in San Diego. The Bengals-Chargers game in Week 13 of 2012 was also blacked out. 
The NFLPA denied the accusation and fired right back at the league

The Raiders bangwagon continues to take on passengers ahead of the 2017 season

Madden season is almost here again. Here's everything you need to know.
The Rams' No. 1 pick is anything but phased after taking his lumps during a brutal rookie...

Breaux, who emerged as the Saints' No. 1 cornerback during the 2015 season, could miss 4-6...

The No. 1 pick in the draft will have an immediate impact in Cleveland, according to his c...