Bengals cheerleader files lawsuit against team
A Bengals cheerleader has filed a lawsuit against the team, alleging that she was only paid $2.85 per hour during the 2013 season. Ohio's minimum wage is $7.85 per hour.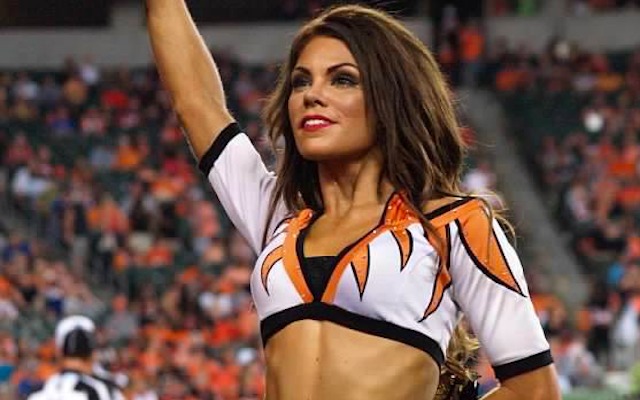 The Oakland Raiders are no longer the only NFL team being sued by its cheerleaders. You can now add the Cincinnati Bengals to that list. Alexa Brenneman, a cheerleader who just finished her first season with the Ben-Gals, is suing the team because she claims it pays nowhere near minimum wage.
According to the lawsuit, filed on Feb. 11 and obtained by KTLA.com, Brenneman says that she worked over 300 hours for the Bengals during the 2013 season and was paid only $855. Those numbers work out to roughly $2.85 per hour, which is well below the 2013 Ohio minimum wage of $7.85 per hour. 
The Ben-Gals are making even less than the Raiderettes. The lawsuit filed by Raiders cheerleaders in January alleges that the Raiderettes were making a little less than $5 per hour for their time in Oakland. 
The Bengals even mentioned the Raiders lawsuit in a statement about Brenneman's lawsuit.
"The Ben-Gals cheerleading program has long been a program run by former cheerleaders and has enjoyed broad support in the community and by members of the squad. [This] lawsuit appears to be a copycat lawsuit that mimics the one filed last month in California against a different NFL club. The Bengals will address the litigation in due course."
One team that won't have to worry about a lawsuit is the Seahawks. Brenneman's lawsuit cites Seattle as a team that pays its cheerleaders fairly. The Sea-Gals are paid an hourly wage for "all hours worked" and "applicable overtime."
In the Bengals lawsuit, Brenneman claims that the Ben-Gals are only paid for game day appearances. Each cheerleader is paid $90 per game, including the Bengals' two preseason home games. However, not all Ben-Gals are picked to cheer on game day. The ones that aren't selected to cheer are asked to visit with fans in the luxury suites and are paid $45 for their time.   
The Ben-Gals are also required to pose for and promote a team calendar. According to the lawsuit, the cheerleaders aren't paid anything extra for the time spent modeling or for the time spent promoting the calendar. 
If you have some spare time on your hands, you can read the entire 20-page lawsuit here. 
Pick Six Newsletter
Get the day's big stories + fun stuff you love like mock drafts, picks and power rankings.
Please check the opt-in box to acknowledge that you would like to subscribe.
Thanks for signing up!
Keep an eye on your inbox for the latest sports news.
Sorry!
There was an error processing your subscription.
The Redskins have a seven-time Pro Bowler at left tackle and he doesn't seem very happy in...

Eli Manning and Daniel Jones won't be battling it out at training camp

Buffalo would save more than $6.4M in cap space if it dropped its star running back
Only one person got an AAF championship ring

Le'Veon Bell is not happy with his critics

The Patriots are going to be down a receiver when training camp starts this week