Bengals DB Terence Newman gives NBC's Michele Tafoya bunny ears
Terence Newman thought it would be funny to give Michele Tafoya bunny ears on Sunday.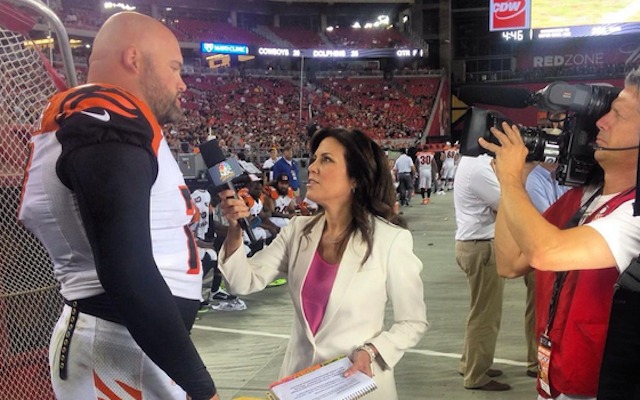 The life of a sideline reporter in the NFL isn't always a glamorous one, that's because sometimes people are giving you bunny ears and you don't even know it.
NBC's Michele Tafoya was just doing her job on Sunday, interviewing the Bengals' Andrew Whitworth, when Terence Newman decided she needed some bunny ears.
#bengals Newman messes @BigWhit77_fndn during interview @TafoyaNBCSports @Enquirer @ENQSports @AZCardinals @Bengals pic.twitter.com/LlOi1TjBnG

— Jeff Swinger (@swingmancinci) August 25, 2014
The Bengals will be on CBS a few times this season, so keep your eyes peeled Tracy Wolfson.
Cliff Avril's NFL career might be over

Oct. 18 is a very special day in NFL lore

The Falcons should not be making any plans for Minnesota in February
The Colts star quarterback could end up missing the entire 2017 season

Not even two Super Bowl wins is enough to get Eli Manning any respect

The Jags' future could have plenty of teal in store