Bengals DE Wallace Gilberry: '[Greg] Schiano's a joke'
Former Buccaneers player Wallace Gilberry doesn't think much of Greg Schiano and the program he runs.
• 2 min read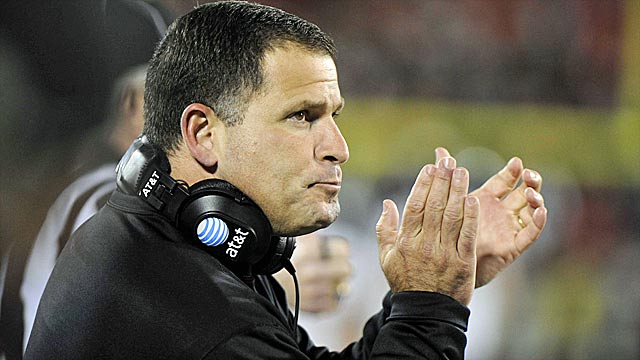 Greg Schiano's Buccaneers squad has not had a good season this year with the Josh Freeman mess that somehow reflected worse on the organization than it did on the quarterback who was known to oversleep and miss meetings and who has seemingly regressed this season. Not to mention this whole MRSA mess.
Many observers, including this writer, have wondered if a former college coach who's known as a disciplinarian can succeed in the NFL, and right now, the doubters appear to be entirely correct.
While Schiano said the team hired him before the 2012 season because it was a laughingstock, his career winning percentage in the pros (.350, including an 0-4 record this season) is worse than Raheem Morris (.354), the man he replaced.
(Schiano later qualified that remark, saying he was only referring to the team's discipline).
But according to Bengals defensive end Wallace Gilberry, it's Schiano who's the joke.
In the 2012 preseason, the Buccaneers cut Gilberry, but the next day, they called him and said they had made a mistake. So, Gilberry re-signed. And then after the first week, when his salary was guaranteed for the rest of the year because of his vested veteran status, Tampa Bay cut him again.
"When I was in Tampa, it was frustrating. The whole situation. From the time I got there until the time I left," Gilberry told reporters, via the Bengals official web site. "They released me twice. They cut me on the field at practice after the final cuts. I was on the field, ready to practice in pads and everything. Schiano came on the field and got me. 'Hey, we've got to release you.'
"I flew home to Alabama and they called me the next morning. 'We made a mistake. We want to bring you back.' They signed me back. I made the opening day roster.  My contract was guaranteed, and then they cut me again after Week 1. Schiano's a joke, as you can see."
Gilberry, who's recorded 8.5 sacks for the Bengals since he was let go by the Buccaneers, had more insults to give.
More from #Bengals Wallace Gilberry on previous stop w/ Tampa Bay and Greg Schiano: "It felt like a high school program."

— Paul Dehner Jr. (@pauldehnerjr) October 10, 2013
While the high school comment might be a little much, this oftentimes is why coaches who come into the NFL directly from college often get a bad rep (also, because oftentimes, they skedaddle back to the college ranks after they don't find the success they originally desired -- like, ahem, Nick Saban and Bobby Petrino).
But a college coach's relationship with his team is different, because he's dealing with young men who are 18-22 years old. An NFL coach can be dealing with a bunch of 30-year-olds, and obviously, the older gents, who already have lived through college coaching, oftentimes don't take kindly to ultra-disciplinarians.
Especially when that coach's biggest accomplishment in the NFL is running a former first-round pick, like Freeman, out of town and replacing him with a third-round pick, like Mike Glennon, who has little chance to turn around the team's fortures -- or, ultimately, to save the job of that former college coach.
After a report emerged quoting Irving saying, 'I have made a call,' the Cowboy took to Twi...

Washington is banged-up heading into a divisional showdown with Philadelphia

Kenny Britt might be on the chopping block after his latest blunder
Sending money to help with hometown education isn't anything new for the NFL veteran

Here's every official injury designation for each NFL team for Week 7

Last year's Jets were a disaster, but this year's version has been extremely competitive