Bengals DL Geno Atkins suffers torn ACL, out for season
Bengals Pro Bowl defensive lineman Geno Atkins suffered an ACL injury against the Dolphins on Thursday. The injury reportedly could be a torn ACL.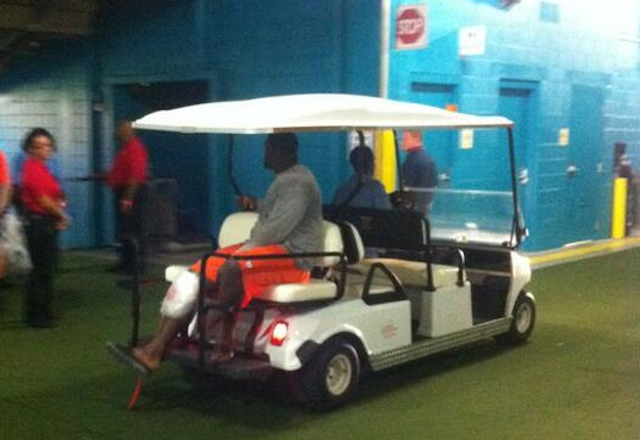 Losing a game on a walk-off safety is bad enough, but news got worse for the Bengals after the team's 22-20 overtime loss to Miami on Thursday. Coach Marvin Lewis told reporters after the game that defensive lineman Geno Atkins suffered an ACL injury in the Bengals loss.  
On Friday afternoon, Lewis confirmed that Atkins' injury is a torn ACL, meaning the Bengals will be without their Pro Bowl defensive lineman for the rest of the season. 
Atkins suffered the injury in the second quarter on a running play where his right knee got twisted under a mound of players. Atkins walked off the field with the aid of two teammates and then was carted to the locker room with 4:35 left in the second quarter.
The Bengals originally believed that Atkins could possibly return to the game. However, after evaluating him further in the locker room, they ruled him out for the rest of the game.  
Losing Atkins is a devastating blow to a Bengals defense that just lost Pro Bowl cornerback Leon Hall to a season-ending injury two weeks ago. Hall tore his Achilles tendon in Cincinnati's 27-24 win over Detroit in Week 7. 
Going into Thursday night's game with Miami, Atkins was the Bengals team-leader in sacks on the season with five. Atkins added to that total with a first quarter sack of Dolphins quarterback Ryan Tannehill.
Atkins just signed a five-year, $55 million extension with the team in early September.  
The Packers think the hit is dirty, but the NFL apparently disagrees

Here's every official injury designation for each NFL team for Week 7

If it wasn't already clear, the Packers are not happy with the hit that injured Rodgers on...
Passengers were treated to some explicit chants from the Oakland running back, too

It's safe to say the Rams running back isn't a fan of traveling to London and back during the...

Winston sprained his AC joint last week but will start against the Bills this week