Bengals DT Atkins belies today's look-at-me player, except on field
Don't know Geno Atkins? Opponents do. The soft-spoken Bengals DT is one of the league's 10 best defenders and is making a name for himself.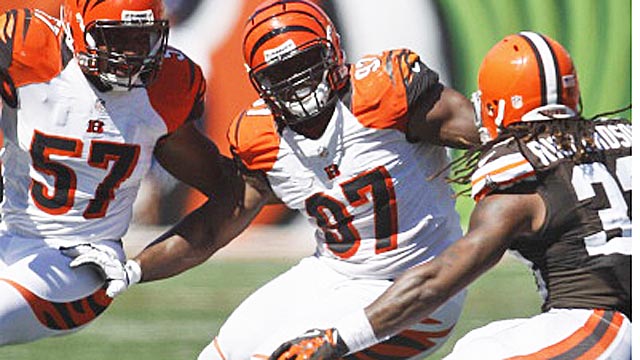 FLOWERY BRANCH, Ga. -- We live in an era of look-at-me players, self-promoters who will do almost anything to get attention, whether it's using 140 characters on Twitter or taking on loudmouth TV talking heads.
Then there is Geno Atkins.
Who?
That's the point. Most fans outside of Cincinnati have no idea who Geno Atkins plays for, what position he plays or what he does to dominate football games. Atkins is one of the 10 best defensive players in the NFL, a pass-rushing defensive tackle who is a key part of the Cincinnati Bengals defense, yet while J.J. Watt and Justin Smith and guys like that bask in the attention, Atkins doesn't get much.
Some of it has to do with the small market of Cincinnati. Some of it has to do with his being a fourth-round pick when he came into the league. And a big part of it is because Atkins isn't a talker.
When I made it known I wanted to talk with Atkins, I was told not to expect too much.
"He doesn't talk much at all," Bengals defensive coordinator Mike Zimmer said.
"I can walk through the stretch line and he's not going to say a word," Bengals coach Marvin Lewis said. "I have to say something to him."
So what gives? Why is this star player -- yes, star -- so quiet? His game is as loud as it can be, yet he seems to be fine with staying in the background. He has been compared to Warren Sapp on the field, but he's the anti-Sapp off it.
"I like to let my work do the talking for me," Atkins said during a break from workouts with the Falcons.
Atkins might not be a household name with many fans around the country, and he was way too low on some top-100 lists (not mine), but the players and coaches around the NFL know exactly what type of player he can be.
He had 12 1/2 sacks last season, and were it not for an amazing season by Houston's Watt, he might have been the Defensive Player of the Year.
"He keeps getting better," Lewis said. "He can be in practice and say it's time to shut the offense down and then he just dominates."
The thing that stands out is Atkins doesn't look the part, which is why he lasted until the fourth round of the 2010 NFL Draft. That was the same draft that saw Detroit take Ndamukong Suh with the second pick and Tampa take Gerald McCoy with the third. Those two have been good players, but not as good as Atkins.
Atkins is listed at 6-foot-1, 303 pounds, small by interior linemen standards, which hurt his draft stock. Standing across from him, I am not even sure he's that tall.
"I am 6-2," Atkins said. "With shoes on."
I told him it's a better story if he is 6-1, and he laughed.
"OK, I am 6-1 then," he said.
That lack of height helped motivate him. He wanted to prove that it wouldn't hold him back.
"I beat that stereotype that you have to be 6-3 or 6-4 to play the three-technique," Atkins said. "That gives all those 6-foot and 6-1 guys out there hope."
From his first camp as a rookie, he opened a lot of eyes. I remember talking to the coaches his rookie year and they all raved about Atkins. Not only did they say he would become a starter, but they saw the potential to be a lot more.
"I knew what I could do, and once I got out there I wanted to show the coaching staff that I wasn't too small, that I could play big and do what they asked me to do," Atkins said. "I told myself that I was going to show the world what I could do."
Here he is readying for his fourth season, and he's one of the best and about to become one of the richest. He is in the final year of his contract. The Bengals have talked long-term deal with him and his agent, but so far the two sides are way apart. The Bengals could put the franchise tag on him if they don't get a deal done.
Atkins, the son of former NFL safety Gene Atkins, said he isn't worried about contract talks. "I don't see it as that," he said. "Each year my goal is to just get better."
With his amazing quickness and power, he makes the rest of the Bengals line that much better. He commands the double team, which means single blocks outside for pass rushers like Michael Johnson and Carlos Dunlap.
Those three help form one of the NFL's most-underrated lines, one that has a chance to be dominant in 2013.
"Geno would help out anybody playing next to him," Johnson said.
So do you notice offenses pointing him out when they come to the line, making him a priority?
"They better, or they are going to get abused," Johnson said.
Johnson hangs with Atkins and his line mates. I asked him if he's quiet all the time. Or is this just around the media and in the spotlight.
"Well, he's loosening up some," Johnson said.
Zimmer relayed a story from the offseason that might make you think otherwise. He said he was sitting in the sauna with some players and Atkins started opening the door to enter. When he saw Zimmer in there, he turned around and left.
"Walked right out," Zimmer said. "I don't think talking is important to him."
Atkins laughed when I told him Zimmer mentioned that story. He said he popped his head in to say something to a teammate, but decided not to when he saw Zimmer sitting there.
"I was just going to say something stupid," Atkins said.
As our interview wound down, I thought to myself that Atkins was far from being the introvert that he was portrayed to be. Could it be that he's realizing that opening up is a way to get the attention he do deserves?
"No, I like being the underdog in the shadow," he said.
If he keeps playing the way he has the past two years there will be nowhere to hide -- even if he won't be the one banging the look-at-me drum.
Everything you need to know about the Packers-Steelers game on Sunday night

The Patriots dynamic duo will be playing on Sunday against the Dolphins

Here's every official injury designation for each NFL team for Week 12
Larry Hartstein is on an 8-2 NFL run and gives his best three-team NFL parlay for Week 12

Plus baby names, kicker issues and other things of interest from NFL on Thanksgiving

It was foretold, and King delivered