Bengals have acquired top talent, and now must pay to keep it
They keep closing ground in the tough AFC North. But Jason La Canfora says the tight Bengals now must show they'll pay to keep their impressive talent.
• 8 min read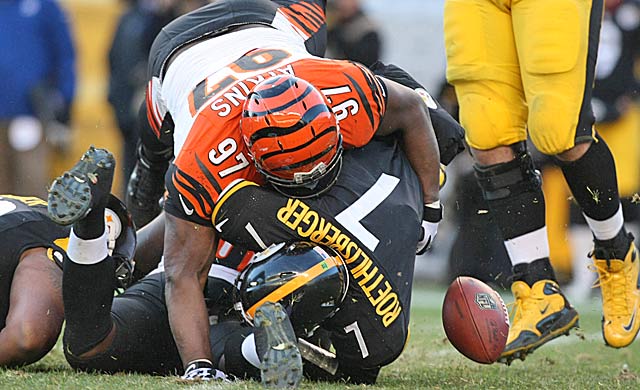 The Cincinnati Bengals will be trying to do something unprecedented by their standards, and reach the postseason for a third straight year. After decades of being beyond antiquated in terms of the depth and sophistication of their scouting operations and front office acumen, owner Mike Brown has reaped rewards from beefing up his infrastructure.
His team is robust with young talent, finding star players in varied rounds of the draft and making calculated gambles with un-drafted college players. The Bengals have proven to be very competitive within what has been one of the NFL's toughest divisions the past few years, and identifying talent is no longer an issue. Retaining, it, however, could be.
If the Bengals are to take true steps to join the upper echelons of the NFL's franchises and sustain their recent success, Brown will have to dig much deeper into his pockets than has been the norm. Than he ever has before. For if the Bengals manage not to hold on to their emerging young core, make no mistake, the days of the Bungles and scores of empty seats may not be just a thing of the past.
Quietly, it's already begun, the exchanging of offers and contract parameters with Cincinnati's long list of players who will command a new contract within the next year -- and there appear to be significant difference in figures with star defensive linemen Geno Atkins and Michael Johnson, already. The agent community is still largely skeptical of the team's intent to spend after watching the Bengals let players walk in the past, hording unused cap space, opting not to compete at the higher level of free agency for outside talent. And, in rival front offices, some executives are watching closely, too, eyeing up Bengals with expiring contracts as potential targets next offseason, and beyond, and figuring there is no way this club keeps all the talent it has amassed.
Consider, that right now, defensive end Johnson is on a one-year franchise tag, and the team's top pass rusher, Carlos Dunlap, is in the final year of his rookie deal making just $1.2 million. Atkins, a defensive tackle who many believe is the most disruptive interior defensive player on the planet, is in the final year of his deal at just $1.4 million, and, he would possibly be the most sought-after free agent in 2014 regardless of position should he hit the market. Receiver A.J. Green's first two years in the league have been historically significant, and he and quarterback Andy Dalton -- himself a work in progress who has had flashes of brilliance -- can begin renegotiating their rookie deals following the 2013 season as per the new collective bargaining agreement.
Atkins, Green and Dunlap are all set to join the ranks of the league's highest-paid players at their positions, and with Dalton's deal up in 2014, there could be complicated negotiations ahead based on how he performs in big games this year. Things are always particularly tricky with young quarterbacks anyway (look at the prolonged dance between the Ravens and Joe Flacco before that deal was finally stuck).
And Johnson, Atkins and Dunlap are the essence of what may be the NFL's best defensive line (I figure it's between them and San Francisco), and one of their franchise's greatest assets, because the other levels of that defense are short on healthy, proven playmakers outside of corner Leon Hall. Tackle Domata Peko, who forms a devastating tandem with Atkins that really keys everything else the Bengals are able to do defensively, isn't quite as young as the rest of this bunch. But with his contract expiring in 2014, you have to wonder if the Bengals can or will pay both Peko and Atkins at big bucks.
It wasn't all that long ago that Johnathan Joseph, an emerging stud corner, was allowed to hit the open market without enough of a fight, only to stabilize Houston's secondary; those Texans have now defeated the Bengals in the wild card round two straight years. Once again, the Bengals are awash in cap room -- they currently have $30 million in available cap space (only three teams have more) -- and frankly now is the time to start using it. Give Brown credit for paying to keep Hall, and the Bengals were smart in letting the market play out for right tackle Andre Smith well into free agency before getting him back at a team-friendly rate.
But there won't be any bargains when it comes to guys like Johnson, Atkins, Dunlap and Green. And there will be even fewer excuses moving forward for letting prime talent depart in their mid-20s. As part of the new CBA, which has worked decidedly in the owners' favor, teams must spend at least 89 percent of the cap in cash between the years 2013-2016, which in theory would generate a flurry of contract extensions, with the smart clubs being even more proactive than usual to identify their best young players (and people) who are outperforming their rookie deals, and getting them tied up for years to come.
Spend on your own, funneling money (and cap space) to the players you know and who have a role in your locker room and understand the system and have already won the trust of your coaches. That's how you breed winning. The Bengals should be the posterboys for this, especially with the cap finally projected to take some baby-steps forward starting around 2015. Barring a massive injury, the price on these guys only continues to go up, and often even a lag in production won't dissuade another team from throwing money at a top free agent (Mike Wallace's subpar 2012 season didn't prevent Miami from paying him $12 million a year).
The Bengals know they need Atkins (a fourth-round pick in 2010), but at this stage of the game I'd expect him to end up where Johnson is now, on the franchise tag. The numbers exchanged by the sides thus far are miles apart from what I've heard, and the reality is Haloti Ngata's $12.2-million-a-year deal with Baltimore in 2011, in which he made $27 million in the first year of the contract and $40 million over the first two years, has to be the floor here, in terms of numbers. Atkins has outperformed Ngata the past two seasons and could make the case for more cash.
This is the true test-case for Brown, right here: Will he establish a new all-time record salary at a position group? And while there is still plenty of time between now and next March, when the Bengals would have to apply the franchise tag, it would behoove the team to make every effort to put a strong offer on the table and try to get this resolved before this season begins. Because, with a month to go before the July 15 deadline to strike a long-term deal with Johnson, those sides aren't close to getting anything done, according to league sources. Johnson, a third-round pick in 2009, counts $11.2 million against the cap this year, and is coming off a year in which he posted 11 1/2 sacks and showed he can thwart the run and get after the quarterback. Those are the dudes who make major bank in free agency.
There's only one franchise tag to go around each year, and the Bengals must figure out what percentage of their total cash outlay they can afford to sink into their dominant defensive line. Dunlap has battled some injuries, but when healthy he has more than delivered since being taken in the second round in 2010 due to some off-field concerns. He has 20 sacks in 38 career games, and last season also registered his first career interception and forced four fumbles. The Bengals are 3-7 in the games he has missed since being drafted, and having him and Johnson as bookends means neither can be keyed on too heavily. Having all four of these players across the defensive line means the Bengals can get by with ho-hum linebackers by and large.
The more of these negotiations the Bengals get completed now, the less they have to scramble after this season, because if Green posts another monster season, they'll be under intense pressure to shred that rookie contract and put him among the game's highest-paid receivers, which is upwards of $17 million a year these days. Green, taken in the first round in 2011, makes just $2.2 million this season and just $3.1 million in 2014. The Bengals will surely exercise their fifth-year option on Green, which guarantees he is among the 10 highest-paid in the game in 2015, but that's just a Band-Aid when you are talking about a game-changer of this magnitude.
I don't see many home-town discounts around here. And you can't franchise him forever.
Dalton has his detractors after sagging in the playoffs two straight years, but it's worth noting that a rookie quarterback even got to the postseason with the Bengals. Getting back the following year had happened only once in team history, and Dalton was a part of that, too. You can't let a decent young quarterback get away, even if you aren't totally sure he's truly elite, and ask the Ravens how much money and cap space they ceded by not getting Flacco extended in the summer before he went into the final year of his rookie deal.
Dalton, a second-round pick in 2011, makes just $850,000 this season and is set to earn just $1.1 million in 2014. Regardless of how great he may or not may be, you can't even get a half-decent backup quarterback for three-to-five times what the Bengals are set to pay their starter next season. That situation will need fixin', one way or another.
These are all good problems to have, the kind that signal major progress as an organization. There should be plenty of kudos to go around, starting with Brown. But, finally with a roster so young and star-studded, the Bengals are about to enter the world of big-boy NFL economics, and, history would dictate there is no better time to do a deal than the present. More time, ultimately, means more money, and more of an opportunity that some of this core gets away.
The 3-7 Broncos are not in a good place right now

This young fan wins Thanksgiving

Pete Robertson ran a downed punt into the end zone, costing his team 13 yards
The Chargers are finally looking like a playoff team after a 28-6 win over the Cowboys on...

The Vikings, led by Case Keenum, are one of the NFL's best teams

The Vikings' pass rusher revealed the latest addition to the family after sacking Matthew...