Bengals, LB James Harrison agree to deal
After weeks of negotiating, the Bengals and former Steelers linebacker James Harrison have agreed to a contract.
• 1 min read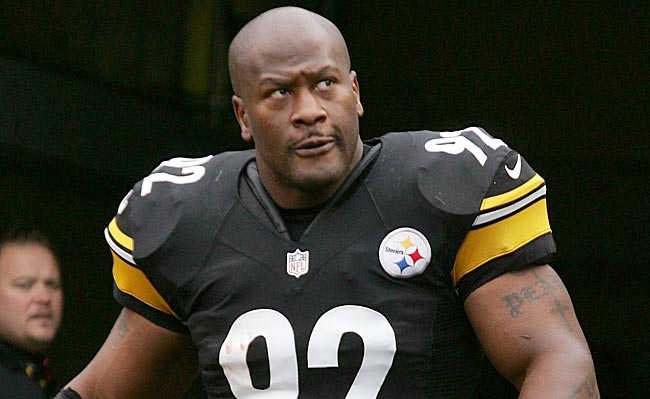 After weeks of negotiating -- and a couple days of not negotiating at all -- the Bengals and former Steelers linebacker James Harrison have agreed to a contract, the team website reports.
Multiple reports say it's a two-year deal.
The move makes sense for both sides. After the Steelers released Harrison last month, in part because he would have cost $6 million against the salary cap and because he was unwilling to take a paycut, he didn't have many, if any, suitors. Meanwhile, after losing Manny Lawson to free agency, the Bengals had a hole at the starting strongside linebacker spot. Harrison is expected to fill it.
"Any time you can get James Harrison on your team, it's a great day," Harrison's agent, Bill Parise, told Bengals.com's Geoff "Butch" Hobson.
Though the two sides had recently resumed negotiating with each other, coach Marvin Lewis had made it clear that the deal needed to happen before next week's NFL Draft.
"I think both sides would like to get something concluded. I think it will happen shortly at some point here," Lewis said. "Because I think everybody realizes when we go into the draft, then it becomes different situations."
Harrison will turn 35 next month, and even though he's no longer the 16-sack player he was in 2008, he still could have an impact as a pass-rusher for the next year or two. Harrison probably doesn't have a long future with his new team, but he might be OK as a stopgap. Besides, defensive coordinator Mike Zimmer is known for getting special performances from veteran players.
"James has played a major role in the success of this organization during his time in Pittsburgh," Steelers coach Mike Tomlin said after the team announced the release. "I appreciate everything he has done in my six years as head coach and wish him nothing but the best in the future."
I imagine those good wishes don't include Weeks 2 and 15 of next season when Harrison will face his former team for the first time in his career.
Someone apparently threw a drink at Jefferson as he left the field and he was not happy about...

All of the best highlights from Week 14 are right here

Wentz suffered a knee injury while diving for the end zone
Lewis among several coaches on hot seat, Cam's amazing run, and more from Week 14 in the N...

Here are the Week 14 grades for every team that played Sunday

The legendary kicker added to his incredible career with a rare curveball XP