Bengals new DC tops list of coordinators to watch this season
Paul Guenther faces a tall task replacing Mike Zimmer as Bengals DC, but the ex-LB coach -- credited with much of Cincy's success -- is up to the job.
More NFL: Photos | Videos & GIFs | Training Camp updates | Manziel
CINCINNATI -- There aren't as many "F-bombs" coming from the Cincinnati Bengals ' practice field these days with former defensive coordinator Mike Zimmer now the coach of the Minnesota Vikings.
Zimmer was known for his foul-mouthed outbursts, and jumping players in practice, but he was also one of the best coordinators in football, which means replacing him won't be easy.
After spending time with new Bengals coordinator Paul Guenther, I get the impression the job of taking over isn't too big for him. Guenther, in his 12th season with the team, takes over as coordinator after serving as Zimmer's right-hand man for the past few seasons as linebackers coach.
"He's almost like a clone," Bengals defensive end Wallace Gilberry said of Guenther. "He preaches the same thing. It's next man up. He's been a big part of what we do here for a while. Even when Zim was here, PG had a big impact on what we were doing here."
Complete with The "F-bomb" tirades, too?
"No, no, no, not nearly as much" Gilberry said. "They are two different guys like that. Zim will definitely be missed. But Pauley is a players' coach. He cares about us and it shows. Players react a different way for those guys. You want to do good for those type of guys."
"I have my days," Guenther said of his profanity-filled rips. "You have different ways of reaching players. Zim would yell and scream. I do that sometimes. But other times I will pull guys aside and tell them to get their ass going or that they are doing a good job."
The Bengals had to replace two coordinators. In addition to Zimmer leaving, offensive coordinator Jay Gruden left to become coach of the Washington Redskins. Bengals coach Marvin Lewis turned to his staff to fill both spots.
Hue Jackson takes over for Gruden, being bumped up from running backs coach. Most fans and media members know all about Jackson, who has been a longtime assistant in the league, a popular one at that, and was head coach in Oakland.
Who is Paul Guenther?
For starters, he played linebacker at Division III Ursinus, got his start in coaching as a graduate assistant and then was the head coach at Ursinus at the age of 25.
"People ask me if I will be nervous calling plays on game day," Guenther said. "I told Marvin that's the easiest part of the job. When I was 25, I had a first meeting in front of 150 players and parents and had to convince the parents that everything would be fine with me when they left their kids with me. And here I was a few years out of college myself."
He was the coach at Ursinas for three years, spent two years on Steve Spurrier's staff with the Redskins and then joined the Bengals in 2005. He has coached special teams, defensive backs and linebackers in Cincinnati.
"Pauley is Pauley," Bengals safety Reggie Nelson said. "He's no different now."
Guenther said, "At this level they either respect you or they don't. If you can help them get better, they will respect you. Players understand that I know what I am talking about and I know the defense inside and out. They know I can help them get better, and ultimately you get respect from a player for that."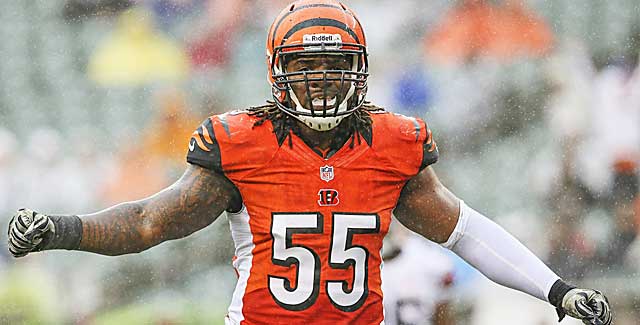 He has an easygoing way about him that players seem to like. He is often credited with helping undrafted linebacker Vontaze Burfict become a Pro Bowl linebacker in two years. Burfict told me as a rookie it was Guenther who stayed on him to help make him a surprise starter -- and now a big part of what the Bengals do on defense.
As we talked in the locker room this week, veteran corner Adam Jones walked through and Guenther called to him and pointed at me.
"I told him you were having your best camp," Guenther yelled to Jones, who looked back and smiled. Guenther had mentioned that to me earlier, and seemed like a proud father when he said it.
The Bengals' defense finished third in total yards and fifth in points last season, and they have most of the same players back with the exception of right end Michael Johnson , who signed as a free agent with Tampa Bay. That's why Guenther is shooting for even more, and thinks his unit has a chance to be the league's best.
It helps to get tackle Geno Atkins , linebacker Emmanuel Lamur and corner Leon Hall back from injuries that limited those three to 14 total starts in 2013. Atkins, coming off a torn ACL, is considered one of the best at his position. Hall, who tore an Achilles, is a top cover corner and Lamur is a speedy linebacker who missed the entire season with a shoulder injury.
The players are a big reason why Guenther decided to stay in Cincinnati rather than leave to join the staffs of either Gruden or Zimmer, even though both wanted him as coordinator. With two young sons, he felt comfortable make the decision to stay.
"We have great guys to be around and they wanted me here," he said. "This is a good situation for me and my family."
Guenther recently showed his team 23 plays from the Seattle Seahawks' defensive tape from the Super Bowl. He wanted to remind them of what they have to do to become a dominant defense. It wasn't fancy, he said, but it was successful.While Guenther will blitz more than Zimmer, he won't get bogged down on Sundays with a bunch of exotic looks just to have them as potential calls.
"You're out there with the sheet for a reason," he said. "You've practiced it, but it's not a lot. You don't make crap up on game day. You call what's on the sheet, you win and you go home. Some of those offensive guys have the dinner menus as call sheets. I don't understand that. Do you need a sheet that big? It's like sheet envy. How much can you get called? Can you get it all practiced? How good are you going to be at it?"
Kind of like a restaurant with a menu that features too many items.
"Yeah, if it's a hodge-podge of stuff you know it's not going to be worth a crap," he said. "So limit it, and do what you do best."
Every new coach that takes over a spot or a unit says his style is aggression. Learning under Zimmer, I expected to hear that from Guenther, and I did. But he might be even more aggressive than his former boss. The talk is he will blitz more, not just for the sake of blitzing, but to prey on the offensive weaknesses.
That's fine to say now, but what happens when the games count? Coaches can freeze up. I don't think the Bengals need to worry about Guenther being one of those coaches.
"I want to make the offenses adjust to us, instead of us being on the back end of what they are doing," Guenther said. "I want to play the game on our terms, make them adjust to what we're doing. Scared money doesn't win. Smart money does. If I see a hole in their routes and protections, I will attack it until they fix it."
If he sounds confident, it's because he is confident. Replacing a coach like Zimmer can be tough, even overwhelming, but Guenther seems so sure of his own abilities, which is why I think he could be on the path to being a head coach in 2016.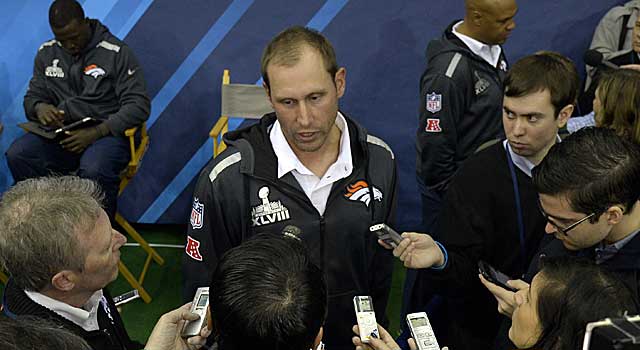 In addition to Cincinnati Bengals defensive coordinator Paul Guenther, here are 10 coordinators I will be watching closely in 2014:
1. Denver Broncos offensive coordinator Adam Gase: He could have had the Cleveland job last year, but turned it down to stay and work another year with Peyton Manning . He is a smart, hard-working coach who gets nothing but high praise from Manning and the rest of the Denver players. If he's not a head coach in 2015, I will be shocked. He's that good.
2. Jacksonville Jaguars OC Jedd Fisch: He is a creative mind who was limited last year by the talent he had. With better players, look for him to do even more in terms of scheme this season. He is the perfect coach to help guide Blake Bortles when he becomes the starter.
3. St. Louis Rams defensive coordinator Gregg Williams: Williams is back running a defense, and he's doing it with good buddy, Jeff Fisher. They did some really good things together with the Tennessee Titans , including going to a Super Bowl. But this is Williams' first chance to run a defense since "Bountygate" and his year suspension. He can be arrogant at times, but he has a heck of a defensive mind. Look for the Rams defense to take a big jump forward.
4. New York Giants OC Ben McAdoo: He takes over for Kevin Gilbride running the offense. It will change in a big way. Gone are the seven-step drops that led to a lot of problems for Eli Manning . He will now throw shorter and quicker in the West Coast offense. McAdoo wants a completion percentage of 70 percent. Good luck with that, but Manning should be better getting the ball out.
5. Baltimore Ravens OC Gary Kubiak: The former Houston Texans coach comes over and brings his zone-running scheme, tight end heavy system to the Ravens. It will be interesting to see how well Joe Flacco adjusts to the offense. So far, it looks good. Kubiak is a bright offensive mind who just might be better suited to being a coordinator, rather than a head coach.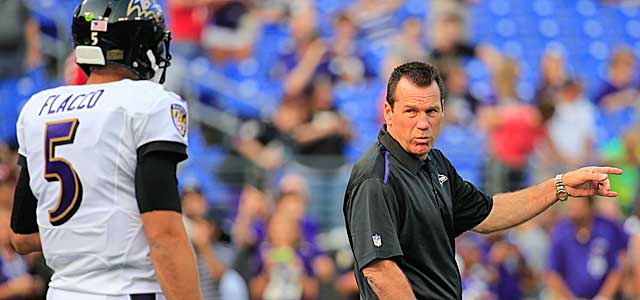 6. Bengals OC Hue Jackson: Jackson is a tough-guy coach who will instill that toughness in his offense. They will back down to nobody now. The former Oakland Raiders coach will bring more power football with big-chunk passing plays down the field. He will be a head coach again. Watch.
7. Arizona Cardinals DC Todd Bowles: He took over for Ray Horton last season and did a heck of a job with the Cardinals defense. They were sixth in total defense, seventh in points and first against the run. He has a talented group back, and has added some nice pieces in the offseason. He isn't afraid to come after the opponent, which I like.
8. Tampa Bay Buccaneers OC Jeff Tedford: He comes from college game to run Lovie Smith's offense in Tampa. This is his first NFL job, but Tedford is a bright offensive mind. He has weapons, but is the line good enough? Is Josh McCown ? It will be interesting to watch Tedford adjust to NFL defenses.
9. Detroit Lions DC Teryl Austin: He comes over from coaching the secondary for the Ravens to take over a Lions defense that was 20th in pass defense and 25th in yards per play. Austin's specialty is the secondary, and the Lions need it. They had big problems with their pass coverage last season. I hear good things about Austin from football people I respect.
10. Seattle Seahawks DC Dan Quinn: Quinn took over running the Seattle defense from Gus Bradley and did an even better job. Seattle was the top-ranked defense, one of the best ever, and was the big reason why Seattle won the Super Bowl. With another good season, Quinn will be a head coach next year.
Elliott will be allowed to play, for now

Mark Lamping wrote a letter to apologize to Jacksonville's director of military affairs ch...

PEN America says the NFL's talks on social activism are a 'constructive' step forward for owners,...
The Steelers quarterback weighs in on the hit that might've ended Rodgers' season

Smith was not pleased with the Steelers safety's hit on him

SportsLine's Mike McClure, a DFS pro with more than $1M in winnings, gives optimal lineup...