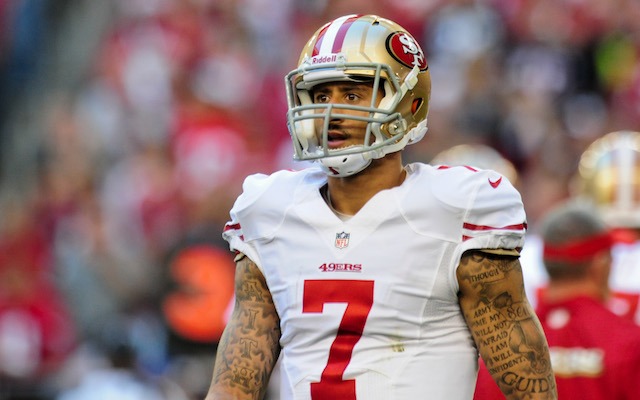 Colin Kaepernick will be the 49ers starting quarterback in Green Bay on Sunday, but he wouldn't be if Bengals owner Mike Brown would have had his way during the 2011 NFL Draft. 
Brown, who also serves as the team's general manager, admitted during an interview with the Cincinnati Enquirer this week that he wanted to draft Kaepernick with the 35th overall pick and not Andy Dalton. "I like [Kaepernick]. He has unusual mobility," Brown said of his thoughts at the time. 
However, the Bengals didn't take Kaepernick though because offensive coordinator Jay Gruden was able to talk Brown out of it. Gruden felt that Dalton fit his offense better than Kaepernick did. 
The Bengals ended up selecting Dalton at no. 35 and Kaepernick didn't last much longer. The 49ers selected the former Nevada quarterback with the very next pick. Neither team can really complain with the results so far. Dalton has taken the Bengals to the postseason three straight times. Before Dalton's arrival, the Bengals had never made the postseason three straight times at any point in franchise history. 
As for Kaepernick, he took over as the 49ers starter after Alex Smith went down in 2012 and ended up leading San Francisco to the Super Bowl. The 26-year-old led the 49ers to a 12-4 record and a wild-card berth this season.
Kaepernick and Dalton aren't just linked through the draft, they're also linked in age. The two quarterbacks were born five days apart in 1987 with Dalton born on Oct. 29 and Kaepernick born on Nov. 3
Stories like this pop up all the time -- where a general manager says he was going to draft a certain player -- so it's hard to separate fact from fiction. For instance, it was reported in September that the Eagles were going to trade the 49ers for Kaepernick, but they didn't because they wanted to focus on drafting Russell Wilson. 
Brown's story seems to make sense though, the Bengals took A.J. Green with the fourth overall pick and the team didn't try to hide their intentions of taking a quarterback at No. 35. That quarterback just ended up being Andy Dalton instead of Colin Kaepernick.